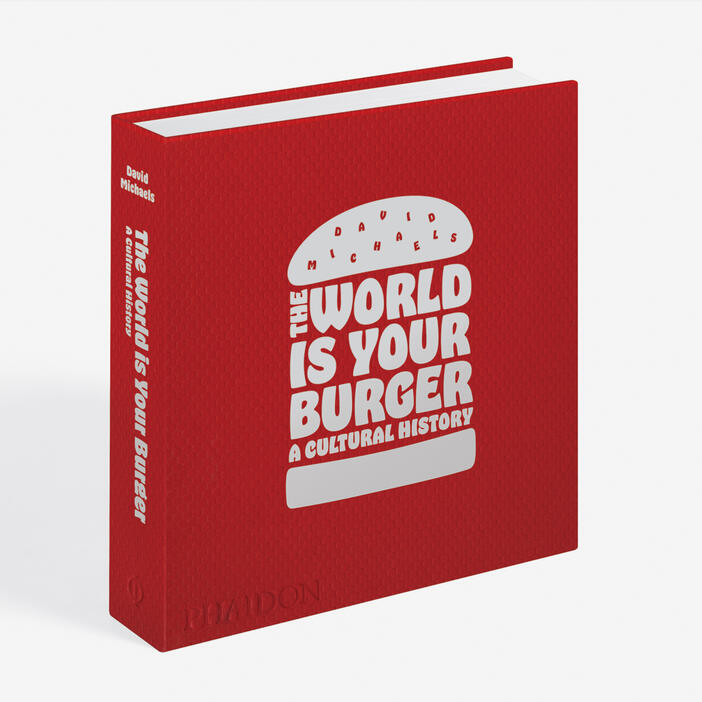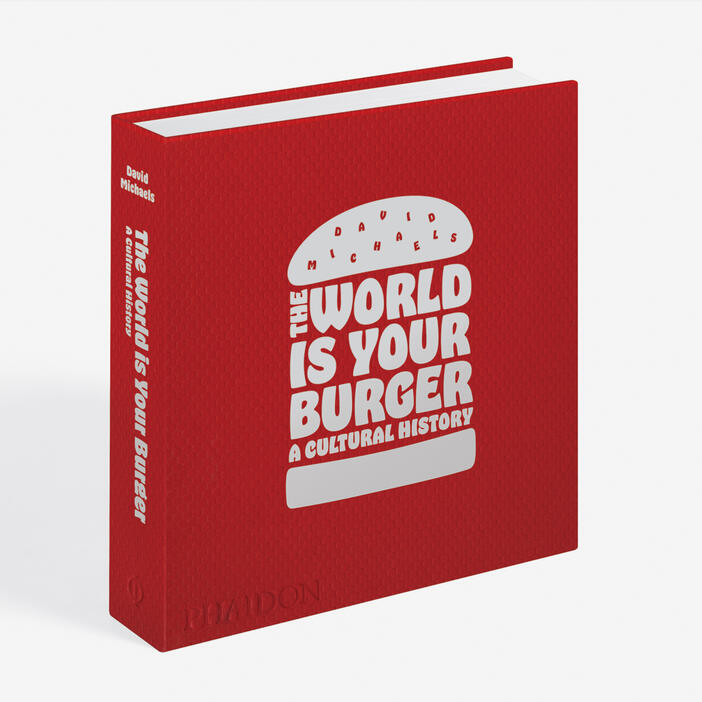 The World is Your Burger: A Cultural History
Price CAD$49.95 Price T39.95 Price USD$39.95
An encyclopaedic, eye-catching tribute to one of the world's most popular foods - the humble hamburger
Celebrate the classic hamburger with this unprecedented collection of essays, photographs, and ephemera - a colourful look at the burger's origins and impact, assembled by a true burgerphile whose passion has taken him around the globe. Perfect for home cooks and pop-culture addicts alike, the book is chock-full of original research, exclusive interviews with culinary icons, never-before-seen archival photographs from brands such as McDonald's and White Castle, and twelve delicious recipes.
Specifications:
Format: Hardback
Size: 220 × 220 mm (8 5/8 × 8 5/8 in)
Pages: 432 pp
Illustrations: 250 illustrations
ISBN: 9780714873985
David Michaels has worked in conceptual design and branding for many retail and hospitality projects including Walt Disney, LVMH, Pepsi, MGM Resorts, W Hotels and MTV. His passion for hamburgers began at a young age and he has been obsessed ever since. In 2007, he opened Bite Me Burger in Sydney. David lives in London.
"The All-American burger went global decades ago but the versions that arrived on foreign shores for the most part were lame facsimiles of the corporate variety. David Michaels' beautiful book proves that a new dawn is upon us and high-quality hamburgers can now be found in every corner of the planet."—George Motz, filmmaker and author of Hamburger America: A State-by-State Guide to 150 Great Burger Joints
"David Michaels has created the definitive history of the great American burger and those who helped popularize it. As beautiful to look at as it is informative, it's sure to be a fun read for any burger lover just as it was for me."—Brad Haley, CMO, Carl's Jr. and Hardee's
"The essential burger book that takes you on the ultimate journey around the burger globe."—Liam O'Keefe, Bleecker Burger
"The World Is Your Burger by David Michaels' will quickly become the Tell All, Holy Grail and historical reference for one of the most widely desired foods... The hamburger."—Pat LaFrieda
"An absolute bible of burgers, a must for any burger lover."—Tom Barton, Food & Brand Director, Honest Burgers Ltd
"Our business has revolved around the hamburger for over 60 years and this book certainly tells that story."—Becky Rickard, Manager of Community Affairs and Archives, SONIC, America's Drive-In
"Takes us on a mouthwatering journey from the burger's humble origins to its seemingly limitless future... Irresistible."—Danny Meyer, Founder, Shake Shack
"This book is an historical journey of a seemingly simple and iconic fast meal and showcases the boundlessness of possibilities of eating beef in a bun. I myself have created the famous db burger in homage to this most popular dish in the world."—Daniel Boulud, Chef/Owner, The Dinex Group
"[An] indispensable meat-centric cookbook... Burgerphiles prepare to get hungry. This is the all-encompassing one-stop guide for home cooks to pop culture addicts, paying tribute to the iconic favourite. Covering everything from the burger's origins and impact, topped off with twelve delicious recipes, this is destined to be your new kitchen distraction."—FineDiningLovers.com
"A mouth-watering gift for foodies and pop-culture fans."—The Sunday Times (Ireland)
"At Jack in the Box, we know how much research, innovation and fun happens to develop a delicious burger! The World is Your Burger is a wonderfully comprehensive look at America's favorite sandwich and the visionaries that bring those craveable burgers to hungry mouths. David Michaels makes reading about the history of the hamburger just as much fun as eating one!"—Iwona Alter, CMO, Jack in the Box
"No other foodstuff has transcended the physical boundaries of the dinner plate and attained the pop-cultural importance of the burger. And no other book does the mighty patty and bun justice like The World is Your Burger... Occupies the meaty Venn-diagrammed mid-point between beautifully illustrated food porn, high-brow history tome, global restaurant guide and gourmet cookbook... Micheals lovingly presents 10 years worth of original interviews and research that'll tickle any red-blooded burgerphile's taste buds and neurons in equal measure... The recipe for truffled relish mayonnaise alone is worth the cover price."—ShortList
"A deep dive into the hamburger... A definitive history."—amNY
"Culture, whether high, low or middling, is a curious beast. So where do burgers fit in? "Low!" You're shouting... Well, not always. Not according to The World Is Your Burger: A Cultural History, a new book from historian David Michaels. The origins of the fast food industry, the aesthetics of branding, the history of man's relationship with lumps of cow meat... it's all here. Exhaustively. And very prettily packaged indeed."—Mr Hyde
"From its no-frills beginnings, the humble burger has conquered the world and captured even the most cordon bleu of culinary hearts. David Michaels charts its rise."—The Sunday Times, The Dish
"Ticking off the globe's juiciest hamburgers, with the help of exhaustive coffee-table guide The World is Your Burger."—Sunday Times Travel Magazine
"Having given the last decade of his life to creating this bible and ode to his favourite food, David Michaels has created a book that is a sheer joy to read and to look at. The World is Your Burger gets as close as is possible to a final word on a subject: it's a comprehensive, definitive and visually delightful guide to the patty and its bun."—InGoodTasteUK.com
"Reveals how the hamburger shot to fame and offers ultimate guide to fast-food fave from toasted bun to streaky bacon."—The Sun
"In this 430-page encyclopedia Michaels traces the history of household-name chains and also looks at cult burgers and regional upstarts. Along the way, he spoke to giants such as chef Daniel Boulud, but he's no snob. He remembers with fondness his first-ever visit to a McDonald's, aged 12."—Bloomberg.com
"Everything you could ever want to know about one of the world's most popular foods."—Burton Mail
"A Beef History of Burgers... Everything you could ever want to know about one of the world's most popular foods."—Trinity Mirror Group
"This is the literary equivalent of a double double [In n Out aficionados know exactly whereof I speak]... Covering film, music and indeed all aspect of culture, the book leaves no burger unexamined."—Entertainment Today Online
"A deep dive into the development of the burger both as a food and as an idea... Beautifully designed... Meticulously researched."—Food & Wine Online
"Addictively entertaining... [A]glorious burger encyclopedia."—Tasting Table
"This master piece should be a MUST for every burger lover around." —Manuel and Ana Claudia, Burger Table
"With mind-boggling burger facts, retro pictures and restaurant profiles, The World is Your Burger is a bible of the all-American patty, and a brilliant coffee table read."—Jamie
"[David Michaels is] the IBM Watson of hamburgers... With a remarkable collection of essays and interviews, vintage photos, pop art, burger memorabilia and a small but well-curated collection of recipes, this book deserves a place on your coffee table."—San Diego Union
"A quirky tribute to the world's most popular dish... Tracing its evolution from an early Roman recipe of ground meat [...] to today's cultural icon... The historical photographs [...] are brilliant."—The Sunday Times, Culture
"If, like me, your eyes keep getting drawn to the burger section of the menu when you go out for a meal; then The World Is Your Burger is maybe the only food book you'll ever need in your life... Michaels brilliantly highlights the important milestones of the burger over time... My favourite part of The World Is Your Burger is it's a perfect 'coffee table' read. You can pick it up for five minutes, flick the pages and land on something you become totally engrossed i