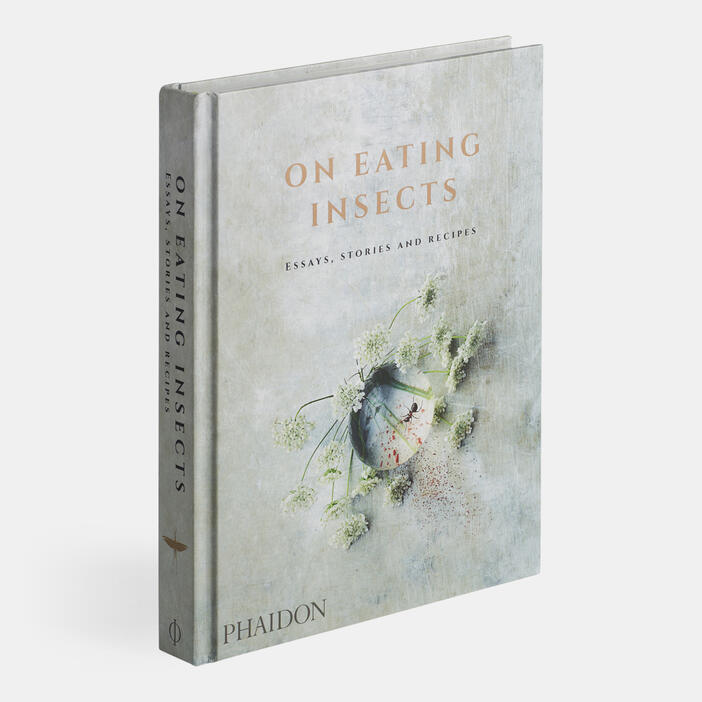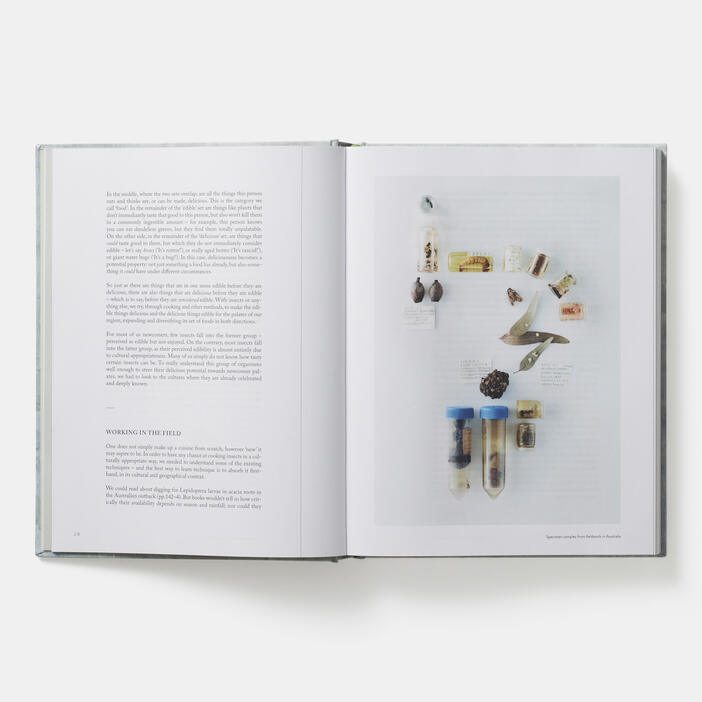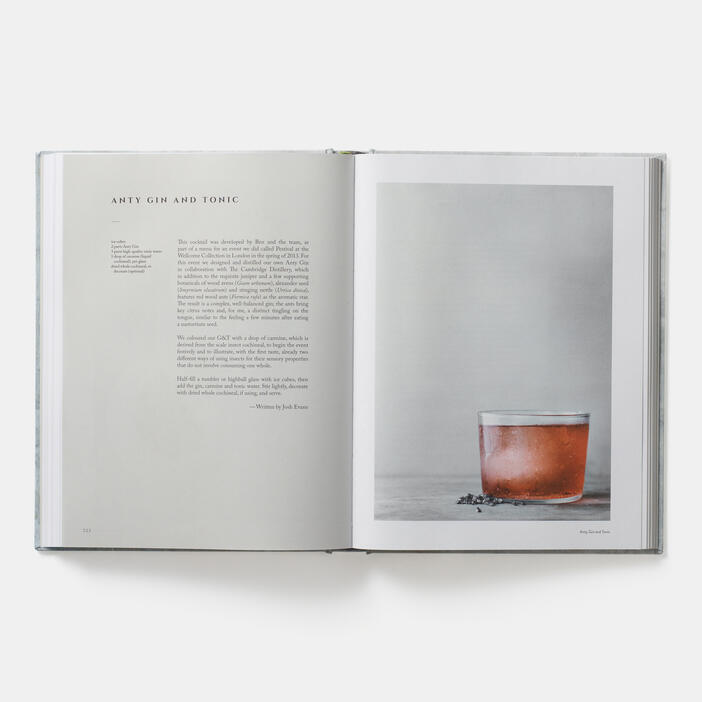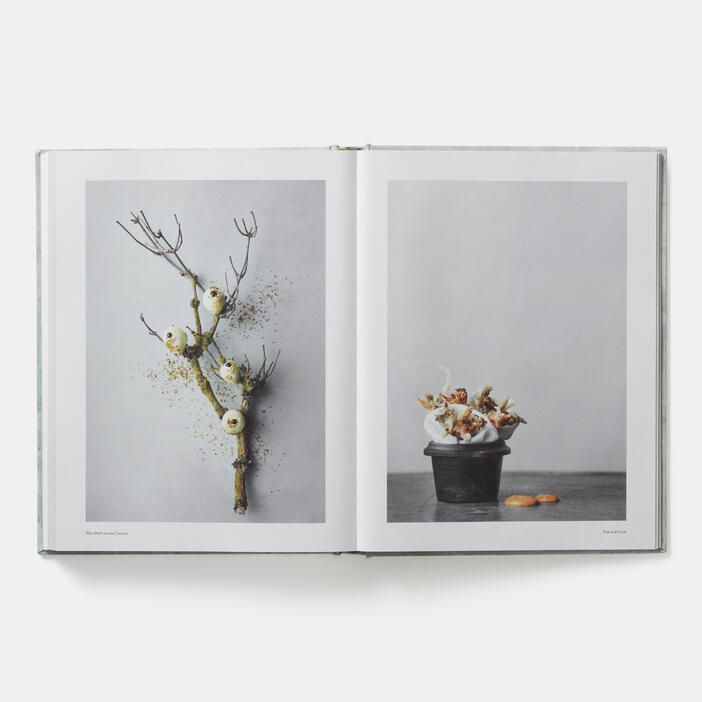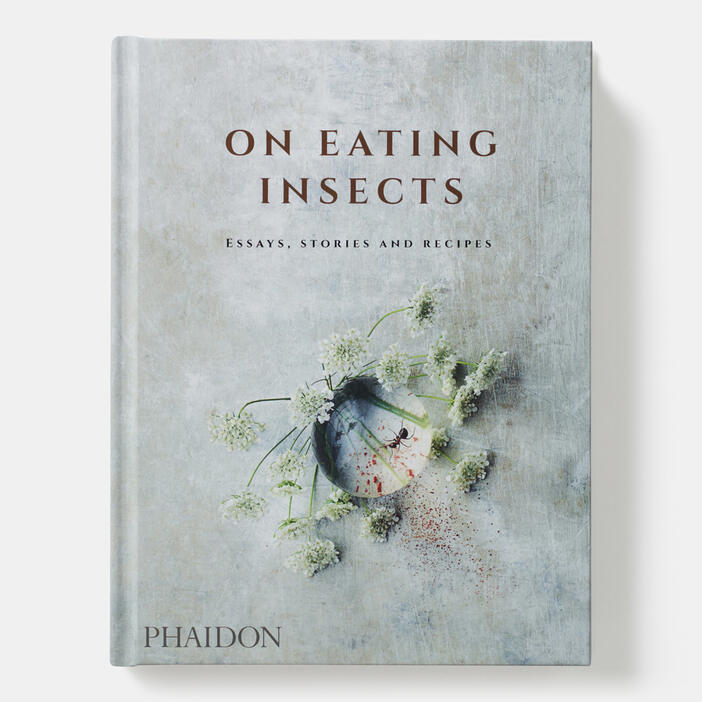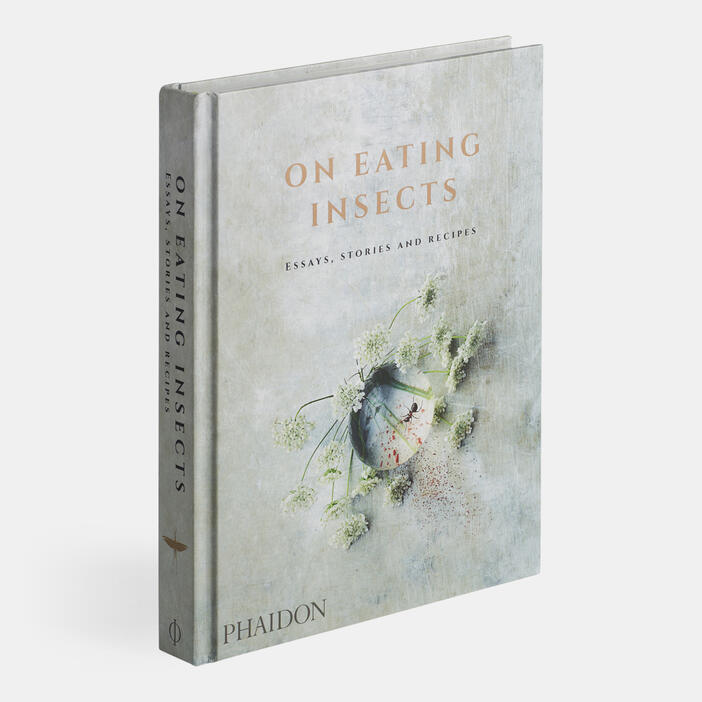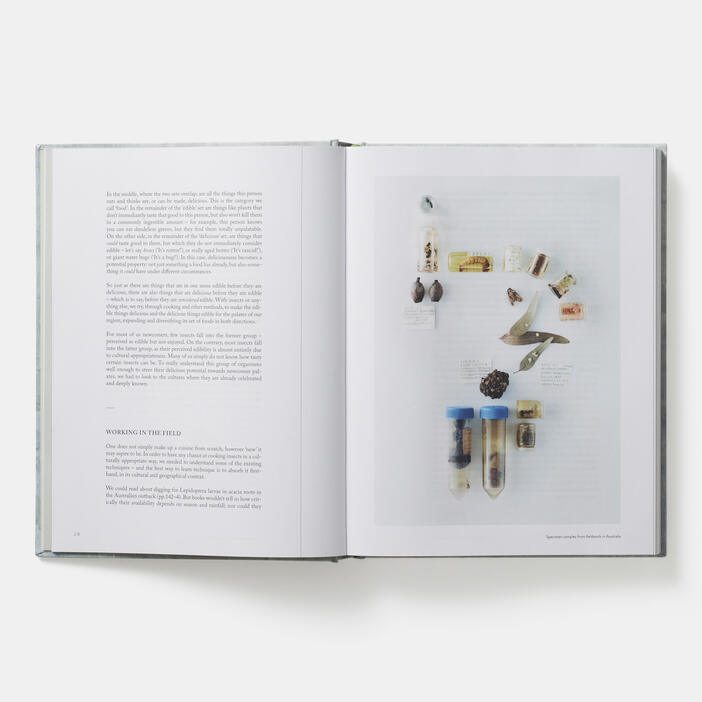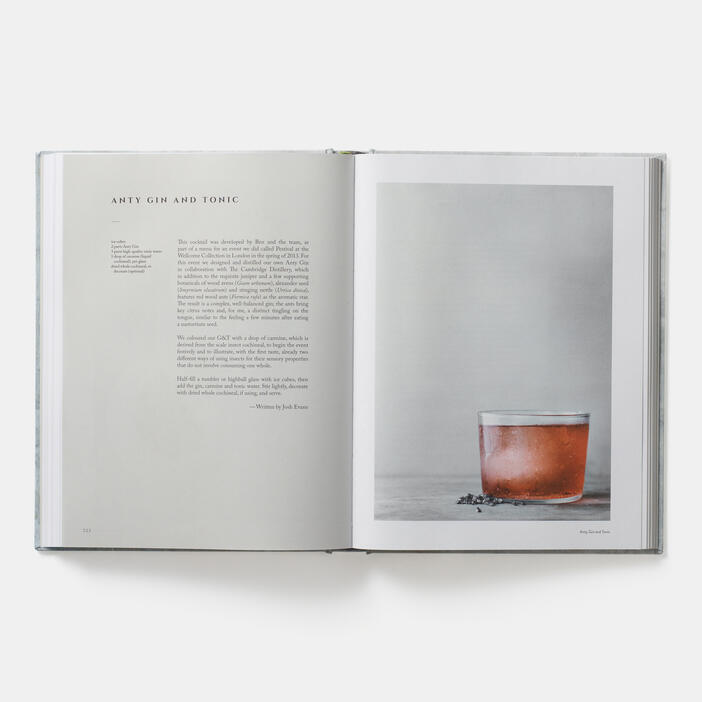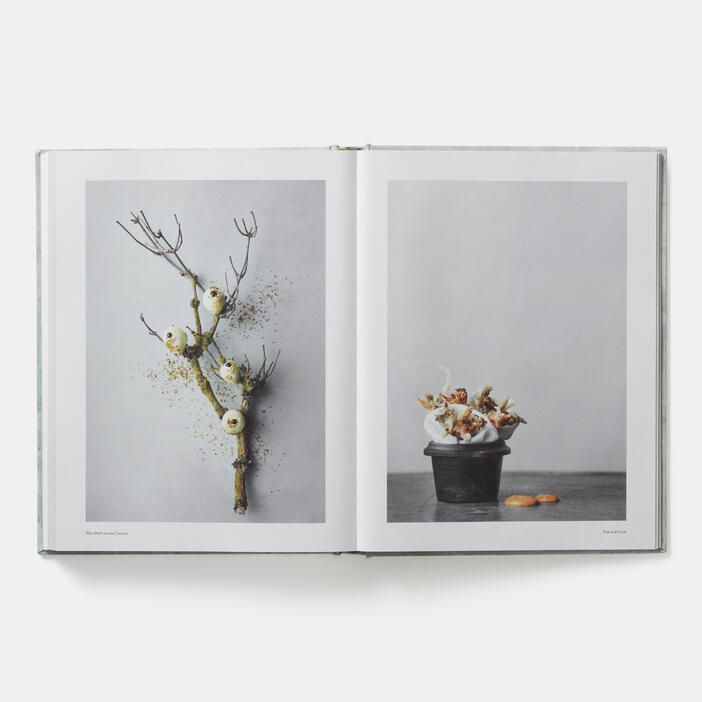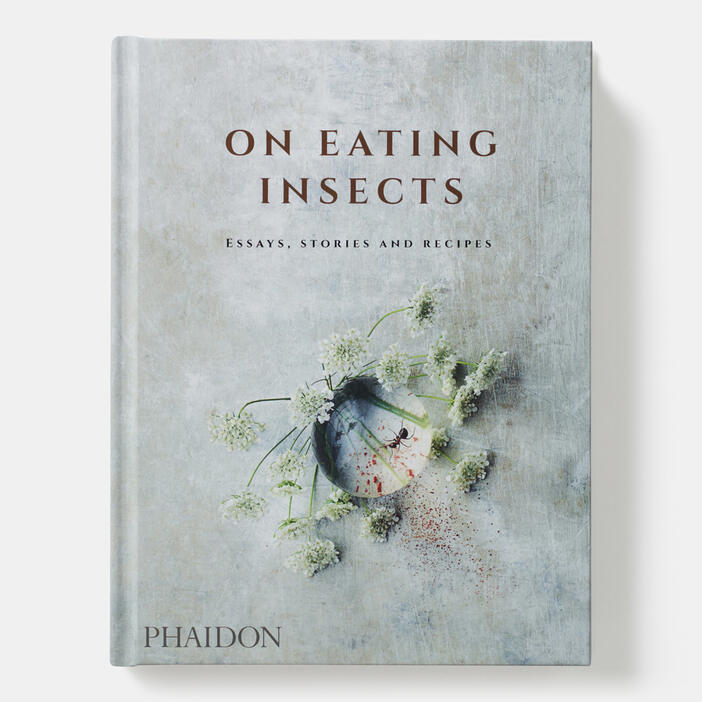 On Eating Insects: Essays, Stories and Recipes
Price AUD$75.00 Price CAD$75.00 Price €49.95 Price £39.95 Price T59.95 Price USD$59.95
A compelling first-hand look at one of today's most fascinating food trends - the practice of cooking with and eating insects
The concept of eating insects has taken off in recent years in the West, with media coverage ranging from sensationalist headlines to passionate press pieces about the economic benefits. Yet little has been written about how they taste, how diverse they are as ingredients, and how to prepare them as food. On Eating Insects is the first book to take a holistic look at the subject, presenting essays on the cultural, political, and ecological significance of eating insects, alongside stories from the field, tasting notes, and recipes by the Nordic Food Lab.
Specifications:
Format: Hardback
Size: 270 × 205 mm (10 5/8 × 8 1/8 in)
Pages: 336 pp
Illustrations: 120 illustrations
ISBN: 9780714873343
Nordic Food Lab is a non-profit, open-source organisation that investigates food diversity and deliciousness. Established in 2008, they combine scientific and humanistic approaches with culinary techniques from around the world to explore the edible potential of the Nordic region — the flavours that say something about us and imbue the foods we eat with a connection to this place and this time. They work to broaden their taste, generating and adapting practical ideas and methods for those who make food and those who enjoy eating.
Josh Evans studied literature and philosophy at Yale University. He worked with the Yale Sustainable Food Project, Edible Schoolyard NYC and other food initiatives before joining Nordic Food Lab in 2012. After four years as a researcher at the Lab and managing the Insect Project, he is now a postgraduate student at the University of Cambridge.
Roberto Flore is a Sardinian explorer and has been head of culinary research and development at Nordic Food Lab since 2014. During his travels, he has gathered techniques and stories from around the world. He has travelled extensively with the goal of understanding how insects are collected, prepared and celebrated in other cultures. He plays a fundamental role in redefining and pushing the boundaries of deliciousness.
Michael Bom Frøst is director of Nordic Food Lab. He has a background as a sensory scientist. Since 2007 his research has focussed on the interface between gastronomy and science. He has been pivotal in building up culinary research with a scientific approach at the University of Copenhagen's Department of Food Science. Here he is Associate Professor in the research group Food Design and Consumer Behaviour.
"Phaidon's On Eating Insects: Essays, Stories and Recipes might be the most authoritative book to explore the science, ethics, culture, and increasingly popular gastronomy of insects."—A.V. Club
"From Bee Bread Butter to Moth Mousse, On Eating Insects will change the way you look at Nature's most plentiful animals... absolutely crawling with data and details, providing a rich wealth of insights into infinite possibilities."—CraveOnline
"[M]eticulously document[s] tasting notes and flavors of insects in a way never previously done."—New Worlder
"[On Eating Insects] looks to dispel discomfort at the thought of chowing down on crunchy crickets and the like, through its collection of recipes, stories and essays. The authors takes a holistic look at the subject, including a look at the cultural, political and ecological significance of choosing to eat insects, and argue that to eat something which disgusts us is the height of eating mindfully."—TheWeek.co.uk
"Once every decade or so there is a book that deserves to be read, and read carefully and considered seriously by people and policymakers from a wide spectrum of backgrounds... Insects will not save us, but that doesn't mean they shouldn't be eaten; we just have to be realistic about them and the role they could play. This book has the ability to start a truthful conversation about the issue. Chefs, food professionals, and those interested in ecosystems, sustainability and cultural and human diversity will find it engaging and of huge interest."—InGoodTastesUK.com
"Hailed as the future of eating, insect gastronomy is creating a real (ahem) buzz in Europe's fine-dining circles."—Easyjet Traveller
"A vast-ranging study into the culture and cuisines that already eat insects and what we can learn from them as well as investigating the sustainable issues around what would happen if we all switched to eating grubs and grasshoppers."—PebbleMag.com
"After school last Wednesday, I watched my five-year-old daughter pop a dead cricket on to her tongue and proclaim it: 'Like fishy popcorn!' 'MMMm, delicious!' squealed her friend... Compared to beef and pork, insects are also a healthy choice: low in fat and high in calcium... [A] beautiful new book... The chefs and academics of the non-profit Nordic Food Lab collective have assembled a series of essays, travelogues and recipes designed to take readers on a journey... I was gripped... [The book has an] elegantly illustrated recipe section... The travel section is fascinating, though, exposing the absurdities of every culture's arbitrary ideas of what's edible (when and for whom) and what's not... When Amazonian people first tried ginger they exclaimed: 'It's just like ants!'"—Spectator
"[A]n unprecedented collection of reports and papers on what insects actually taste like."—Food & Wine Online
"The strength of this book lies in its scepticism about the idea of insects as a miracle cure to the world's regional food crises... The book includes a number of condensed academic essays which shed light on [...] issues of taxonomy... It's in these rather nerdy chapters that the book is most illuminating. The in-depth explorations offer an accessible take on the wider issues at stake in labelling and categorising, as well as introducing lay readers to some of the existential questions at play when we talk about the practice of entomophagy... When at its best, On Eating Insects evokes the experience of a tasting salon with Michel Foucault; each morsel on the plate is subject to the roving eye of the anthropologist discussing its position as a vibrant and present artefact... The reader returns to the issues at stake with a richer, more satisfying sense of what it is to exist in the world."—TheTenderloinJournal.com
"The food photos in this book are so gorgeous that you just might find you've got the bug for bugs."—Independent.co.uk
"[T]he first book to holistically explain entomophagy, the human use of insects as food." —Forbes Online
"This book is a piece of art... This book is unique... The book consists of very personal and intimate logbook entries of thoughts, adventures, encounters and journeys... You will find a wealth of inspiring dishes... The menus are not illustrated in the overwhelming lavish voluptuousness of Baroque tableaus but in a reduced to the max Zen style... The approach of the authors of On Eating Insects is widely anthropologicaland sociological, why not call it ethnoentomological? Isn't it satisfying to see how a bunch of enthusiastic people can help making a change?... The layout of the book looks carefully controlled and really expensive: an exquisite bibliophile edition. In this book you will find no selfies, no jack-ass bravery pranks, no cheap influencer trash and no public relations start-up Blah Blah. Just respectful, decent, direct statements... A crispy reading experience about primal sensorial delights about things that burst the constraints of the term 'edible', shedding light on cultures in which simple is opposite to primitive, a refreshing attitude." —Journal of Insects as Food and Feed (Netherlands)
"Chowing down on insects has made the unexpected transition from taboo to trendy, and On Eating Insects is the first book to take a holistic approach to the subject. Comprised of essays [...] and a selection of refined recipes demonstrating how delicious bugs can be, it is a fascinating read for chefs, food professionals and anyone interested in ecosystems and sustainability."—AmbroSIA (Hong Kong)
"An innovative (and strangely pretty) collection of recipes, essays, research and tasting notes. A culinary revolution – and education – of sorts. Bon appetit."—Emerald Street
"The most thought-provoking food book I've read all year... Approaches the issue from a fresh angle... Beautifully presented, it includes essays on the ethics of eating insects, recipes – such as anty gin, spicy cricket with asparagus – and a lyrically written travelogue." —The Guardian, Review
"Once every decade or so there is a book that deserves to be read, and read carefully and considered seriously by people and policymakers from a wide spectrum of backgrounds... Anyone interested in food and/or sustainability and cultural and human diversity will find this book highly engaging and of huge interest." —LondonLampost.com
"[A] titillating glimpse into a category of food that's not going away anytime soon." —The Village Voice