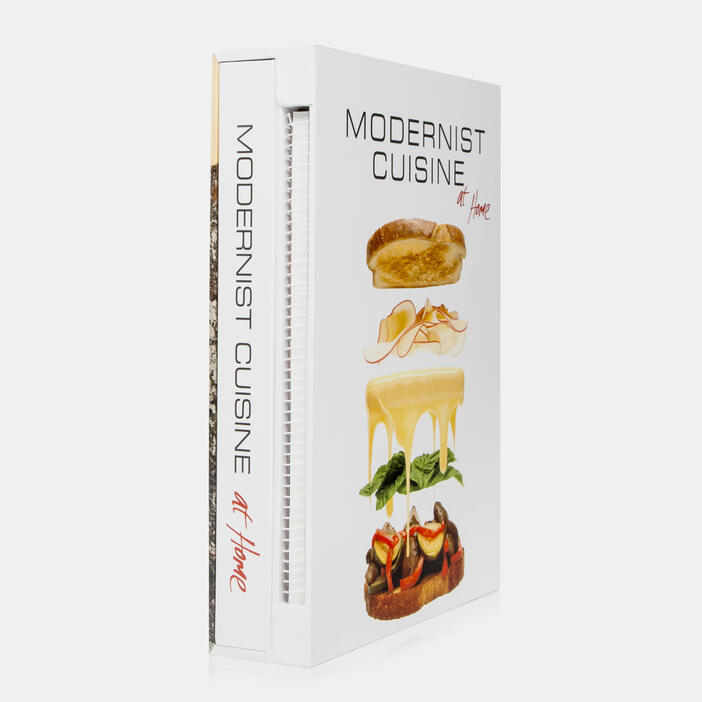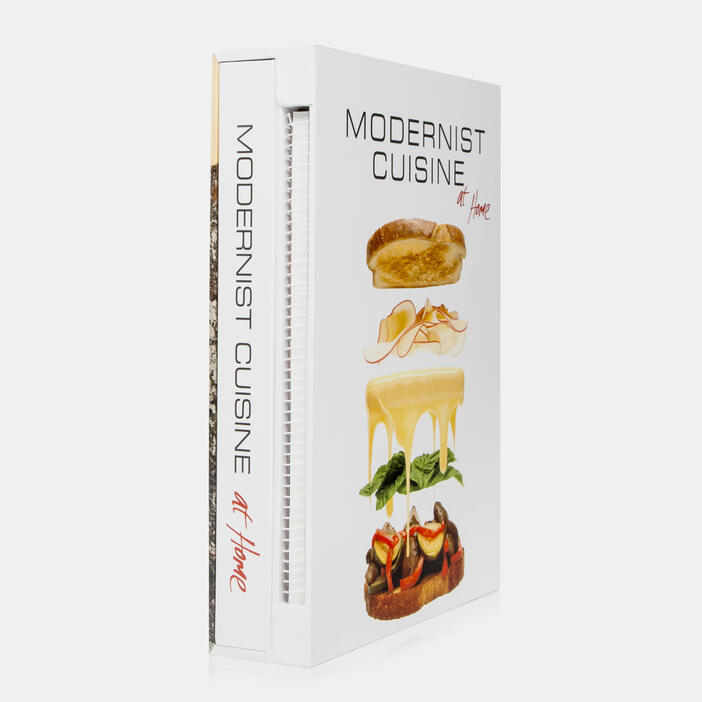 Modernist Cuisine at Home
Price AUD$195.00 Price CAD$175.00 Price £100.00 Price T140.00 Price USD$140.00 Price €145.00
Modernist Cuisine is an interdisciplinary team in Bellevue, Washington, founded and led by Nathan Myhrvold. The group includes scientists, research and development chefs, and a full editorial team all dedicated to advancing the state of culinary art through the creative application of scientific knowledge and experimental techniques.
Change the way you think about food: Modernist Cuisine at Home opens up a new world of culinary possibility and innovation for passionate and curious home cooks. In this vibrantly illustrated 456-page volume you'll learn how to stock a modern kitchen, to master Modernist techniques, and to make hundreds of stunning new recipes, including pressure-cooked caramelized carrot soup, silky smooth mac and cheese, and sous vide, braised short ribs. You'll also learn about the science behind your favorite dishes, what's really happening when you roast a chicken, and why pressure cookers are perfect for making soup.
Specifications:
Format: Hardback
Size: 349 × 279 mm (13 3/4 × 11 in)
Pages: 684 pp
Illustrations: 0 illustrations
ISBN: 9780982761014
Nathan Myhrvold, founder of The Cooking Lab, co-author of Modernist Cuisine: The Art and Science of Cooking and Modernist Cuisine at Home, and author of The Photography of Modernist Cuisine, has had a passion for science, cooking, and photography since he was a boy. By the age of 13, Nathan had already cooked the family Thanksgiving feast and transformed the household bathroom into a darkroom.
Myhrvold holds a doctorate in theoretical and mathematical physics as well as a master's degree in economics from Princeton University. He holds additional master's degrees in geophysics and space physics and a bachelor's degree in mathematics from the University of California, Los Angeles. At Cambridge University, Myhrvold did postdoctoral work with Stephen Hawking in cosmology, quantum field theory in curved space-time, and quantum theories of gravitation, all before starting a software company that would be acquired by Microsoft.
As his career developed, he still found time to explore the culinary world and photography. While working directly for Bill Gates as the chief technology officer at Microsoft, Nathan was part of the team that won the Memphis World Championship Barbecue contest; he worked as a stagier at Chef Thierry Rautureau's restaurant Rover's, in Seattle; he then took a leave of absence to earn his culinary diploma from École de Cuisine La Varenne, in France.
Nathan retired from Microsoft in 1999 to found Intellectual Ventures and pursue several lifelong interests in photography, cooking, and food science. During this time, some of his photographs were published in America 24/7 (DK Publishing, Inc., 2003) and Washington 24/7(DK Publishing, Inc., 2004). Unable to find practical information about sous vide cooking, he decided to write the book he felt was missing—one that provided a scientific explanation of the cooking process, the history of cooking, and the techniques, equipment, and recipes involved in Modernist cooking. Inspired by this void in cooking literature, he decided to share the science of cooking and wonders of Modernist cuisine with others, hoping to pass on his own curiosity and passion for the movement.
In the process of creating his first book, Nathan founded The Cooking Lab, hired an interdisciplinary team that included scientists, research chefs, and writers, and published the much-acclaimed six-volume, 2,438-page Modernist Cuisine: The Art and Science of Cooking, in 2011. That set was followed by Modernist Cuisine at Home, in 2012, which applies the insights of the original book in a format designed for home cooks. In 2013, he wrote The Photography of Modernist Cuisine, and The Cooking Lab partnered with Inkling to publish the Modernist Cuisine at Home app.
Maxime Bilet received a BA in creative writing, literature, and visual arts from Skidmore College. Bilet then graduated with highest honors from the Institute of Culinary Education in New York. He completed a stage at Jack's Luxury Oyster Bar and was quickly hired to the head chef position there by Jack Lamb. Moving to London, he accepted a stage with Heston Blumenthal's development team at The Fat Duck. Just prior to joining the culinary team as head chef for recipe research and development at The Cooking Lab, Bilet trained as sous chef to open the London branch of Auberge de L'Ile. In 2011, Bilet was named to Forbes Magazine's 30 Under 30 list in the category of Food and Wine.
"Modernist Cuisine at Home is destined to change the way we cook—and the way we use recipes. For all of us who cook regularly, this book opens up a whole new world of possibilities. It is full of insights that encourage us to try something new, and that teach us something on every single page." —Martha Stewart
"Modernist Cuisine at Home offers useful techniques and solutions that expand our abilities, and it provides us with a practiced and thorough understanding of why things happen the way they do. Most importantly, it ignites a curiosity within and compels us to ask ourselves not, 'What should we make for dinner?' but rather, 'What can we make for dinner?'" —Thomas Keller
"Nathan Myhrvold and his team, responsible last year for the food-publishing triumph of the decade, the six-volume Modernist Cuisine, have now scaled down and domesticated many of the advanced techniques... Of these, sous vide cooking is the most likely to find a place in the home kitchen, as it has in mine, and Modernist Cuisine at Home treats the subject in glorious detail." —Jeffrey Steingarten, Vogue