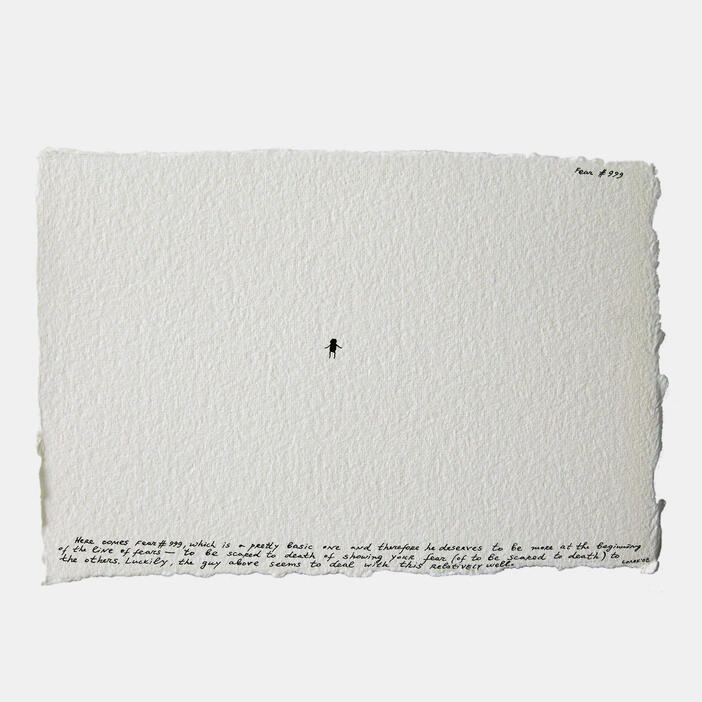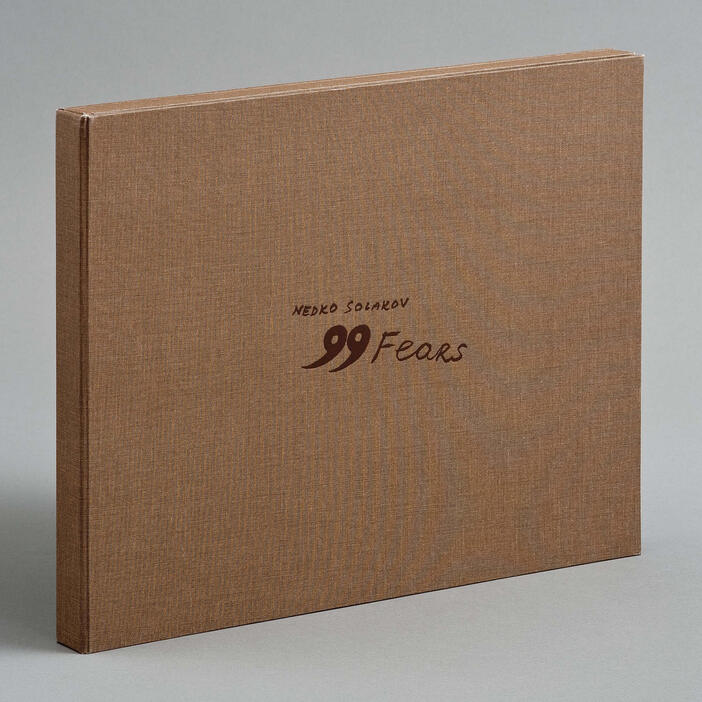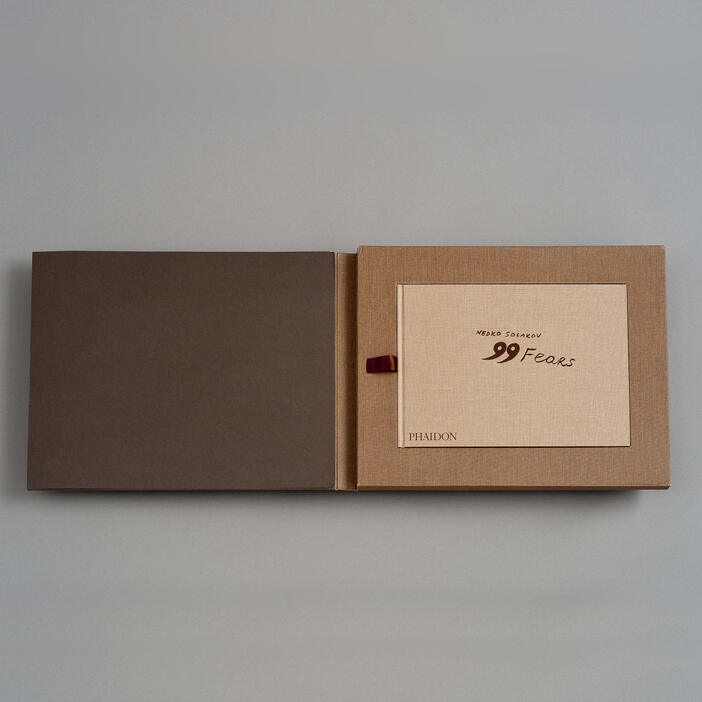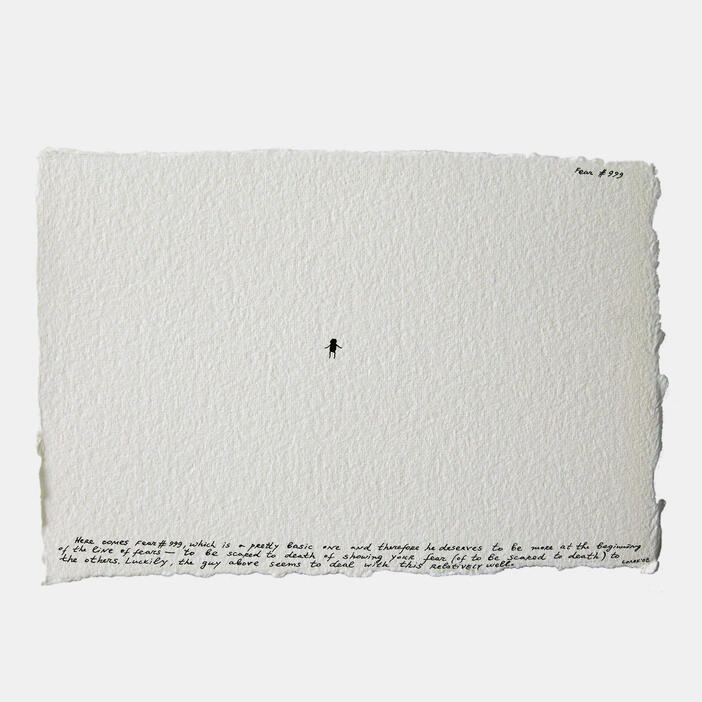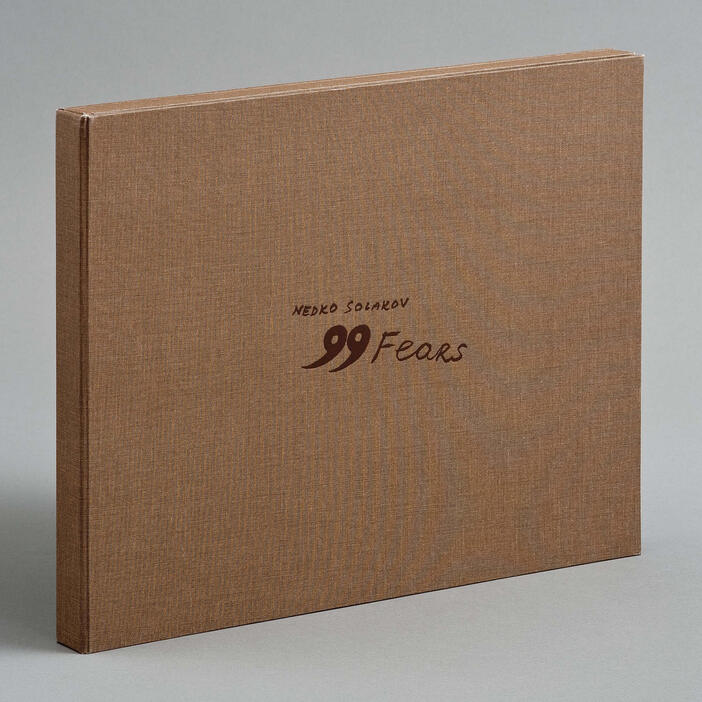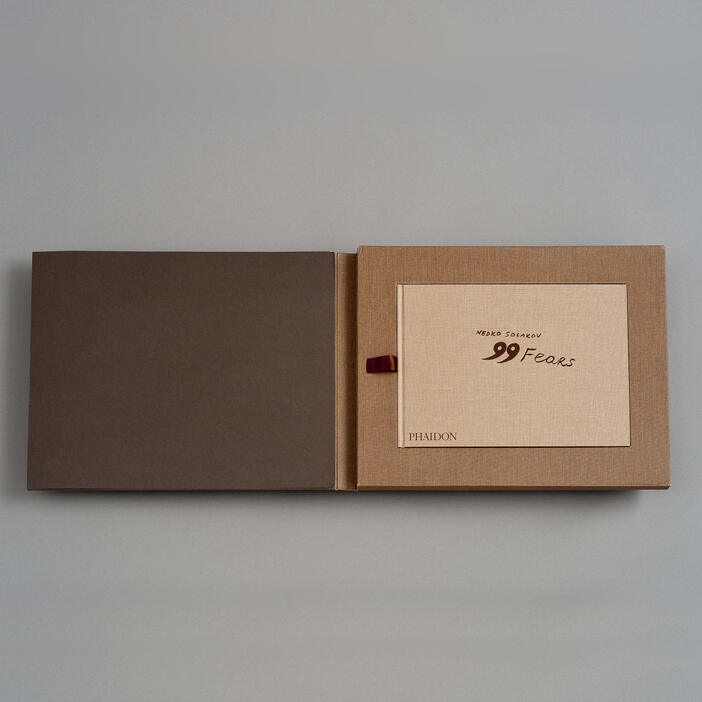 Nedko Solakov: Fear 999 (2010)
Price AUD$1800.00 | Limited Edition Price CAD$1600.00 | Limited Edition Price £850.00 | Limited Edition Price T1400.00 | Limited Edition Price USD$1400.00 | Limited Edition
Engraving on mold-made paper
Sheet size: 203 x 292 mm (8 x 11 1/2 inches)
Box: 345 x 420 mm (14 1/4 x 16 1/2 inches)
Printed in 2002 in an edition of 100 plus 5 artist's proofs
All copies are signed and numbered by Nedko Solakov
A one-of-a-kind opportunity to own a limited-edition engraving and a unique drawing by Nedko Solakov.
99 Fears is a catalogue of insecurities created by acclaimed contemporary artist Nedko Solakov. By focusing on personal worries — from war, AIDS and plane crashes to writer's block, infidelity and the size of one's CV — 99 Fears depicts the general free-floating anxiety of modern life in hilarious detail. In the artist's inimitable voice, handwritten captions bring the drawings to life with bold strokes of self-deprecating humour. These are the fears of an everyman but also those of an artist who grew up under communism, with all its represssions and privations, only to find a new set of apprehensions waiting for him under capitalism. Nothing, however, can match his dread of the future, with all its shapeless, unspeakable terrors. By plumbing the depths of his anxiety, Solakov emerges with his belief in the human spirit intact and his tongue firmly in cheek. If 99 Fears teaches us anything, it is to stop worrying and embrace the only thing we need to be afraid of: fear itself.
For this Collector's Edition, Solakov has made ink drawings directly on the printed book — a unique drawing on a different page of each edition. This specially bound book is presented in a handmade box along with a new engraving, Fear #999, exceptionally printed on hand-torn mould paper in an edition of 100 and signed and numbered by the artist. It is a one-of-a-kind opportunity to own a unique work and a limited-edition print by one of the world's most widely exhibited and admired contemporary artists.
Specifications:
Format: Hardback
Size: 340 × 420 mm (13 3/8 × 16 1/2 in)
Pages: 112 pp
Illustrations: 0 illustrations
ISBN: 9780714849515
Nedko Solakov graduated from the Sofia Academy of Fine Art in 1981 in classical mural painting and has since developed works in a range of mediums, most notably drawing and installation. Widely loved for its sharp wit and offbeat humour, his work has been the subject of major solo exhibitions at venues around the globe, including CCA Kitakyushu, Japan; Museo Nacional de Arte Reina Sofía, Madrid; Rooseum, Malmö, Sweden; the Israel Museum, Jerusalem; and Kunsthaus Zürich. His work has also been featured in the world's most important international exhibitions, such as the Venice Biennale (1993, 1997, 1999, 2001, 2003, 2007), the Istanbul Biennial (1993, 1995, 2005) and Documenta (2007).