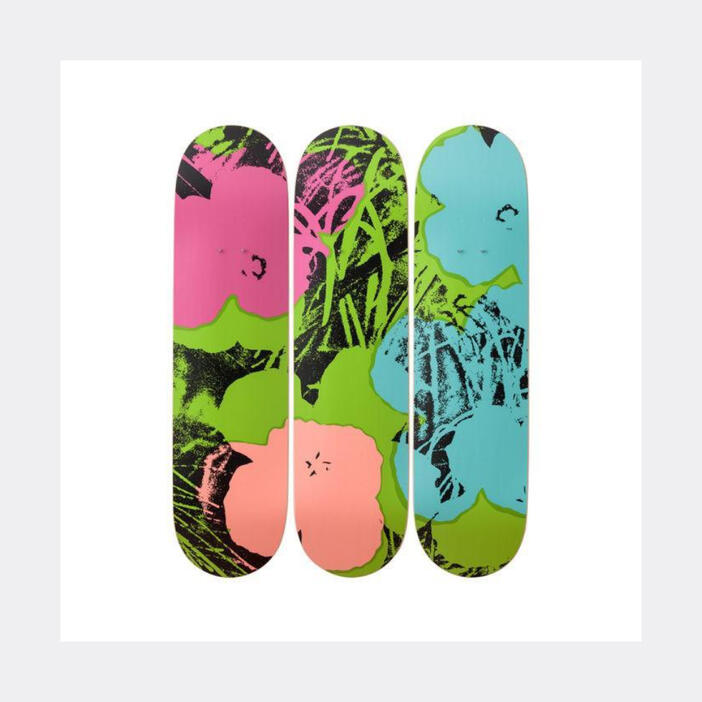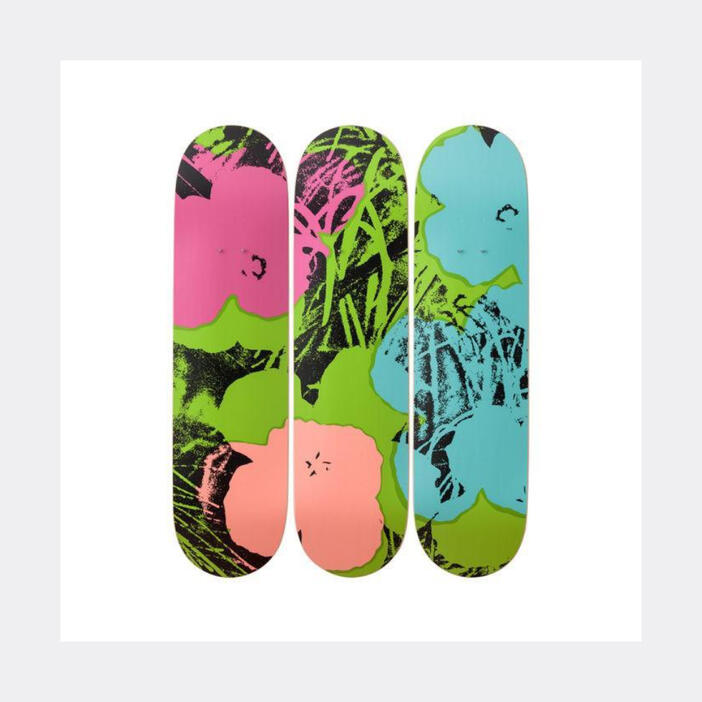 Andy Warhol: Flowers (Green/Pink), 2019
Price AUD$950.00 Price CAD$900.00 Price £600.00 Price T700.00 Price USD$700.00
Made of 7 Ply Grade A Canadian Maple Wood
31.00 x 8.00 in
78.7 x 20.3 cm
Edition of 500
1 Wall Mount Included Per Deck

Produced by The Skateroom in 2016, under license from The Andy Warhol Foundation for the Visual Arts, Inc.
A wall mounted triptych - set of 3 decks. Print on wood.
Quite possibly the most influential artist since Marcel Duchamp, Andy Warhol revolutionized modern art, radically altering the relationship of art to notions of authorship and commodity, and blurring the boundaries between performance, photography, painting, and sculpture. Warhol's innovations, which have now become familiar artistic techniques, confounded traditional notions of what an artist did (Warhol outsourced much of his work to assistants) and what artistic subject matter could be. Using reproductions of common, commercially available images from advertising and the celebrity press, Warhol presented art as one commodity among many, an act filled with equal parts indifferent boredom, ingenious marketing, and celebration. He was lauded as a mirror of contemporary American culture, in which, he predicted, everyone would experience (or want to experience), "15 minutes of fame," to use a phrase he coined.
Ships in 1 to 2 weeks from Belgium.
This work is final sale and not eligible for return.
Beginning in the 1950s, Warhol began to experiment with presenting mass-produced advertising images as artwork. An early painting depicted a bottle of Coca-Cola, rendered in a painterly, expressionistic manner. A second painting of the same image, made with the strait-laced, hard edge exuberance of graphic art, convinced Warhol that earnest reproductions, with a minimum of artistic intervention, could produce fascinating images. Ivan Karp, a curator for Leo Castelli, agreed with Warhol after seeing his two Coke paintings. Karp introduced Warhol to other like-minded artists, including Roy Lichtenstein and James Rosenquist. He was soon showing his work regularly at galleries in New York and Los Angeles and quickly became an enigmatic doyen of the New York scene. (Some critics and artists, especially the abstract expressionists, took great umbrage with Warhol's work, seeing it as antithetical to their ideals and as encouraging of consumerism.)