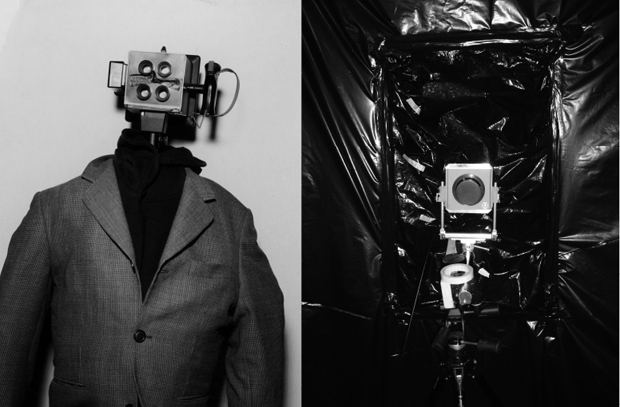 Phaidon's eye on the photography world - 19.6. 2012
Our international roundup takes in Australia, Germany, the Netherlands, Israel, America and the UK
70 photos for 70 years This week one of the most photographed musicians of all time, Paul McCartney turns 70, and to celebrate, Time magazine's Lightbox has searched the archives to find 70 images of the singer - one for each of his years. From seemingly down to earth shots of McCartney reading a magazine - allbeit one titled the Beatles - and quiet moments backstage with the band to being surrounded by crowds and police barricades the photographers such as Snowdon, Philip Jones Griffiths of Magnum and Bob Gomel of Time & Life seem to have capture every aspect of a star who shows no sign of fading.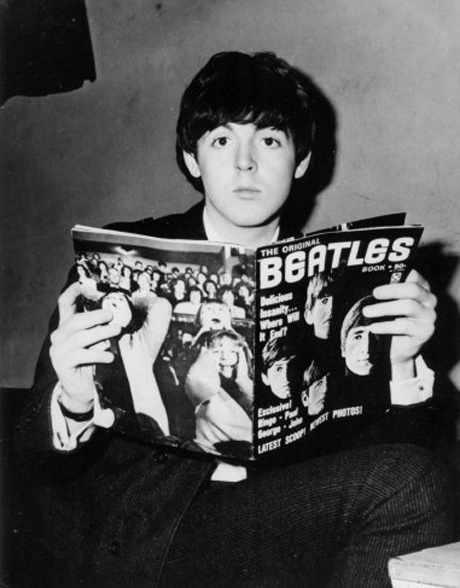 Eugene Richards goes solo - again Celebrated photojournalist Eugene Richards, who first became known for his project Dorchester Days, has left Getty owned agency Reportage. It's not the first time that Richards has gone solo, a member of Magnum Photos for over 20 years he left the agency in 1994 only to rejoin and leave again in 2006. Richards joined Reportage in 2010 after a short stint at VII Photo. It's unclear whether he intends to rejoin Magnum, VII Photo or to remain a solo act.
If it takes a photo it must be camera Rocks, tin foil, bin liners, old TV sets, these are the odd items that make up a camera for one of the most promising teams in contemporary photography, Swiss photographers Taiyo Onorato & Nico Krebs. Creating both 2-D photographs and 3-D installations, the duo work as sculptors, moulding and shaping their photographs until they achieve their preferred balance of reality and fiction, humour and seriousness. The pair, who joined forces in 2003, use their intelligent, ironic and witty photographs to comment on the history of photography, how cameras work and the role of the photographer in their new show Light of Other Days at Foam Fotografie Museum in Amsterdam until August 22.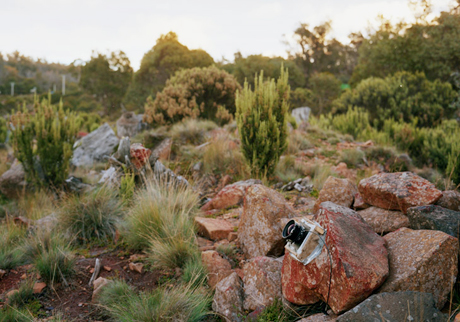 Pompidou curator moves to MoMA New York's Museum of Modern Art has named its next chief curator of photography. Quentin Bajac, who has been chief curator of photography at the Pompidou Centre in Paris for 17 years will join MoMA in January next year. MoMA has been at the forefront of championing photography as an art form since starting its collection of photographs in 1930 and now boasts one of the most important collections of modern and contemporary photography in the world. Bajac has a big task ahead of him. Not only will he be looking after the museum's 25,000 photographic works, he succeeds Peter Galassi who retired from MoMA last July after an astonishing 30 years.
The who's who of photography With photographers such as Andreas Gursky, Thomas Struth, Candia Höfer, Joel Sternfeld, Thomas Ruff and Jeff Wall among others, the roll call for LOST PLACES: Sites of Photography at the Hamburg Kunsthalle reads like a roll call of contemporary masters. The show, open until September 23, takes a closer look at the influence this era of historic social change has had upon photographers who address ideas of 'space' and 'place' within their work. If you're in the area (and even if you're not believe us, it's a worthwhile detour) this exhibition, with its immense landscapes, promises to be a show-stopper.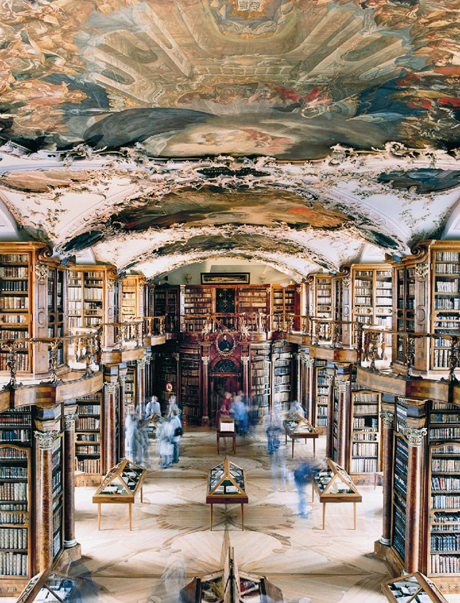 __The Australian Vivian Maier __ When do personal snaps become suitable for the gallery wall? Australian photographer Albert Tucker's photographs of his friends from the late 1930s to mid-40s have recently emerged as a document of some of Melbourne's most notable art communities. Like Chicago nanny Vivian Maier - whose street photographs were discovered in a storage locker - the photographer's work only came to light by accident. A new exhibition of Tucker's work at Heide Museum of Modern Art until September 9 features photographs of his friendships and the wider art community in Melbourne at the time including photos from the 1960s featuring a number of notable artists, including Arthur Boyd and Sidney Nolan, in their youth.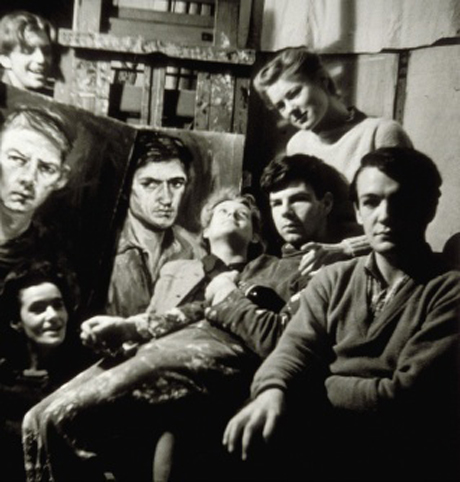 Helvetica director documents the 'ghosts' of Olympics past Director and producer of cult design film Helvetica Gary Hustwit has teamed up with Brooklyn-based photographer Jon Pack to film The Olympic City, a project that looks at the legacy the Olympic Games leaves in former host cities around the world. Taking in Los Angeles, Montreal, Lake Placid, Athens, Rome and Mexico City the pair have toured the globe to find the successes, failures and "ghosts of the Olympic spectacle." To fund the project and upcoming exhibition, Hustwit and Pack have started a campaign on Kickstarter. With minimum donations starting at just $1 anyone can help but with a donation of $3,500 or more you can get a personal tour around one of the Olympic cities yet to be featured in the project as well as an original signed print and invitation to the exhibition when it opens in New York next year.
Will Israeli bill put a stop to Spencer Tunick's naked ambition? Last year 1,000 Israelis posed nude on the shores of the Dead Sea for American photographer Spencer Tunick. Now a member of the Israeli parliament has submitted a bill that could enforce a one-year prison sentence on anyone who strips down in public in response to Tunick's work. "Such a mass shoot, which offends a large population in Israel does not add to this marvel but could very well detract from it," politician MK Nissim Zeev says. The submission of the bill may have alreadyd dampened Tunick's desire to capture the world naked. This weekend he is set to celebrate Wagner's Ring Cycle in Munich by photographing residents of the city - this time wearing body paint.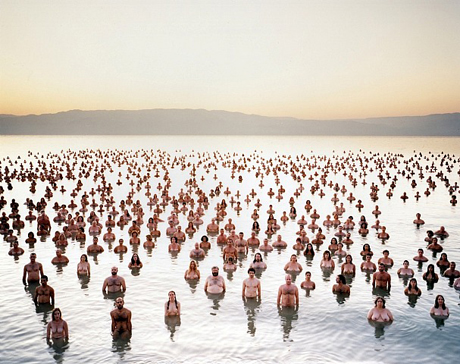 New blood in London Student photographers have descended upon London as at the beginning of the week the Student Street Photography Award went on show at Orange Dot Gallery and will be open until June 29. The Free Range photography graduate shows have also started and this year looks to be the best yet with many universities running talks, workshops and portfolio reviews for photographers newly entering the industry alongside their exhibitions. University College Falmouth is hosting a week of events at Foto8 and the University of Central Lancashire is running free photography lectures at the Old Truman Brewery from this Friday.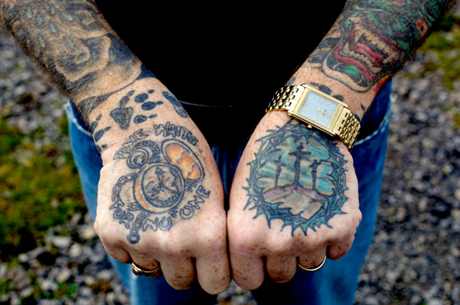 And finally... Cinematic photographer Philip-Lorca diCorcia has a tip for overcoming the stress (and occasional pomposity of art and photo fairs). "For me, going to an art fair is a strange look behind the forbidding white desk that is usually the first thing you see in a gallery," he says. "All that pretence to a rarefied atmosphere is stripped [away]. There is a lot of effort put into presentation in the galleries and that is limited by the constraints of an art fair. And I think that's interesting - to see the director sitting there and to see what kind of socks he's wearing."