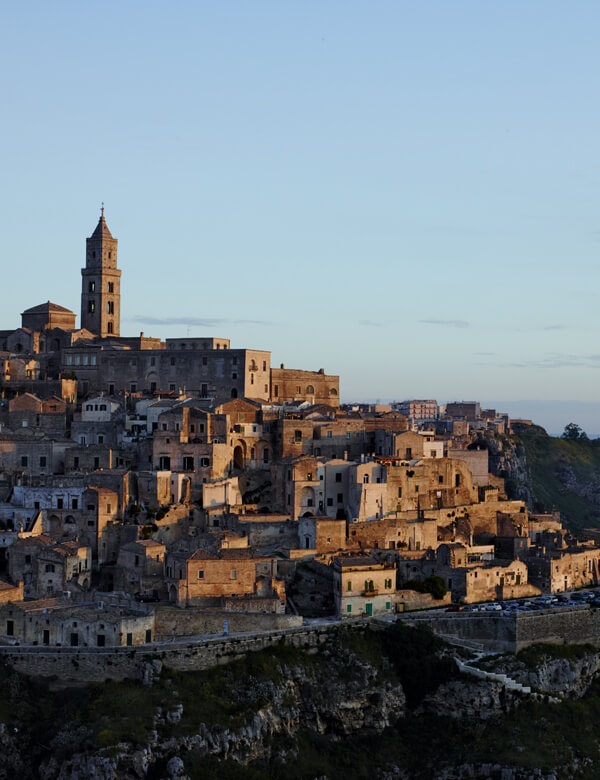 Destination Food – Puglia
Transport your taste buds with some simple snacks and ambitious dishes inspired by southern Italy's unique and delicious combination of culture and ingredients
Many of us aren't going to be taking up our seats in the airport departure lounge any time soon. So how are we going to satisfy that taste for travel? One way is by taking a tour of the world's cuisines via our best-selling food bibles - those big culinary books that focus on a nation's gastronomic excellence.
This summer we're publishing a smartly edited selection of dishes from each of them. We'll focus on simple snacks and street food for those of us with just a little extra time on our hands and we'll also include some slightly more ambitious dishes from each for those of you with more evolved culinary expertise who want to stretch out and surprise family and a few carefully chosen friends over the long summer weekends. Seat backs and tray tables in upright position? Next stop Puglia in southern Italy.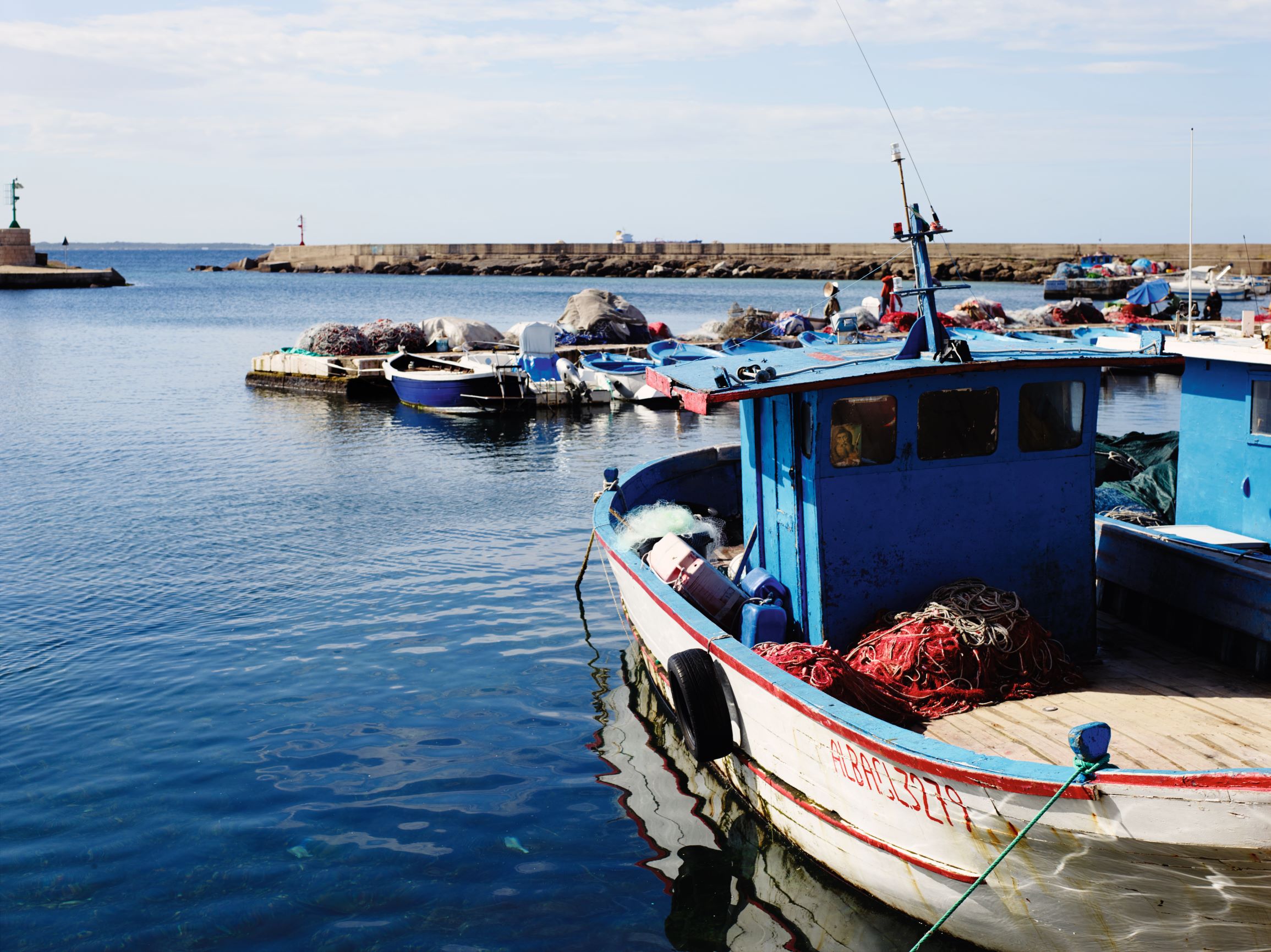 We might think of Italy as having a single, homogenous culinary landscape, but, as our books on the country's regional cookery make clear, there's a great deal of variation. Even Puglia – essentially the 'heel' of the Italian boot-shaped peninsula – and its neighbouring, westerly region of Basilicata, which is also covered in this book, can be seen as melting pots, which have absorbed earlier cultures. They formed part of Greater Greece, and, as our book explains, "it was not until medieval times that they became entirely Italianized, though even today, in some of the smaller towns and villages, you can still hear the old Griko dialect being spoken."
Subsequent visitors from Africa, the Middle East and the East Indies introduced spices and red aubergines to the region – which, thanks to their coloured skins, are easily mistaken for tomatoes – while Frederick II, Holy Roman Emperor and a great lover of southern Italy, combined Norman, Arabian and Greco-Latin cultures at his southern Italian court during the thirteenth century.
"Nicknamed Puer Apuliae (Puglian Boy) because of his passion, the Emperor hosted legendary banquets using the products of the regions," explains our book. "His right-hand man in all of this was a famous chef of that time, Mastro Berardo, who prepared seasonal dishes incorporating a riot of colours, spices and aromas. Numerous courses of salads and fruits would be followed by soups of spelt, and vegetables plucked from the gardens of the imperial palace in Lucera: these included borage, rocket (arugula), wild chicory and cardoncelli (the wild 'king trumpet' mushroom), boiled and dressed with olive oil. Federico was particularly fond of ingrattonato, a rustic soup from Basilicata, made from tripe and eggs, though the exact recipe remains a closely guarded secret." Thankfully, many of the region's dishes aren't quite so shrouded in mystery. Fancy brightening up your summer by trying your hand at these? Here's how to do it.
SMALL PLATES
HONEY PASTRY FLOWERS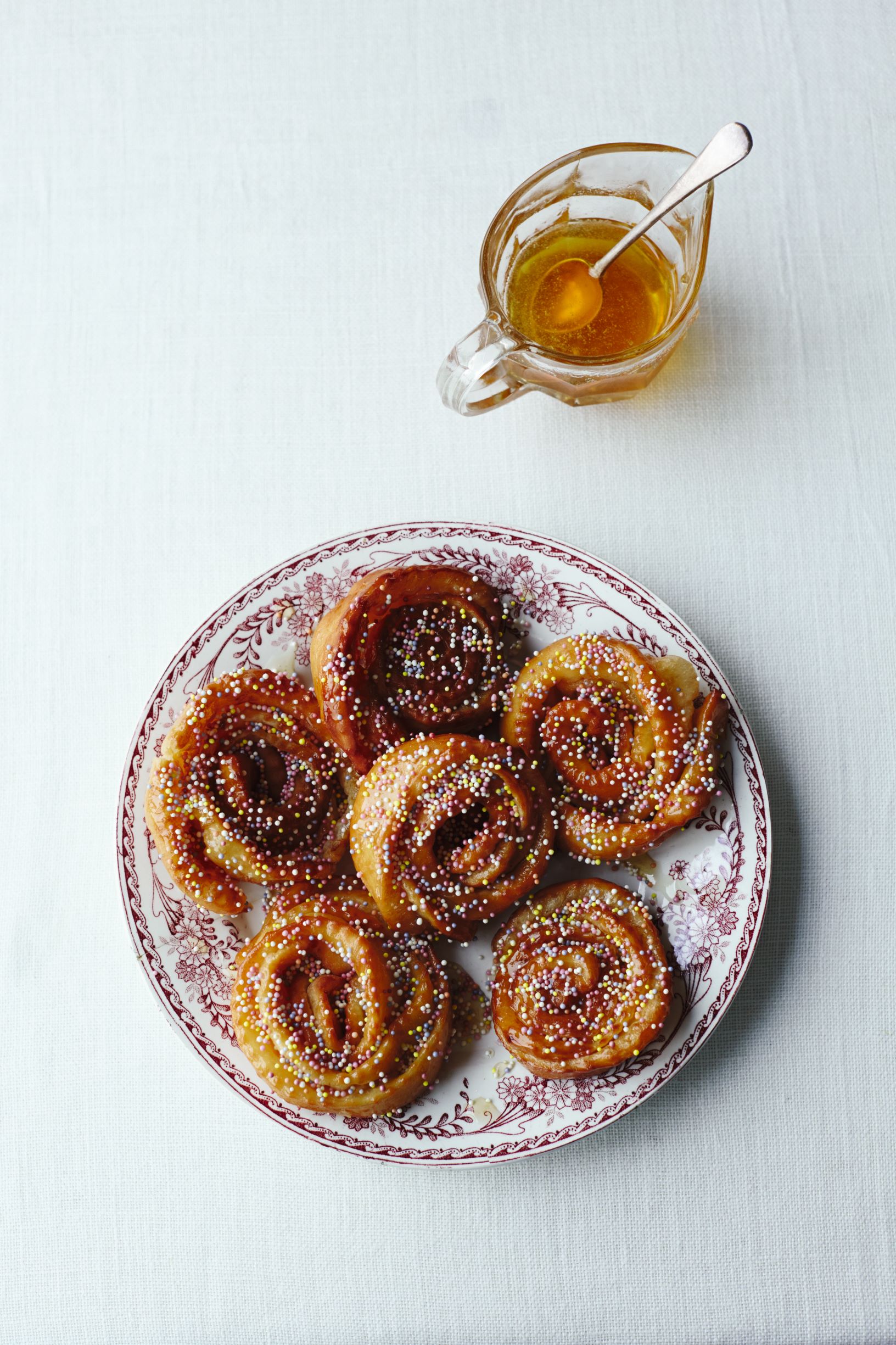 Preparation time: 40 minutes + 2 hours rising
Cooking time: 30 minutes
Makes 8 large or 16 small pastries
Place the flour in a mound on a work surface, make a well in the centre and add a pinch of salt, the yeast, oil, wine and 120ml /4floz (½ cup) lukewarm water. Quickly work in the flour until you have a soft, not sticky, dough. Knead for 5–10 minutes, until the dough is smooth. Cover with clingfilm (plastic wrap) and leave in a warm place to rise for 2 hours or until doubled in size. Divide the dough into 8 equal pieces, place them on a lightly floured surface and roll into balls.
Using a rolling pin, roll them into very thin rounds with a diameter of 25–30 cm/10–12 inches. Using a pastry wheel, cut each round into a long spiral strip about 5 cm/2 inches wide. Fold each strip in half lengthways and roll into a loose spiral, making a tuck every 2.5 cm (1 inch) on the outer side of the strip. The finished spiral should look roughly like a rose. Set aside at room temperature for 2 hours.
Heat a one-third depth of oil in a large saucepan. When hot enough to brown a cube of bead in 20 seconds (180°C/375°F). Carefully deep-fry the pastries one at a time for about 2 minutes each, turning over halfway through the cooking time, until golden brown. Scoop out with a slotted spoon and drain them upside down on paper towels. Heat the honey in a small saucepan. Using tongs, quickly dip the pastries in it, then arrange them on a platter. Decorate with sprinkles and serve warm.
500 g / 1 lb 2 oz (4 cups) plain (all-purpose) flour, plus extra for dusting
7 g /¼ oz (2¼ teaspoons) easy blend (quick rise) yeast
100ml/ 3½fl oz (scant ½ cup) olive oil
100ml/ 3½fl oz (scant ½ cup) white wine
Vegetable oil, for deep-frying
350 g / 12 oz (1½ cups) honey
Salt
Sprinkles, for decorating
DINNER
RICOTTA GNOCCHI WITH COURGETTE PESTO AND TRUFFLE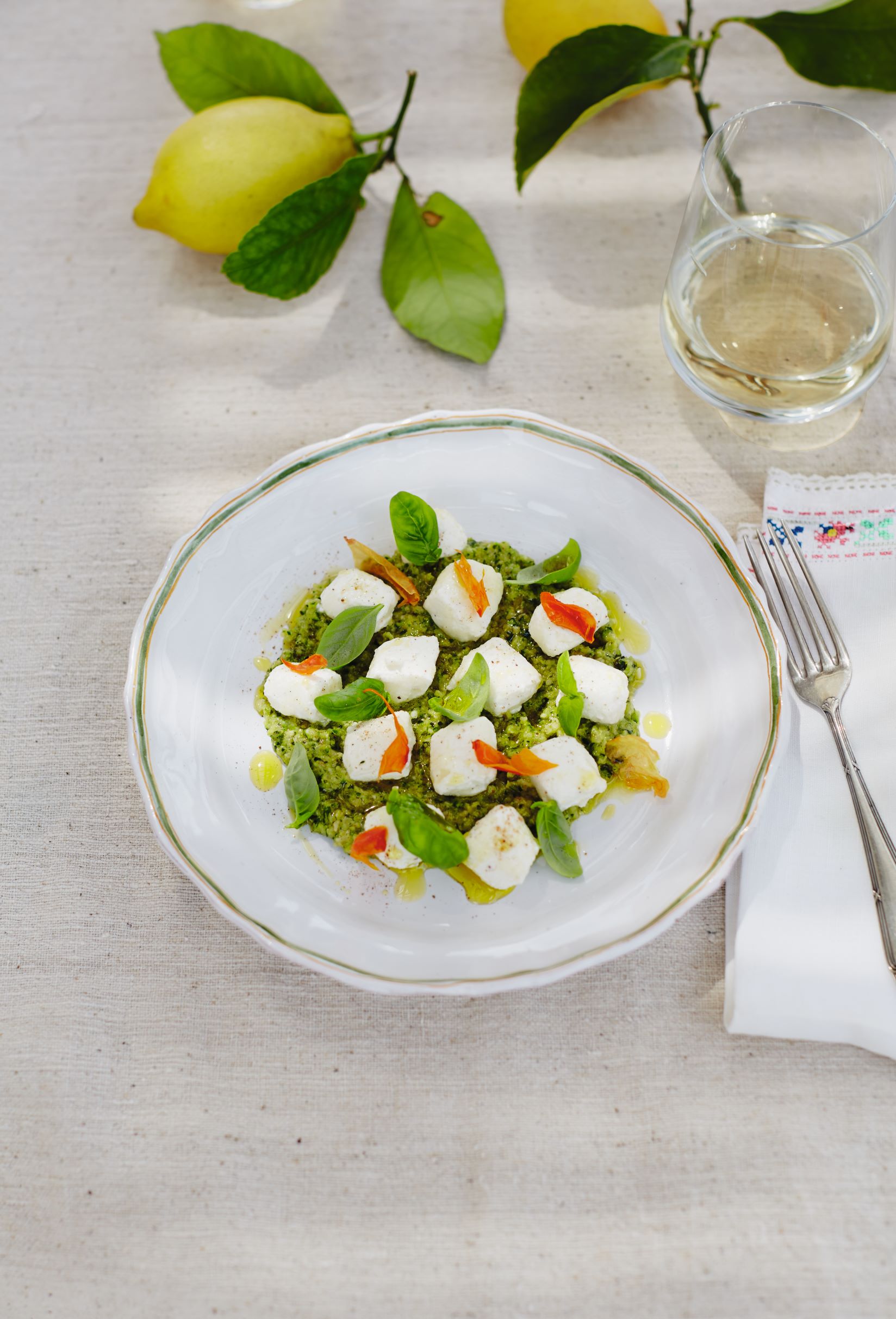 Preparation time: 30 minutes + 8 hours resting
Cooking time: 2 hours + 10 minutes
Serves 4
Cream the ricotta in a bowl. Add nutmeg and salt to taste, then spoon the mixture into a piping (pastry) bag ftted with a 1.5-cm /½-inch plain nozzle. Pipe balls of the mixture onto a tray, cover and place in the refrigerator for about 8 hours.
Preheat the oven to 50°C /120°F or lowest gas mark setting. Arrange the tomato skins in an ovenproof dish and place in the oven for about 2 hours.
To make the pesto, cut the courgettes (zucchini) in half lengthways and scoop out the pulp. Place it in a saucepan of boiling salted water and cook for 1½ minutes, until just soft. Drain, cool in iced water, then drain again. Place in a blender with the walnuts, ice cubes, olive oil, basil and salt and whiz until creamy. Transfer to a heatproof bowl and set aside.
Put the semolina on a large plate and roll the ricotta balls in it until well coated. Place in a saucepan of boiling salted water and cook over medium heat for 3 – 4 minutes. Drain well. Place the bowl of courgette pesto over a saucepan of simmering water and heat through. Spoon it into the centre of 4 bowls. Place the gnocchi on top and garnish with fakes of black truffle, basil and tomato skin. Sprinkle with pepper and drizzle with oil before serving.
400 g / 14 oz (1¾ cups) drained goat's milk ricotta cheese
Freshly grated nutmeg
5 tomato skins
400 g / 14 oz (2‡ cups) semolina
Black truffe fakes, to serve
For the pesto
4 small courgettes (zucchini)
30 g / 1 oz (¼ cup) walnuts, shelled
5 ice cubes
1 tablespoon good-quality extra-virgin olive oil, plus extra for drizzling
1 small bunch basil, plus extra for garnishing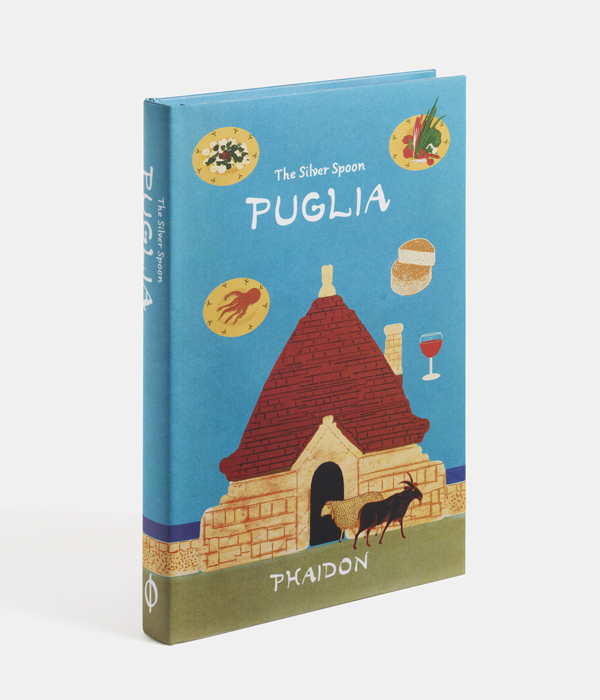 Hankering for a little more of the taste of Puglia? Then order a copy of Puglia here; or to broaden your culinary skills out to encompass more of Italy, get The Silver Spoon Classic, here.