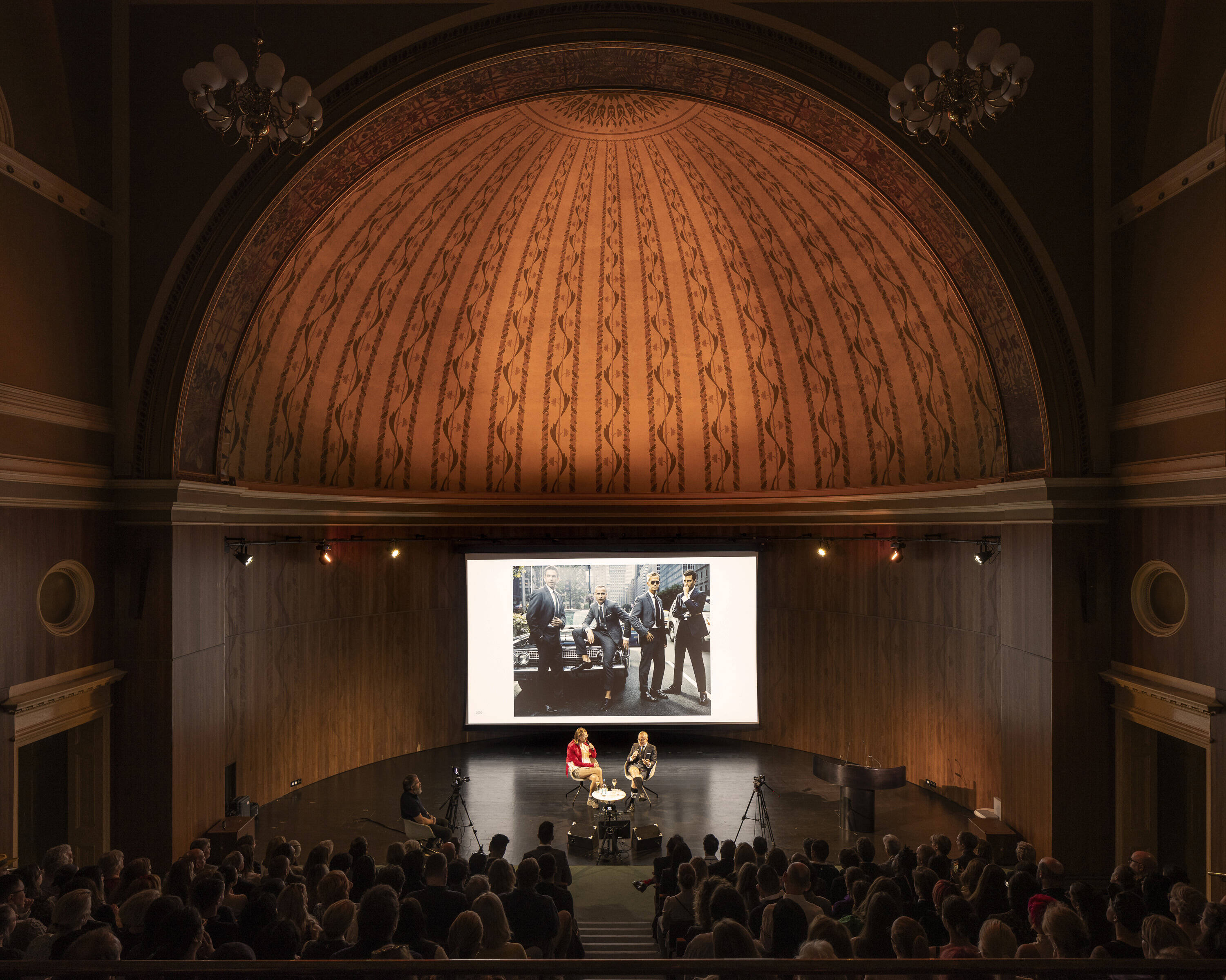 Shoes! Shows! Suits! Thom Browne on designing for the future - after 20 years in business
Thom Browne hosted a VIP dinner in London last week, attended by Janet Jackson and Nick Knight – but before that there was a very special book talk at the V&A
Thom Browne was in London last week for a tour that took in a talk and prestigious private dinner at the V&A where guests included Janet Jackson, Simon Amstell, Erin O'Connor, Nick Knight and Stephen Jones, to name just a few.
Browne was in London as part of a world tour taking in Japan, Korea, China and the US to promote his new book Thom Browne, a gorgeous pictorial overview of his twenty year career, with illuminating text by Andrew Bolton, the Wendy Yu curator in charge at The Metropolitan Museum of Art's Costume Institute in New York.
At the V&A Thom talked with fashion historian Charlie Porter before attending a dinner with VIPs from the fashion, film, music, and other creative industries. Here are some of Thom's thoughts, fancies, and fun reflections from the talk.
THOM ON THE BOOK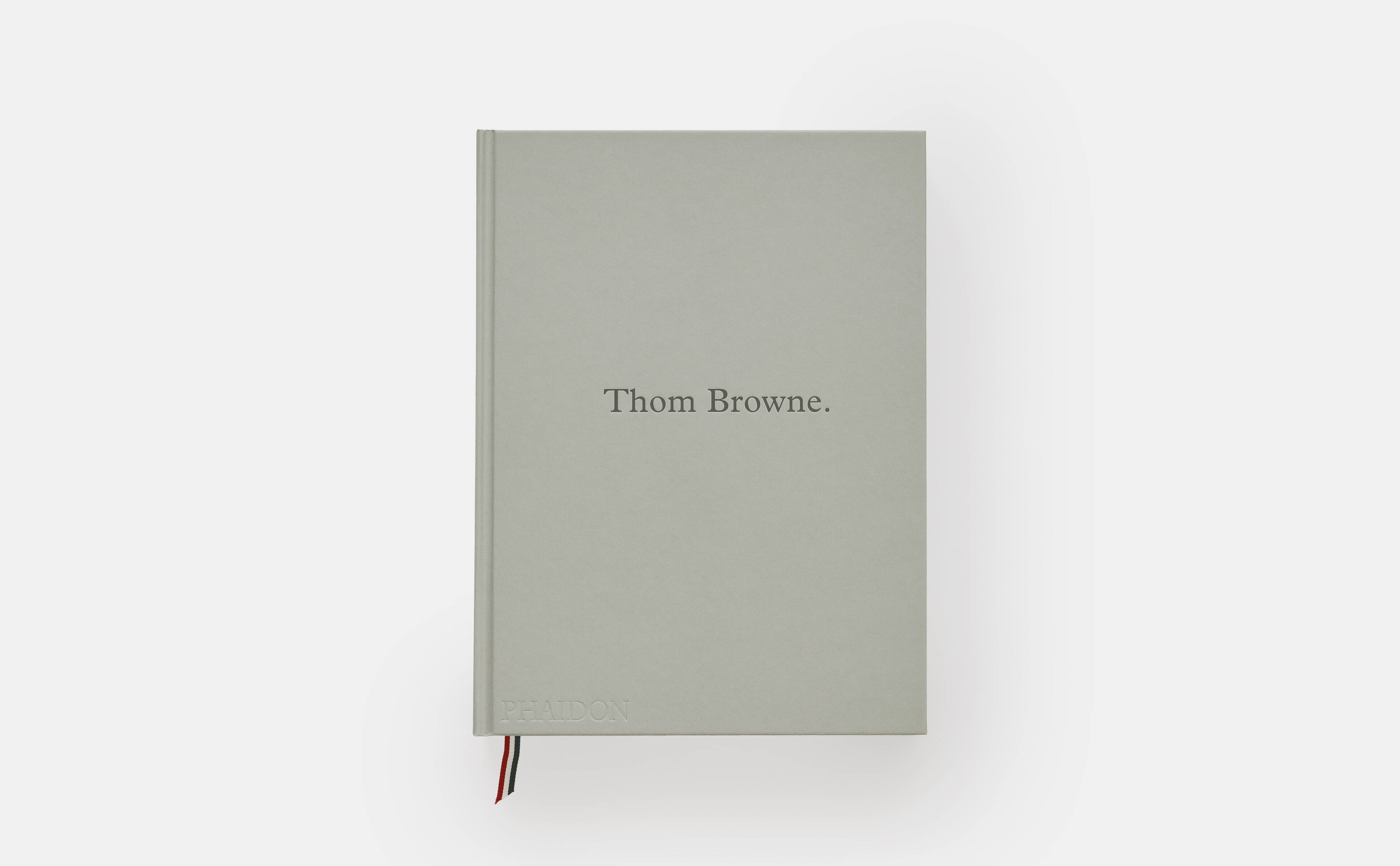 "I guess it took twenty years for me to get the courage to think that I'd done something worthy of a book. It was a good moment to do it."
"For me, I wanted to appreciate the last 20 years and look back. Seeing it through Andrew's eyes brought those last 20 years back to life, and made it seem like maybe it was more important than I thought it was."
"The book was very seriously thought out in terms of really not being a true fashion book. That's why there's no imagery on the cover, it feels like a dictionary. Does everyone still know what a dictionary is?"
"The thing that I really took from it was to see how I have evolved as a designer. I've gotten better and better over the years. I saw in the early collections how I was cutting and pasting things together. Towards the end you see, with my team of course, how I've gotten better."
"Working with one of the most important intellectuals in the world of fashion we did a book that transcended fashion."
THOM ON SUITS Thom Browne, Suit, Autumn/Winter 2009–10 menswear. Photography by Johnny Dufort
"It's just a different proportion to classic proportion. The proportion of the jacket and the trouser was very specific. (It was about) taking a very classic idea and re-introducing it in a way that made people wonder what it is all about."
"The shirt is not ironed, the tie bar is at a certain level, the pockets were always a certain way. There are things that were very specific at the beginning - that was the one image I wanted people to think of when they thought of what Thom Browne was."
"It was the moment that everybody was dressing more casually, and businesses were opening up to people dressing more casually. My commentary on that was, 'I want to go the exact opposite way and put people in tailoring; and not only put people in tailoring, but put them in tailoring that looked like it didn't fit them!'"
"I thought it was very understandable. It just took years for some other people to guess that I was right."
"It still looks as good as it did twenty years ago. There's something about it that hasn't aged. It still looks good."
"Other people have tried to adopt similar proportions but for some reason they thought it was a trend. I don't really care about trends. I always wanted it to be a timeless thing that was created twenty years ago, which was hopefully important enough that it can still stay as relevant for the next fifty years."
THOM ON SHOWS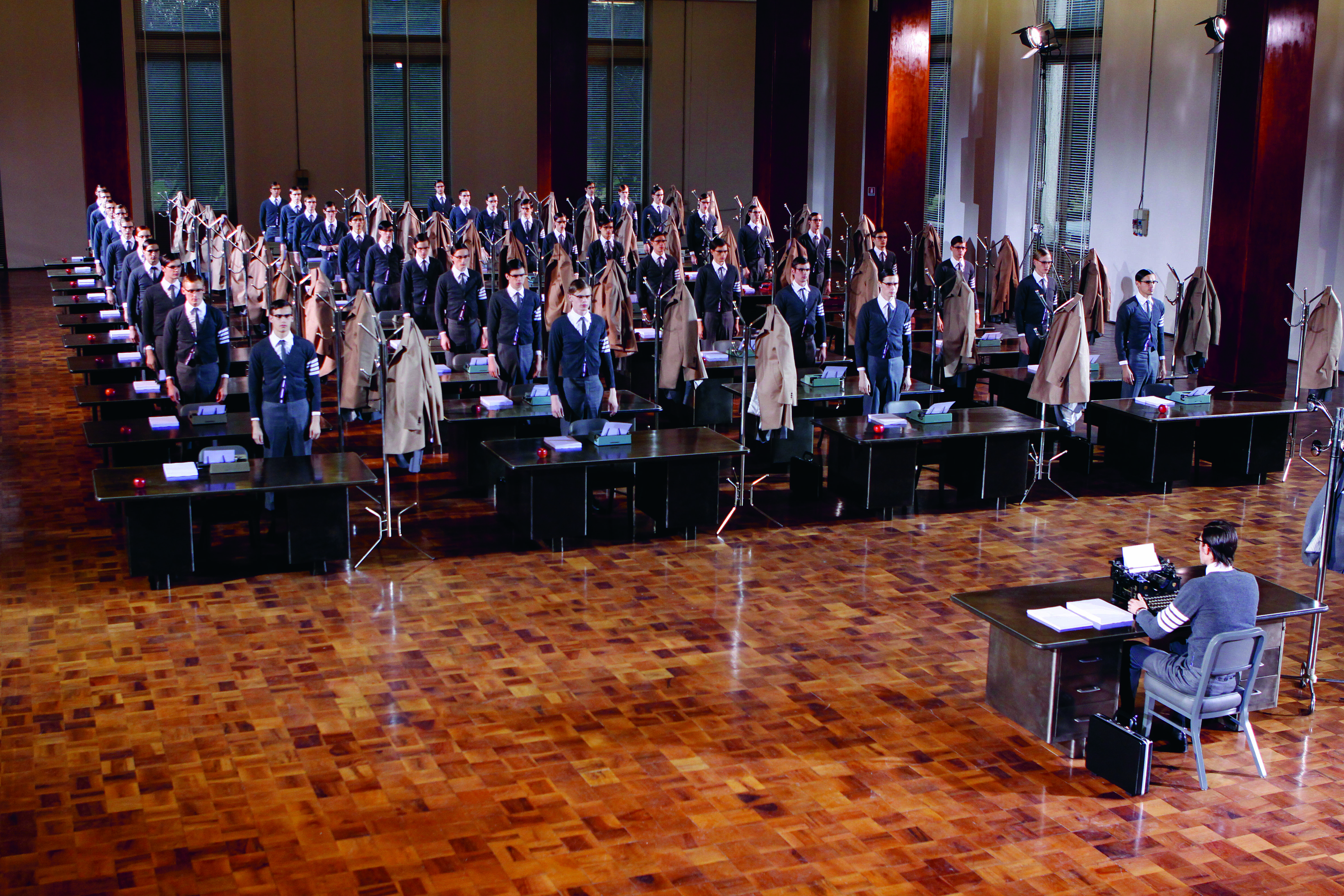 Thom Browne, Autumn/Winter 2009–10 "Pitti Uomo" Menswear. Image credit: Dan and Corina Lecca
"My approach to my shows was never a traditional fashion show. I wanted to tell some type of story that contextualised the collection in some sort of way and that made it transcend fashion."
"Because I didn't come from a traditional fashion background, I wanted to show things in a more interesting way."
"Now I think now people are used to my way of showing. I think back then they were so used to not doing anything but just putting some clothes on and walking in them."
(At one show) "my version of Cinderella. Prince Charming was a woman and Cinderella was a trans woman. I like to push as far as I can without being disrespectful to anyone. I feel that's my job, to push as far as I can so you see things differently, and you see what I'm thinking and how I feel about certain things."
"The last thing I want to have is people look at my collections and leave thinking, yeah ,that was OK."
"I grew up in a family of seven kids, and my mother bronzed our first pair of shoes. I think it's a very American thing. So I took that idea and did this classic wing tip in silver. When guests arrived, the 40 models came out, walked into the silver set and stepped into their silver shoes."
(My 2016 show) "is almost me coming to terms with sustainability. You make beautiful clothing, and you make it that well that you are not the only person that will actually live in it. You will be the first and hopefully there will be another and maybe another and another who will get to experience the piece."
"Hector plays a big part in the production of my shows" (Hector is Thom's dog.)
THOM ON DESIGNING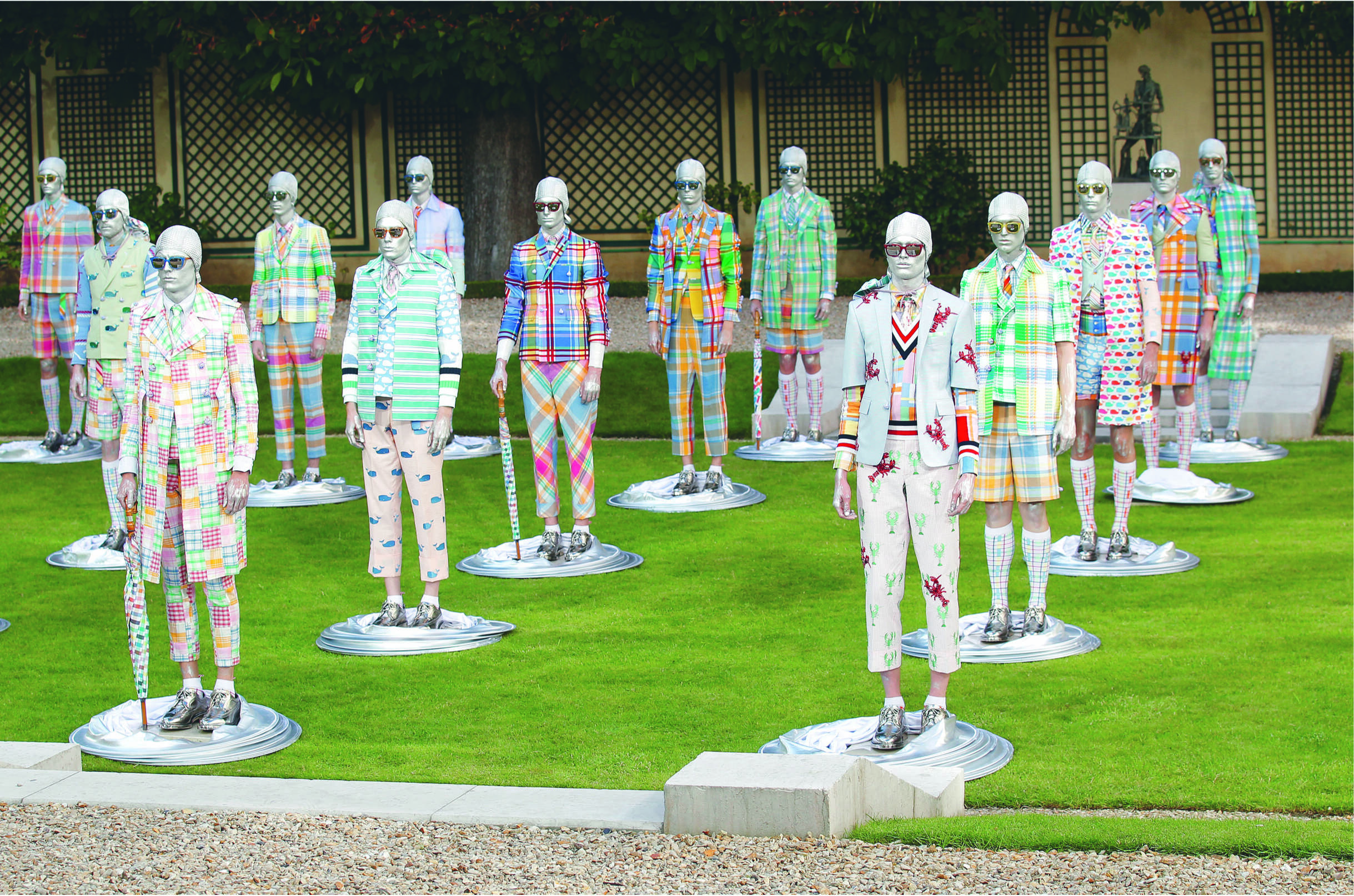 Thom Browne, Spring/Summer 2013 Menswear. Image credit: Dan and Corina Lecca
"I use colour all the time, a lot of people don't realise it. They think all I do is grey."
"I liked taking those preppy, iconic references and using them in interesting ways."
"Conceptual ideas that play with classic ideas make the classic ideas more interesting."
(Ideating a collection is) "always different, it's never the same. The one thing I do is give myself the liberty of believing it will happen when it happens. It never happens when I have to sit down and think where the collection's going."
"I almost don't design men and women's anymore. I just design clothes that can be for both men and women."
"I had done skirts since 2004 or 5. I didn't ever understand why it was 'a thing'. And suddenly it became part of a conversation about men wearing skirts to work."
"I wasn't trying to put that in front of people saying, 'this is what the trend is.' For me it wasn't a trend, for me it was almost transitioning into 'this is the world we live in. and fine if you don't like it, but this is the way the world is.'"
"It's more interesting to make beautiful clothes that can be worn by both men and women. I feel this is the future of my collections."
"A lot of times people don't realise my collections are for so many more people than you realise. When you see the clothing on a tall thin person it's not only for a tall thin person - that's just how you're seeing it. LeBron James is a huge customer, and he is a very big man."
"The world has changed so much since I did my first collection so it's almost a luxury for me to put this in front of people and not worry about how it will be received."
THOM ON BUSINESS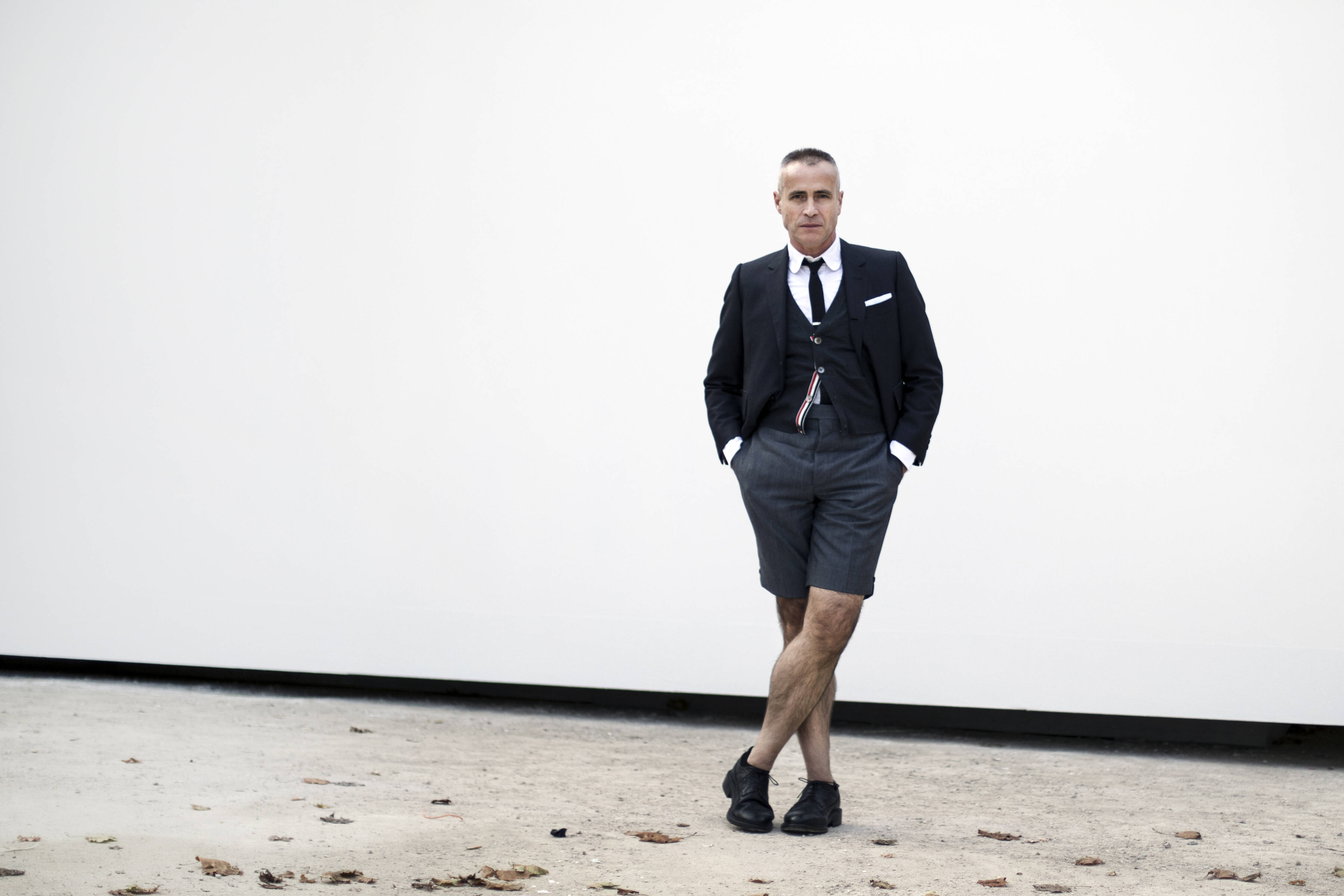 Thom Browne. Photo by Alastair Nicol
"I didn't really think about the business, what it could be or where it could go. I was just so focused on day to day, making this happen, and I really was having a good time, telling the stories through collections.
"I started on my own, with a tailor in the city and (an idea of) exactly what I wanted, which nobody liked and which nobody could afford – the best way to start a business!"
"I hand wrote every label on every single shirt, tie, and jacket."
"I got to a point where in my living room I had thousands of shirts. I woke up one Saturday morning and looked at them. And said to myself: 'I think the first stage of growth will be the time when I don't sign everything.' That was probably around 2010."
Take a look at Thom Browne in the Phaidon store, and browse our photos of some of the VIP dinner guests below.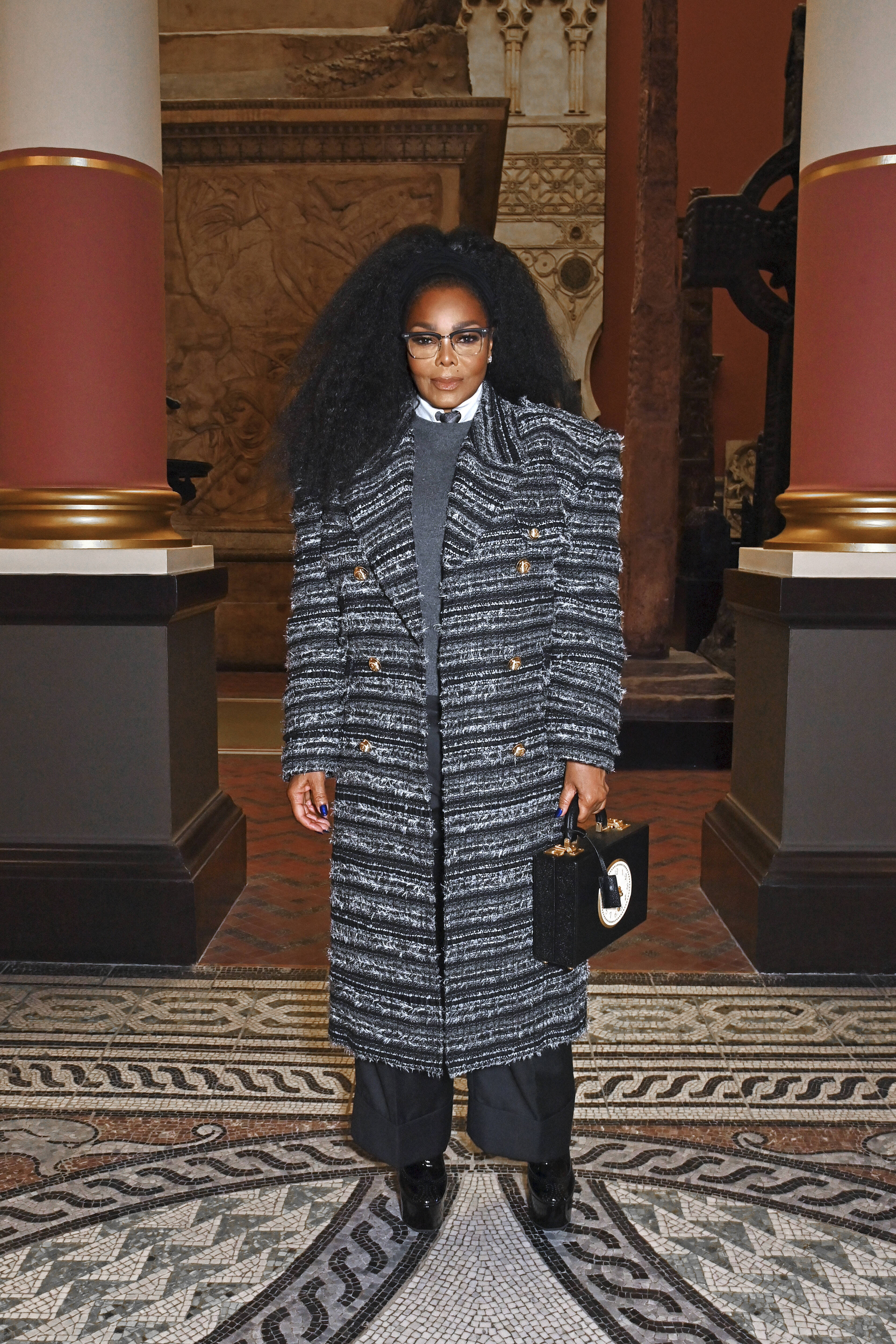 Janet Jackson - photograph Matthew Foley (Thom Browne Inc)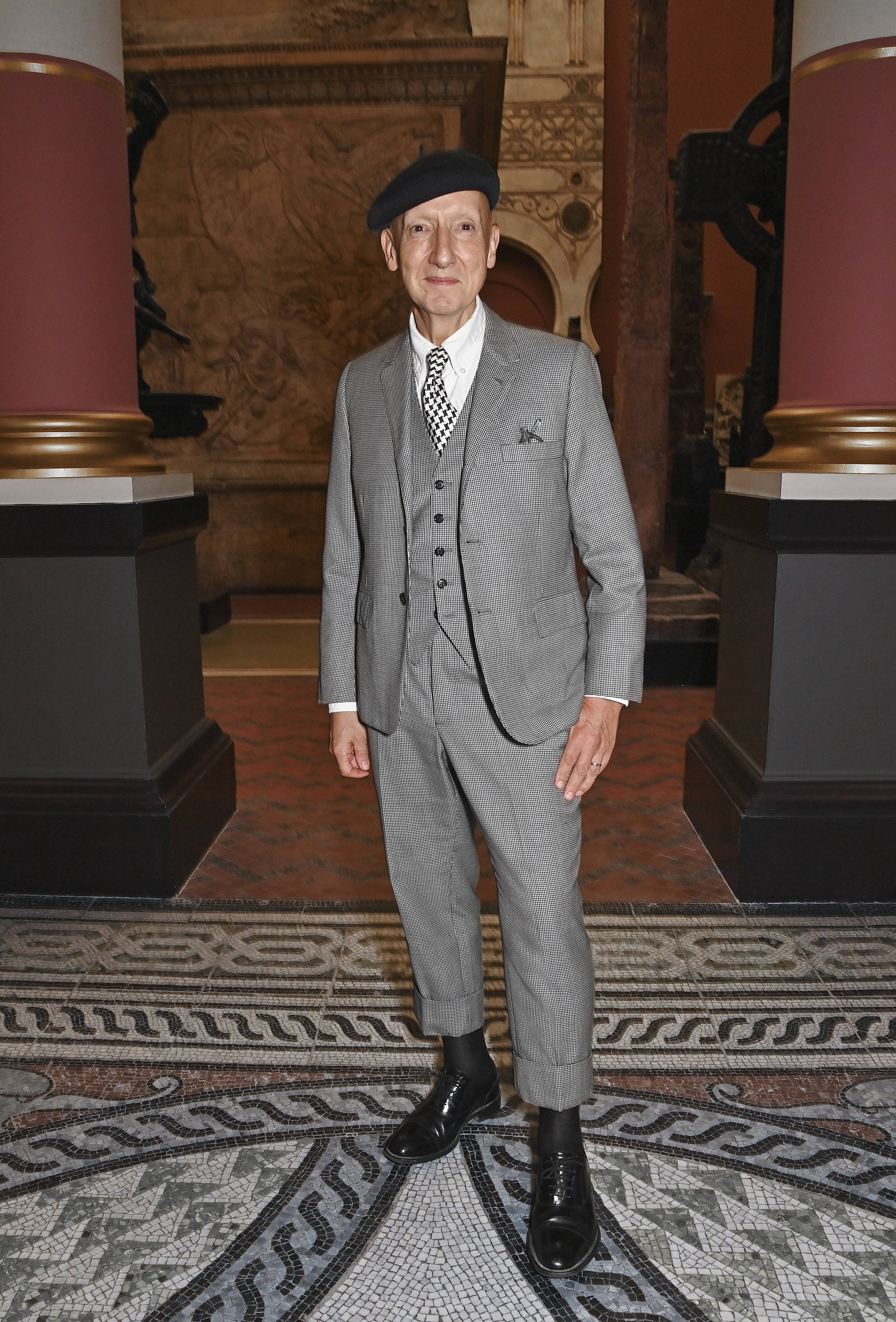 Stephen Jones - photograph Matthew Foley (Thom Browne Inc)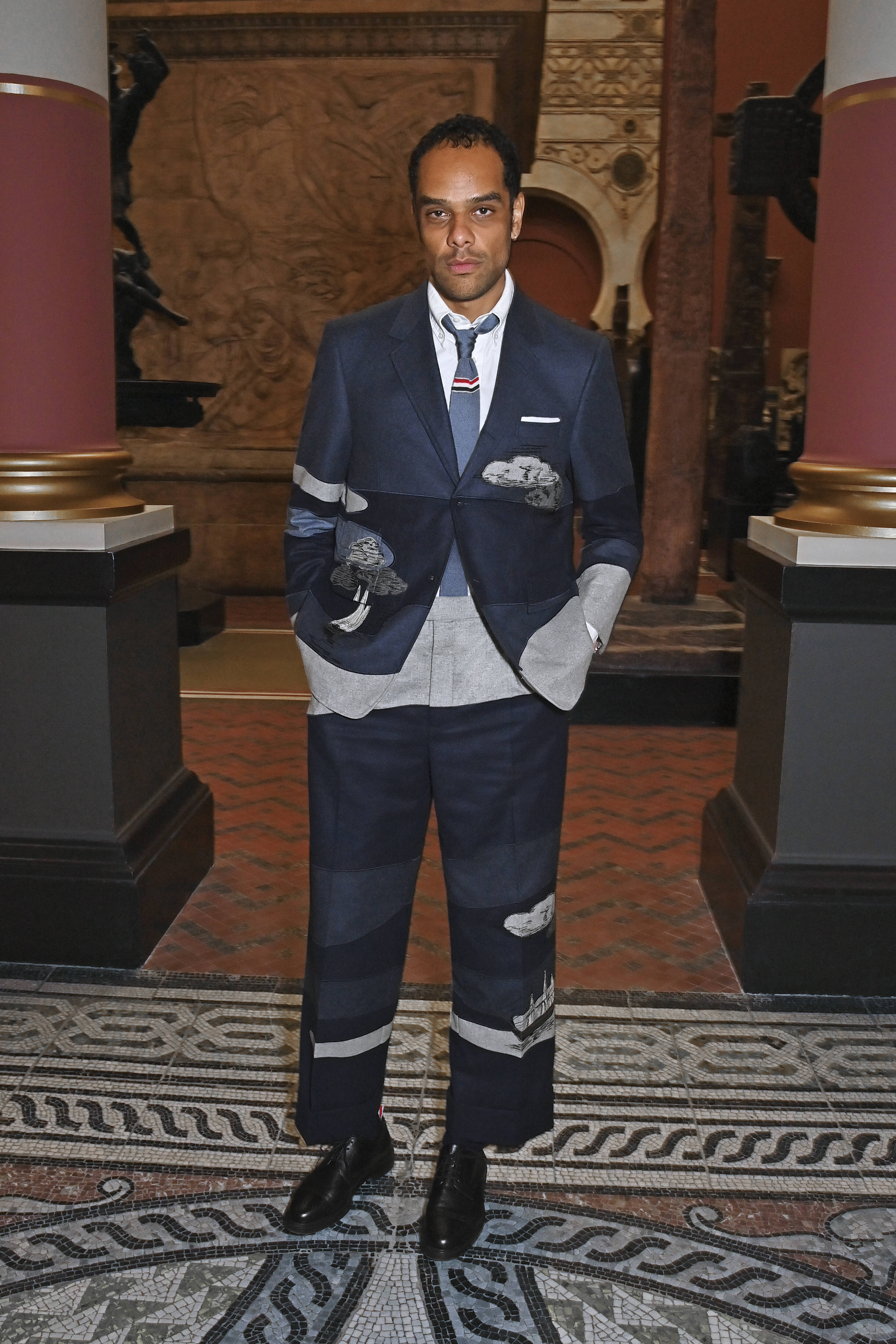 Raven Smith - photograph Matthew Foley (Thom Browne Inc)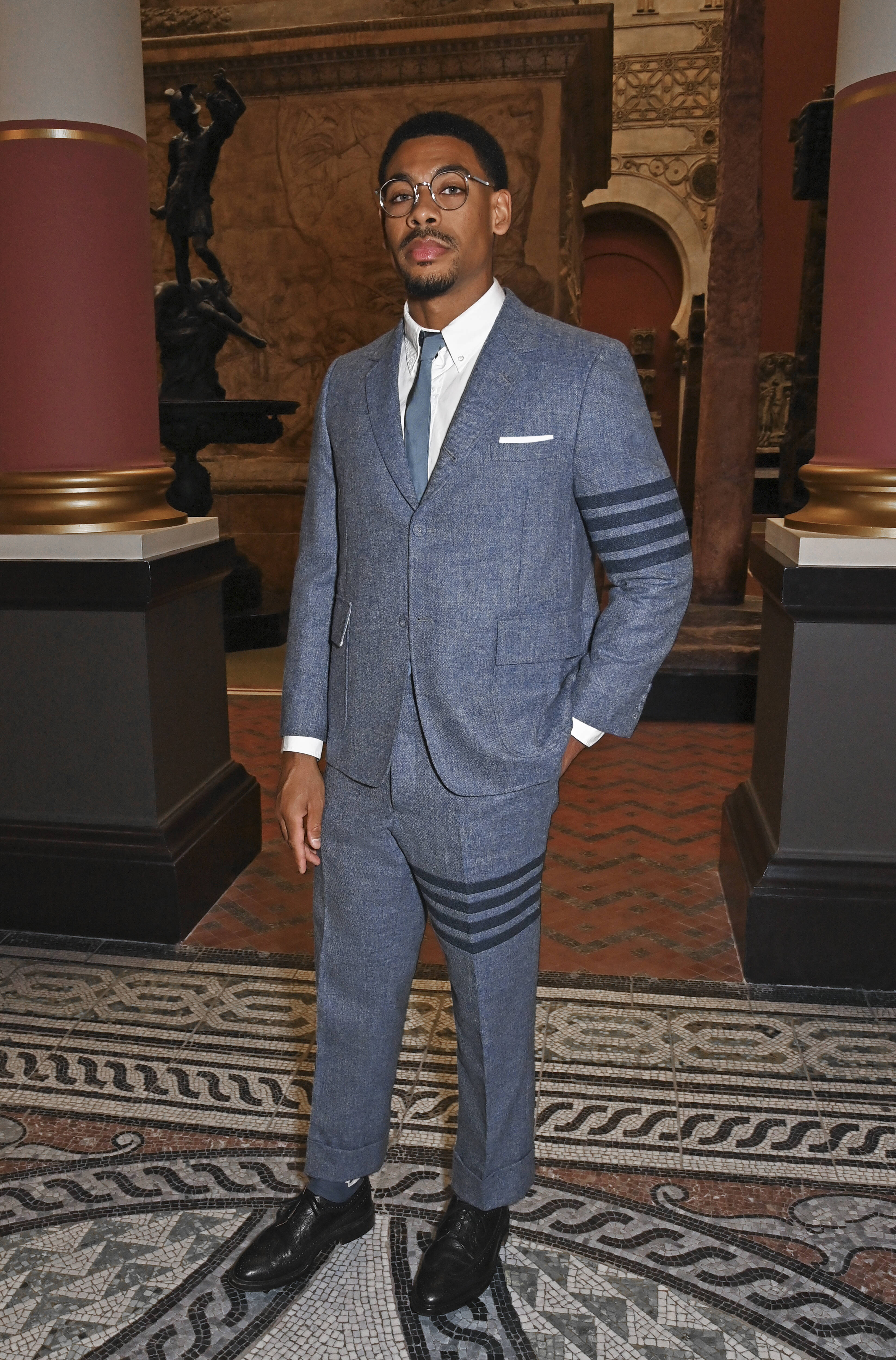 Aaron Pierre - photograph Matthew Foley (Thom Browne Inc)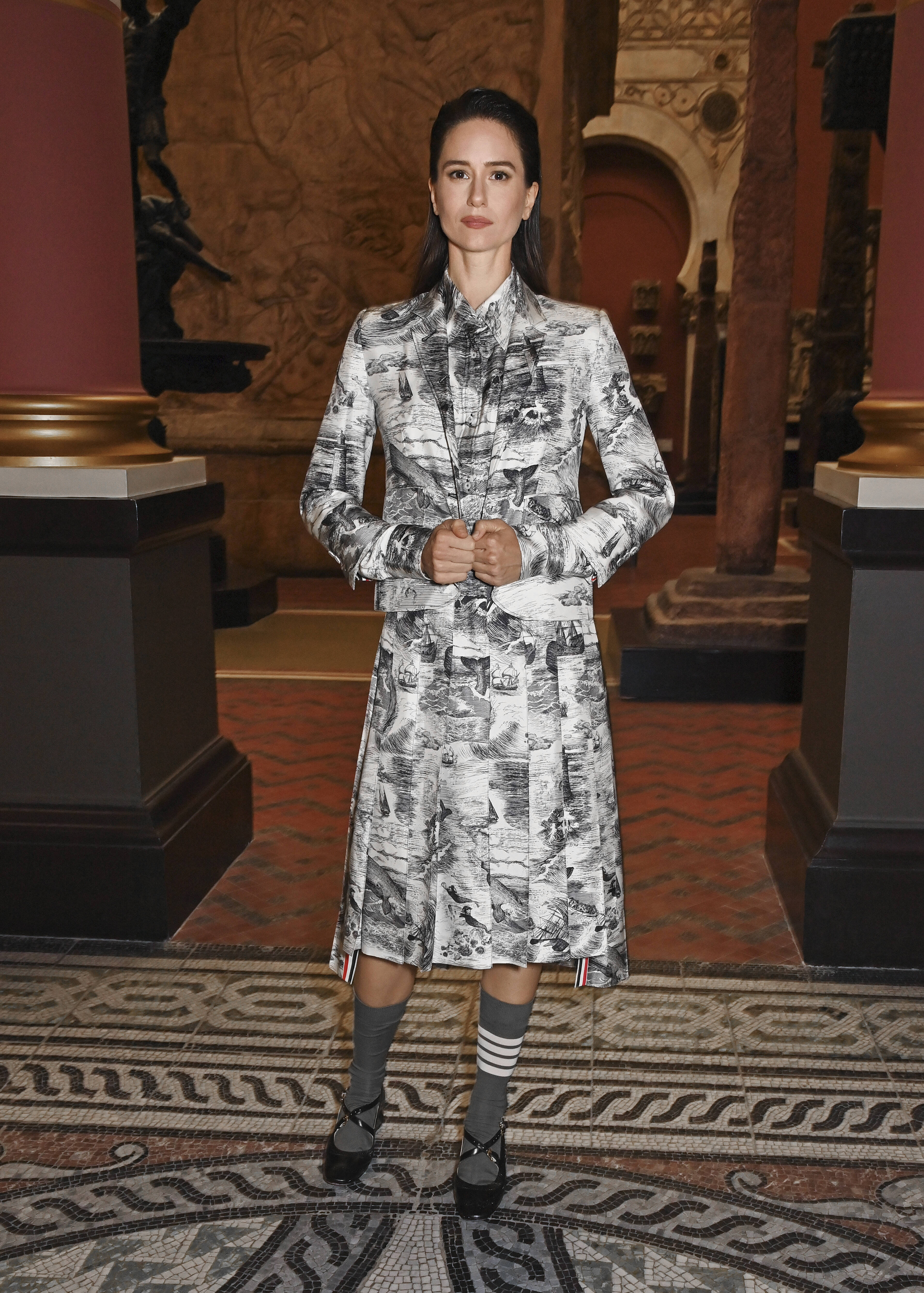 Katherine Waterston - photograph Matthew Foley (Thom Browne Inc)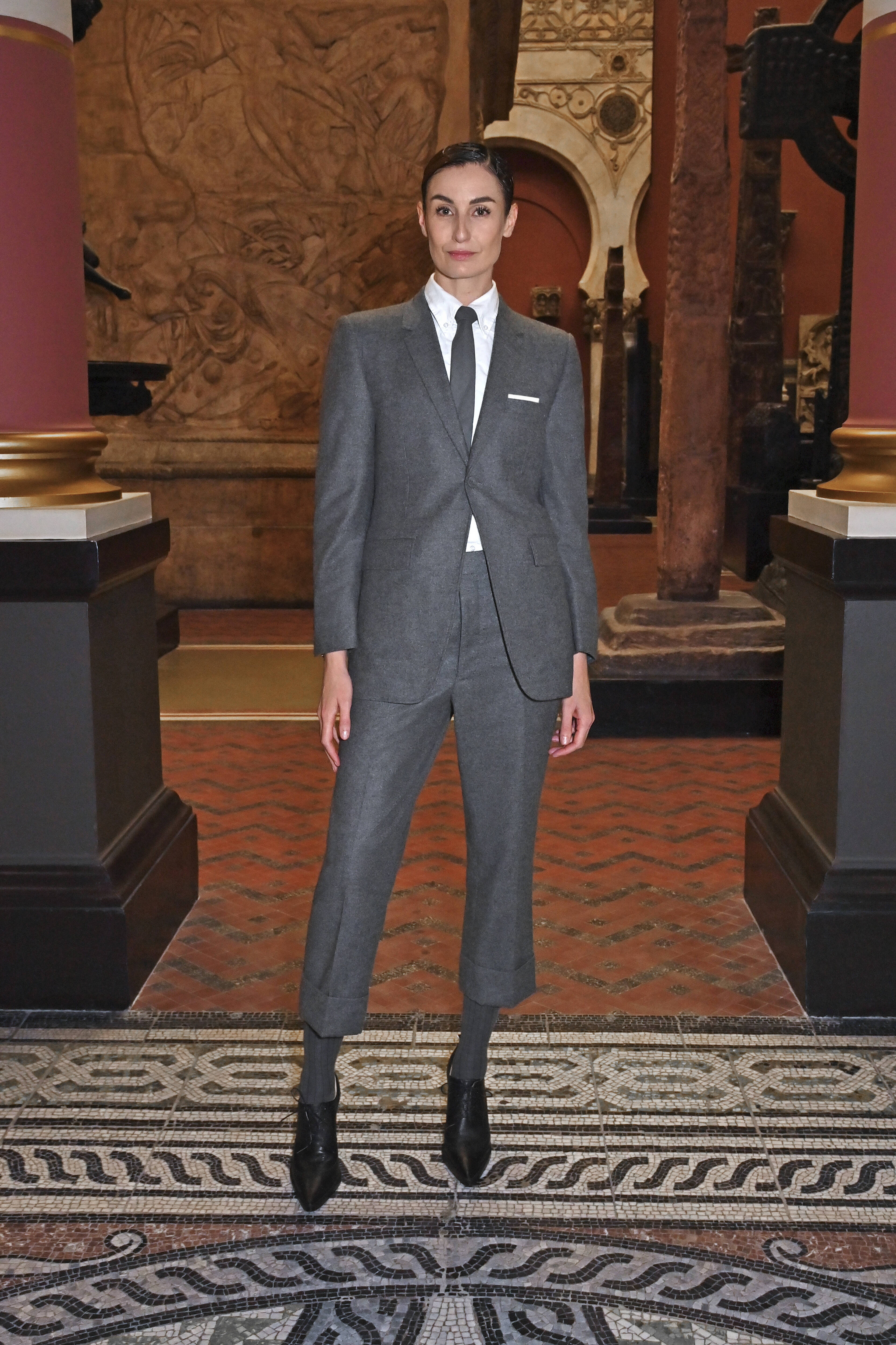 Erin O'Connor - photograph Matthew Foley (Thom Browne Inc)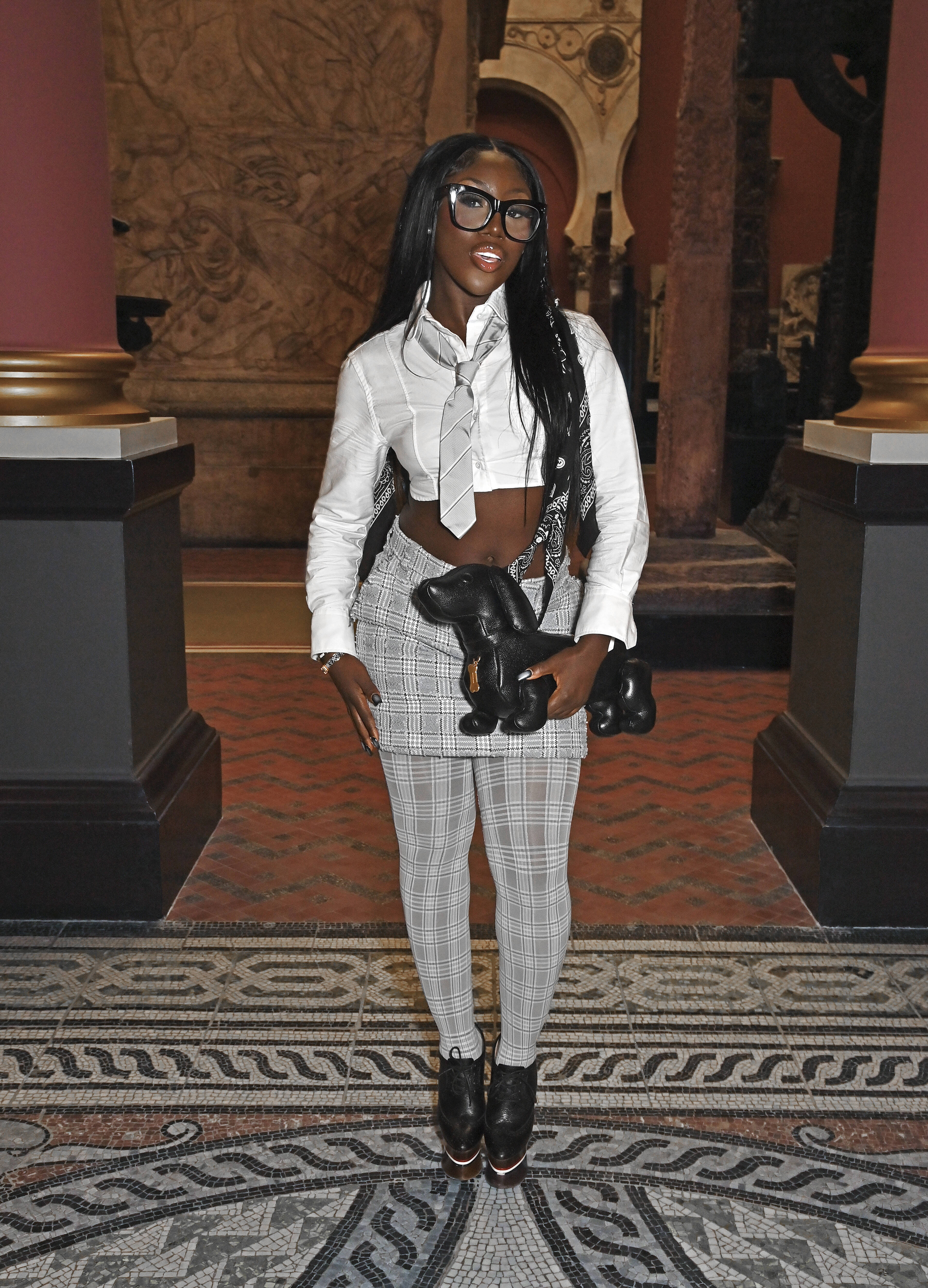 Bree Runway - photograph Matthew Foley (Thom Browne Inc)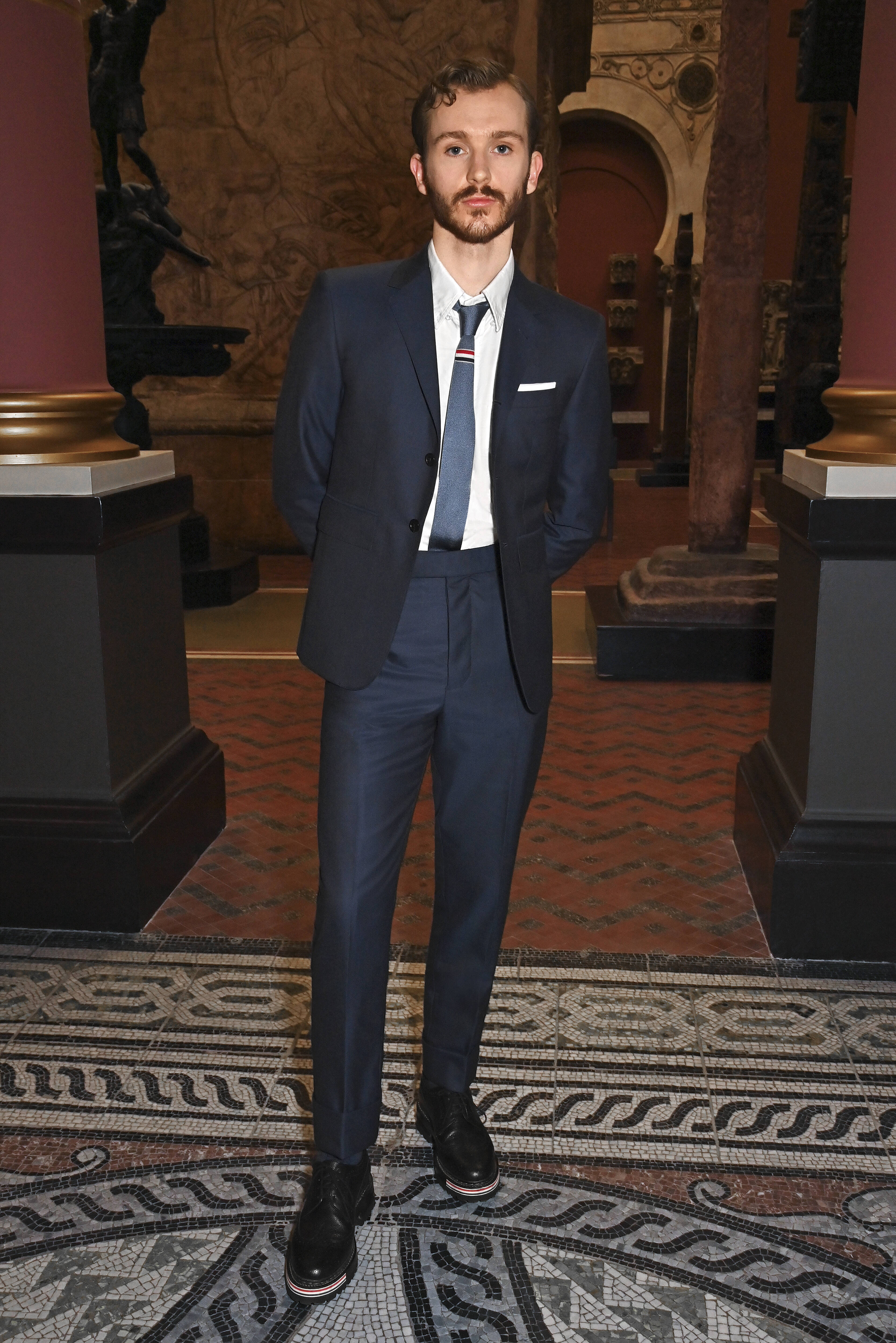 Harry Lawtey - photograph Matthew Foley (Thom Browne Inc)