Nicolas Party releases new Phaidon and Artspace edition
'I have an intimate relationship with this one. When I decided to make it as a woodcut, it felt like I was on a new journey with an old friend' he tells Phaidon.com
Artists can perform many different roles: seer, critic, simple creator of beauty, and so on. Nicolas Party is well placed within contemporary art to carry out a further role; he can act like a kind of guide, helping us all understand how we see, and what we see, a little better.
Party is a figurative painter who was born in Switzerland and studied at the Lausanne University of Art and Design School of Art in Switzerland before going on to take his MFA from The Glasgow School of Art in Scotland. Represented by Hauser & Wirth (among other galleries) and widely praised throughout contemporary art circles, he tends to work in pastel, and produces beautifully round, clean-edged landscapes, portraits and still lifes. It's an artistic practice that could have been undertaken one hundred, or even five hundred years ago. Yet Party's visual acuity is deeply informed by our digital age.
The artist progressed from a childhood passion for painting to teenage art rebel, finding a transgressive appeal in graffiti ("you had all the ingredients of a cops and bad guys movie," he says in his new Phaidon monograph, "but without the gravity of the crime – we were just painting.")
"I grew up in a small village called Villette, near Lausanne, on the border of Lac Léman. It's a very picturesque place, surrounded by vineyards, and one of the first exposures I had to art was watching the local painters do watercolours for the wine labels. I did my first graffiti when I was twelve with my neighbour, who was three years older. He'd brought some spray paint to do some drawings on the wall. That first experience was so thrilling that I instantly became addicted to the adrenalin. It was the perfect way to mix my passion for drawing and that very teenage sense of adventure that comes with breaking the rules."
"Another important influence of graffiti on my current work is its aesthetic. When you paint on the train or by the side of the highway you need to choose very bold colours and graphic depictions. The image that you try to make visible is often in a place where either the viewer or the work itself are in movement. Those visual strategies still operate in my work today: bold and contrasting colours, graphically defined compositions."
While at École Cantonale d'Art de Lausanne, Party began his studies in the film department, before moving into graphic animation. He worked in 3D animation in the early 2000s, helping to build the kind of heavily mediated world which we all now populate.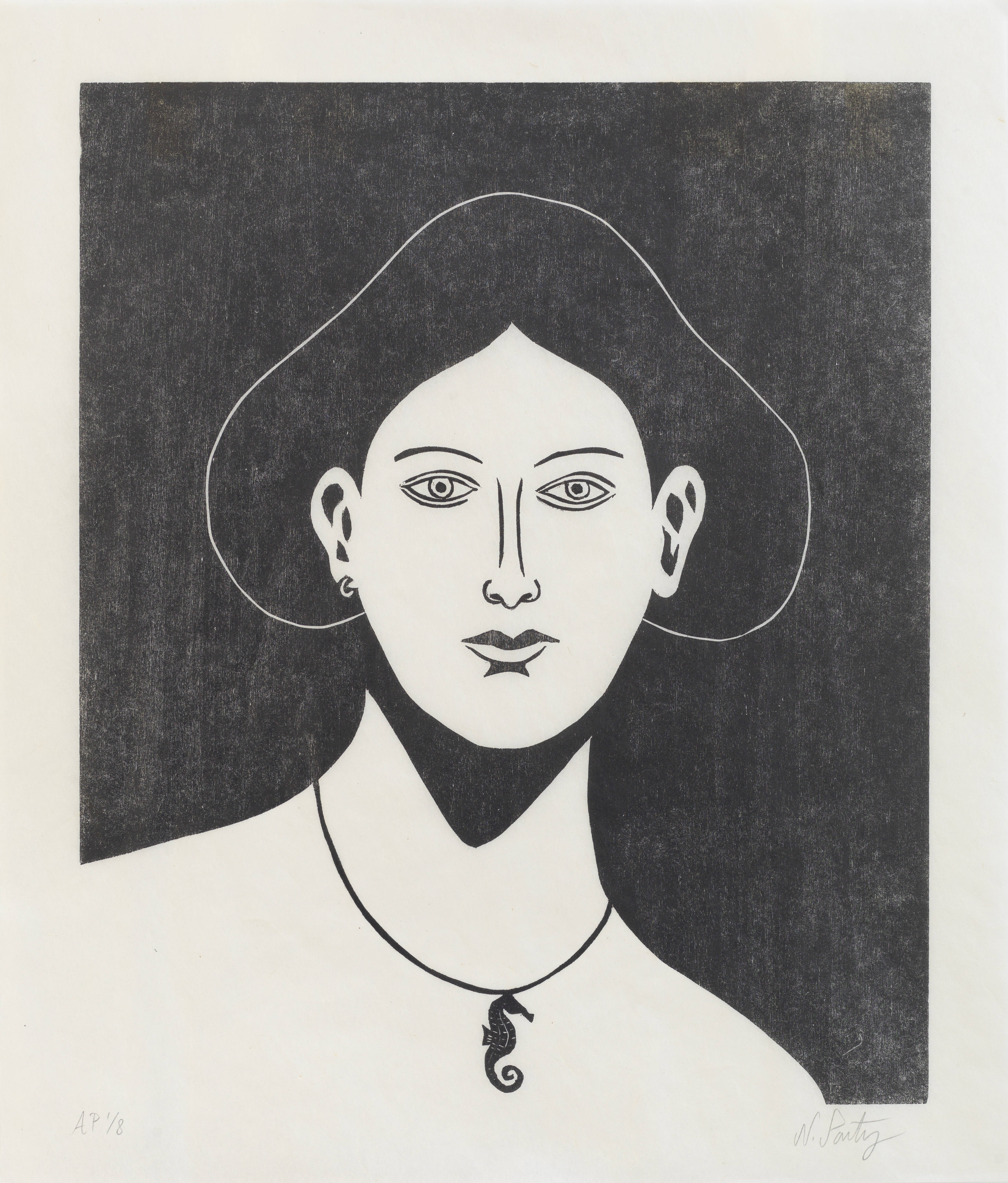 Portrait with a Seahorse Necklace (2021), Woodcut print on HM-5 gampi-shi paper Paper: 9 ½ x 11 1/8 in (24.1 x 28.3 cm) Image: 8 X 9 5/8 in (20.3 x 24.5 cm) Edition of 100 plus 8 artist's proofs signed and numbered by the artist
Party creates images which look both hyper real, and, at the same time, quite illusionary. His exquisitely coloured coffee pots, trees, geometric shapes and portraits bring to mind such artists as Paul Cezanne, David Hockney and Giorgio Morandi, as well as our wider experience, as humans dealing with a digitally mediated world.
As he admits, "my portraits couldn't exist before the computer. I grew up with computers, I've created tons of things on computers, and all those images are in my mind when I paint. My paintings are flat with really big colours. When I was doing 3D design work, I would put flat backgrounds behind the volume so that it would show up better."
Despite his position as a visionary within post-internet art, Party is remarkably well-grounded in deeper art history. The facial features of many of his portraits reflect his appreciation for classical Greek make-up. His admiration for the 20th century Swiss painter John Armleder, who integrated murals and interior design elements with his paintings, led Party himself to approach the presentation of his own work in a similar way, often creating wall paintings or other temporary architectural interventions for his shows. Late last year, he broke his auction record when his pastel on linen work Landscape, sold at Christie's for $3,270,000 easily breaking his previous record for $1.5million, set at Sotheby's Hong Kong, the previous month.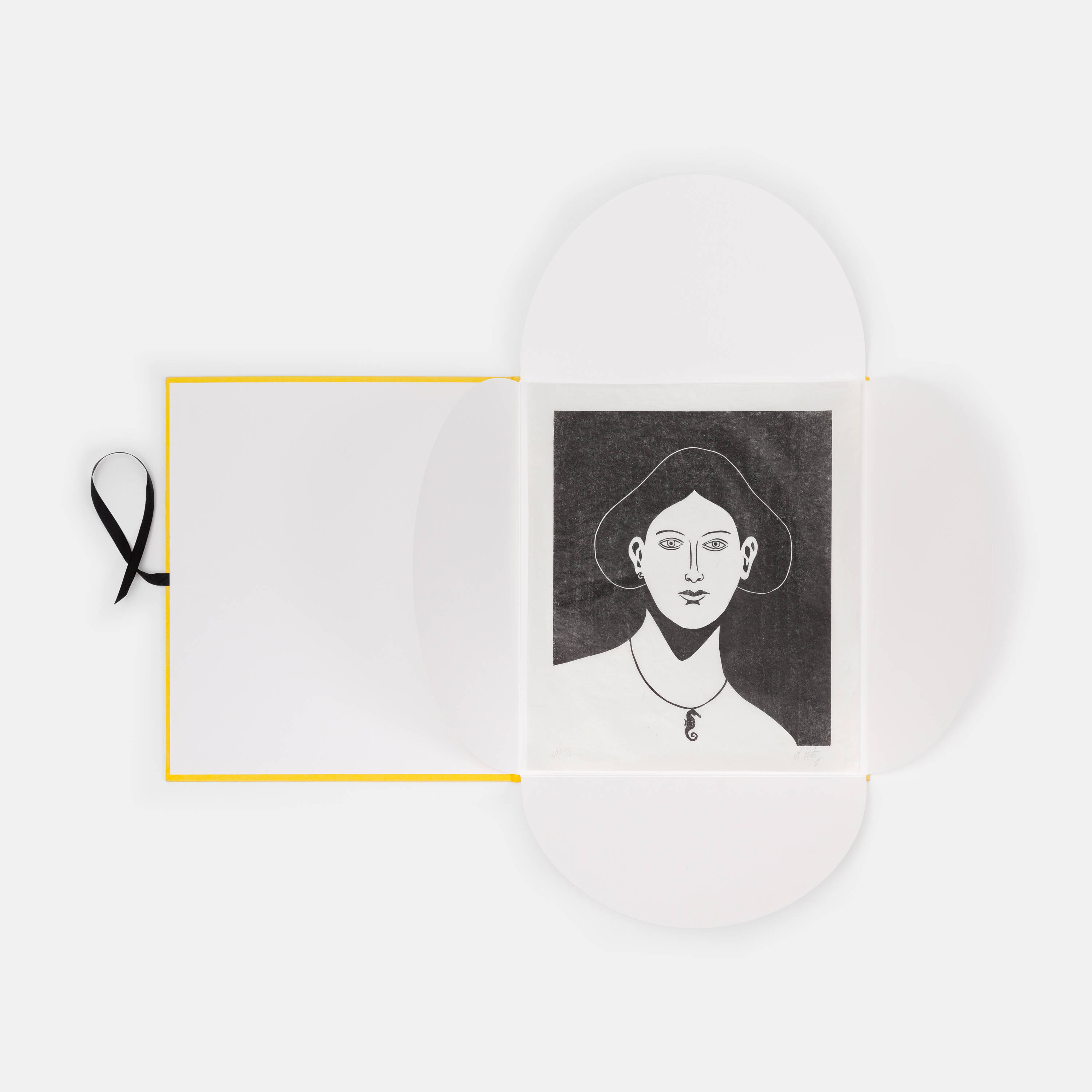 Nicolas Party Phaidon limited edition with print
Party's debut edition for Phaidon and Artspace is sourced from a 2018 work which, he tells us, still hangs in his studio. The new edition is created from a pastel original - a core element in Party's practice. In 2013, inspired by Picasso's Tête De Femme (1921), Party began working with chalk pastel to create portraits in his now signature style of androgynous faces that recall classical Greek sculpture.
We asked him some questions about the new, Phaidon and Artspace edition. This is what he told us.
Where were you in your life when you made the original work? What were the things going through your head, your influences and thoughts at the time? It was in August 2021- I was in our house in the Catskills in upstate New York and I carved the woodcut on a small table on our outdoor terrasse.
The Seahorse is somewhat of a recurring motif for you – we know they partner for life and the male has the babies, but what does it symbolise for you? Yes, I like the different symbols related to that little creature. I have been using that motif for quite a while now. In 2005 I discovered the photographer and filmmaker Jean Painlevé. In 1934 he made a little film called "the Seahorse". It's sort of a surrealist wildlife documentary. It's truly marvellous and was an inspiration for me.
You're well known for, among other things, your vibrant colours – so why a black and white edition? I actually love working in black and white. I made pastels, pastel murals, oil and acrylic murals and charcoal murals using only black and white. I love the subtle shades of grey each medium offers. I also made a series of mezzotints; a printing method know for it velvet black quality. I recently started printing woodcuts specifically in black and white. This was influenced by my love of woodcuts by Felix Vallotton, who was a master of that technique in black and white.
Do the faces in your paintings have a different resonance for you as the years go by? Do they seem to have changed when you revisit them for an edition a few years later? The portrait in the print is version of a pastel that I made in 2018. I kept the original pastel. The portrait is hung in my studio so I see it all the time. It's not often that I have a work that I spend that much time with. I have an intimate relationship with this one… we really got to know each other over the years. When I decided to make it as a woodcut, it felt like I was on a new journey with an old friend.
You seem to be into wood cuts at the moment rather than say silk screen – any particular reason for its attractiveness? Were woodcuts part of your studies when you were at Glasgow?  I did a lot of screen-printing in Glasgow. I was making many posters. I was also part of an artist group that only focused on screen-printing. We met every Wednesday in the print workshop to make screen-prints all together. It was a lot of fun! Woodcut is a very different process. The labor and concentration required during the carving is very intense - it is that intensity that I like - it is relaxing, long and technical so you get into a meditative state.
Do you buy editions yourself? Yes, I love having art around me, so I buy different artworks including prints. I have a few woodcuts by Felix Valloton that I love. I also have a series of great etchings by James Ensor. I love the constraints of printing and how the artist must find ways to use those limitations when they work with a particular technique.
Take another look at the edition here.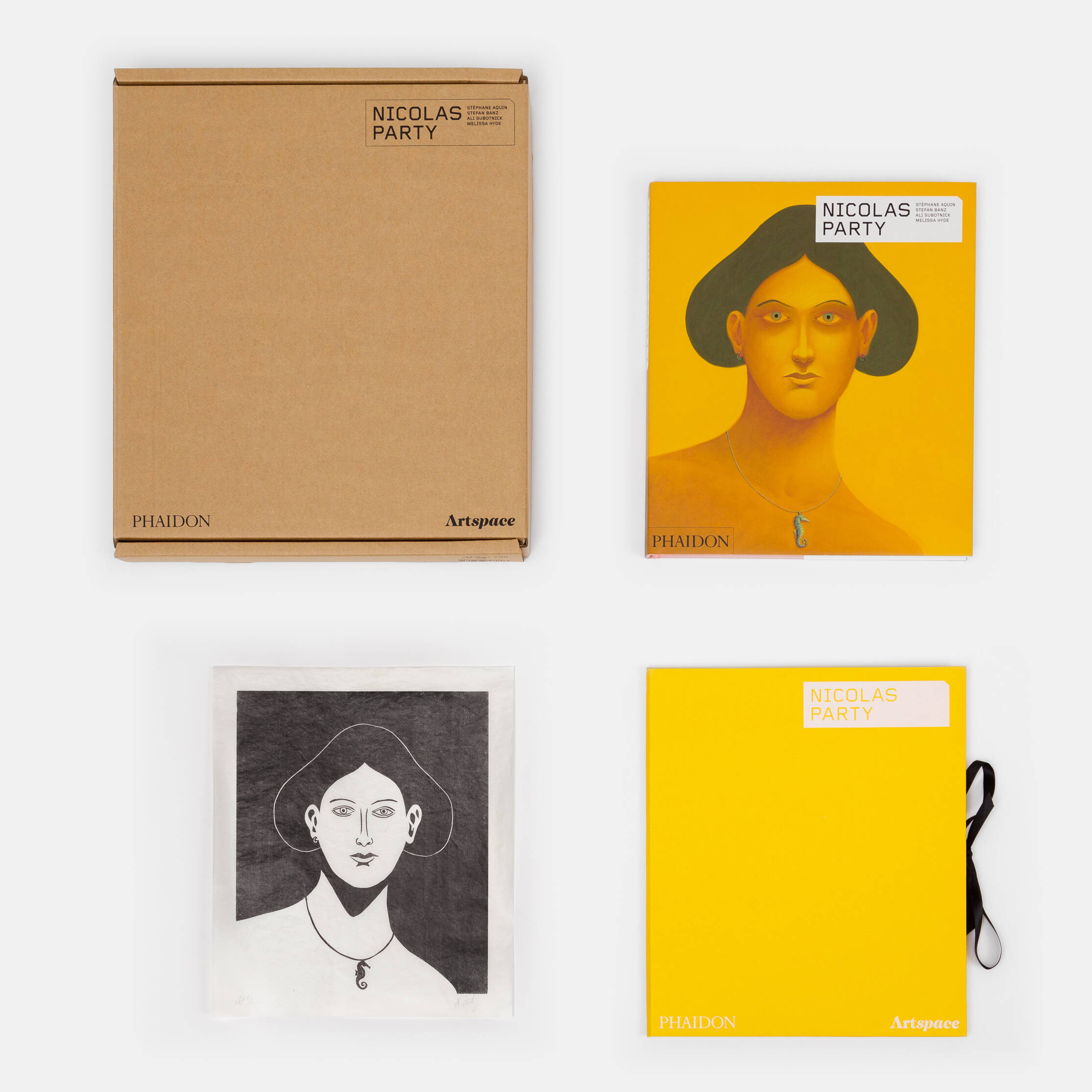 Nicolas Party Phaidon limited edition with woodcut.