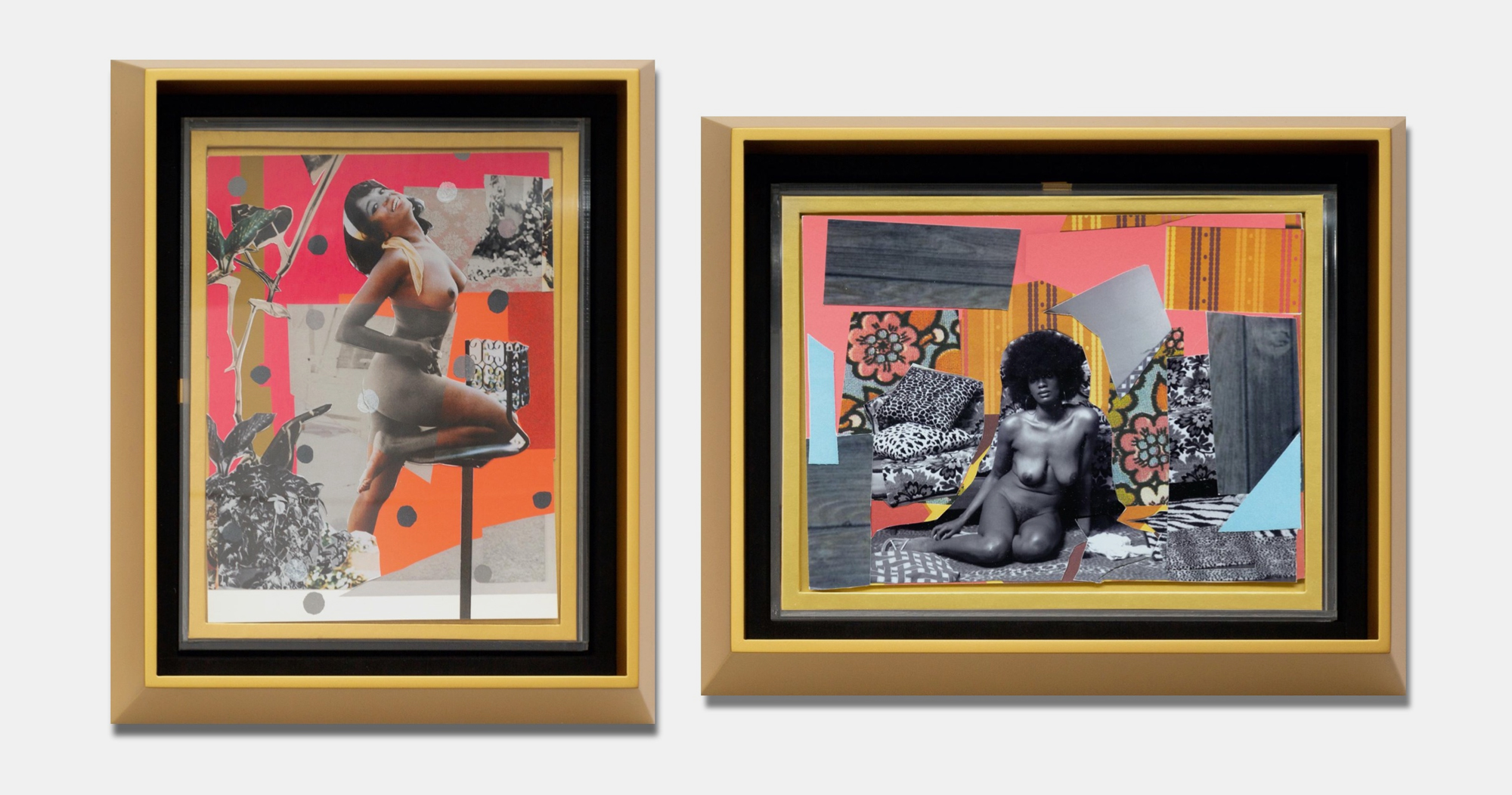 Mickalene Thomas releases two new Phaidon Artspace Editions
Jet Blue 11 and Left Behind comprise hand-cut inkjet prints, pigment-printed silk fragments, and hand-applied acrylic pochoir
To view Mickalene Thomas's work is to look both forward and back; back because the painter draws deeply on her own personal history; and forward because her work defines the state in which she wishes to live.
Thomas, whose work forms part of the permanent collections of the Whitney, SFMOMA, the Guggenheim and MoMA, among other institutions, was born on 28 January 1971 in Camden, New Jersey. She was raised by her mother, Sandra Bush, a fashion model, and as a child the artist and her brother attended after–school arts programs at Newark Museum and the Henry Street Settlement non-profit in New York.
Despite early exposure to the arts, it wasn't until much later in life that Thomas considered a career as an artist. While living in Portland, Oregon she came out as a lesbian and resumed her studies, majoring in pre-law with a minor in theater arts. While in Oregon, she worked at a local law firm, Davis Wright Tremaine, while studying pre-law and theater arts.
However, one small local exhibition changed her course. In 1994 Thomas took in a show by the acclaimed African-American fine art photographer Carrie Mae Weems at the Portland Art Museum. "It was a small retrospective of her photographs and it was one of the first times I'd seen contemporary work by an African-American woman in a museum," Thomas told her friend and former tutor, the painter Sean Landers in 2011. "It made me aware of how you can use your personal experiences to tell stories and make art out of it to impact others."
Indeed, in an essay to accompany Better Days, Thomas's art bar installation at Art Basel in 2013, the curator and writer Adrienne Edwards described how "Thomas reimagines in her work the black radical tradition's politics and aesthetics for her own utopian aims." Edwards goes on, "Thomas's queer utopia is filled with potential. It is a way of being in the world, and also of creating a world that lies beyond the limited possibilities of the present."
That thought is firmly behind two new editions the artist launches with Phaidon Artspace this week. Jet Blue #11 and Left Behind (both 2021) are composed of diverse materials including hand-cut inkjet prints, pigment-printed silk fragments, and hand-applied acrylic pochoir, resulting in two editions of 10 signed and numbered collage prints.
Each edition comes fitted in a UV-protective plexi frame along with a signed and numbered copy of Phaidon's 2021 monograph Mickalene Thomas, all of which is housed in a handmade painted wooden box laser engraved with the artist's name. The box is presented in a red velour dust bag screen-printed with the Mickalene Thomas studio logo.
Thomas's work draws on social, autobiographical material, contemporary, North American influences, as well as 19th century French painting (one of her best-known works is a 2011 reinterpretation of Edouard Manet's 1863 Le Déjeuner sur l'herbe), and established figures within the international art such as David Hockney.
However, she is also quite willing to draw on non-traditional and popular materials too. Rhinestones are adhered to her works, while mid-century-style interior decor form a recurrent backdrop. Key texts for the artist include Jet magazine, the 20th century African-American periodical, and The Practical Encyclopedia of Good Decorating and Home Improvement, an eighteen-volume, 3,000-page guide to construction and domestic crafting which, like Thomas herself, came into the world in the early 1970s, when the dreams of modernism and radical calls for racial equality hadn't died away.
As the author Angela Flournoy put it in her recent New York Times profile, Thomas was born "during the Black Arts and Black Power and Pan-Africanism movements and the rise of Blaxploitation films and disco. She grew up during the crack era and the rise of neoliberalism."
These historical touchpoints, when Black women were called queens of a dubious variety (Nubian queen, disco queen, welfare queen), permeate her work.
The aesthetic sympathies of Thomas's work is clearly more aligned with that earlier period, but it isn't simply a nostalgic impulse, that can instead be seen as hopeful and forward thinking.
In her beautiful, referential and highly coherent work, Thomas doesn't shy away from the imagery she loves, the people who remain important to her, nor the world she seeks to make.
The artist's mother was a Buddhist, passed on some of its teachings to her children and, in an earlier Artspace interview, Thomas offered a quote from the Japanese Buddhist philosopher Daisaku Ikeda, as her own, personal motto: "Never be shaken, no matter what happens or what others say. Never be flustered. Never lose confidence. This is the way we should strive to live our lives. Doing so is a sign of genuine character."
We think you can see that sign of genuine character in the two new editions Thomas has created for Phaidon and Artspace. To find out more about them, go here.