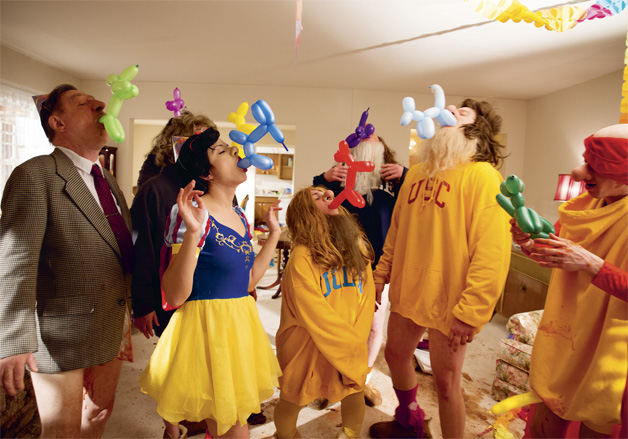 Politics, patriotism, sex and balloon dogs
On Independence Day this is how four free-spirited, contemporary American artists see their country
America, as the poet Robert Frost once put it, is hard to see. It remains an exceptional country, filed with great contradictions and variety. Nevertheless, a handful of contemporary artists have managed to capture something of the essence their homeland. Here in celebration of July 4, are four of our favourites, drawn from our Contemporary Artist books.
WS (2013) by Paul McCarthy (above)
A dirty take on America's best-loved entertainer
In terms of reach, few American artists have ever had the audience Walt Disney commanded. He was, writes Robert Store in our Paul McCarthy book, "the only tycoon of his era with whom the majority of North Americans, as well as additional multitudes around the world, felt they were on intimate terms." Paul McCarthy, in WS (White Snow as in Snow White) his film and installation tribute to the Disney boss, pushes that intimacy about as far as it can go, reworking Walt as some gruesome US alpha papa, in whom Hollywood sex drives and middle-American family values meet in a grotesque, burlesque take on one of America's most popular cultural exports. In WS, "Everything is in a disordered version of an original form."
Flag (2014) by Sterling Ruby
An update of Jasper Johns' flag, quilted from scraps, for a scrappier age
Like Jasper Johns before him, Sterling Ruby has adopted the form of a flag to take on the subject of his country, quilting his work in a typically folksy manner. "Ruby has been needling the veins and picking the scabs of this body called the United States for a while now," writes Franklin Sirmans in our Contemporary Artist Series book.
"Most recently, Flags (2014) are a series of paintings that, following the trail led by Jasper Johns and David Hammons, take the flag as a starting point for colour and composition. Reminiscent of flags, up to twenty-two feet in length, they are actually dyed fabric paintings, placing the quilting tradition with the painting tradition in a way that questions value systems identified with both modes. The works are so big as to conjure the largest of paintings in the short but 'heroic' tradition of post-World War II painting. Yet, their materiality speaks of more modest proposals and a utility that modern and contemporary painting withholds. Everything you have to question about this country in this moment is what Ruby has been mainlining into his work for the last ten years."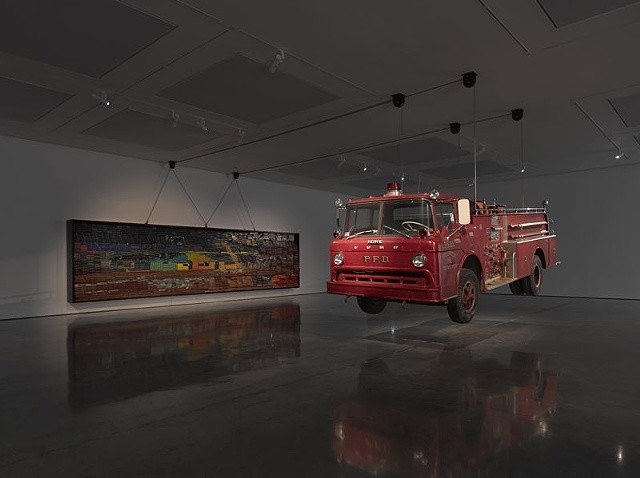 Raising Goliath (2012) by Theaster Gates
US racial politics, held in the balance
At first glance, Theaster Gates' red 1967 Ford 850 fire truck seems to symbolise the bright, brash, industrial civic side of America. Yet in this 2012 installation, the huge truck was hoisted above the ground in London's White Cube gallery, using theatrical pulleys, and counter-weighted with hundreds of leather-bound copies of Africa-American lifestyle magazines. In this way, Gates reminds visitors of the role firefighters played in putting down civil-rights demonstrations in America, and the thoughts and ideals that counter-balanced this assault. He views the work as a way to "hoist the history of the Civil Rights out of view, making it both weightless and invisible," while also highlighting the "way things change and remain the same."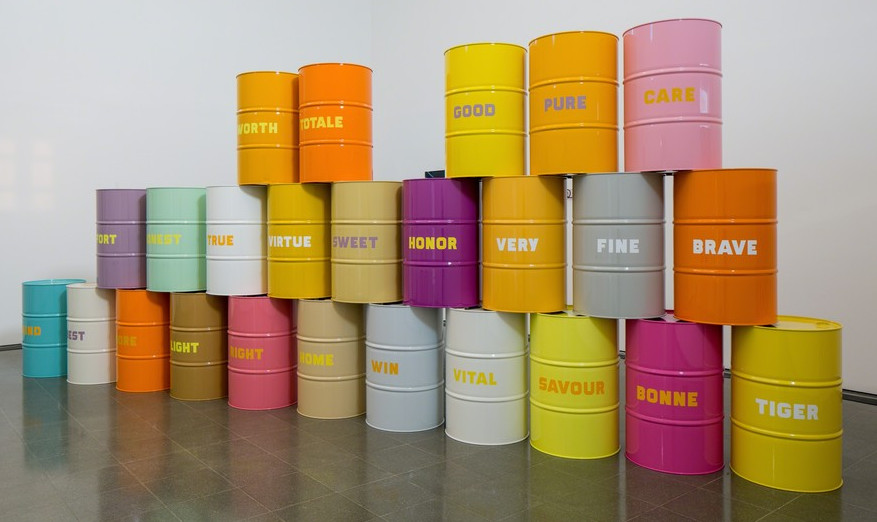 Sweet Light Crude (2008) by Jimmie Durham
American mineral wealth, in some sweet, poppy barrels.
The contemporary artist and Native-American rights activist Jimmie Durham brings the foundations of America's wealth to the fore in this work. Though Durham says he's always admired simple, everyday American forms such as the oil barrel, it's hard not to notice the linguistic contradictions in Sweet Light Crude. The work is named after a type of oil traded internationally, and this title and the aesthetic treatments of these bright barrels with their simple words, capture the contrast at play in modern America.
Check out the above books and more by similarly great artists in our Contemporary Artist Series in the store.