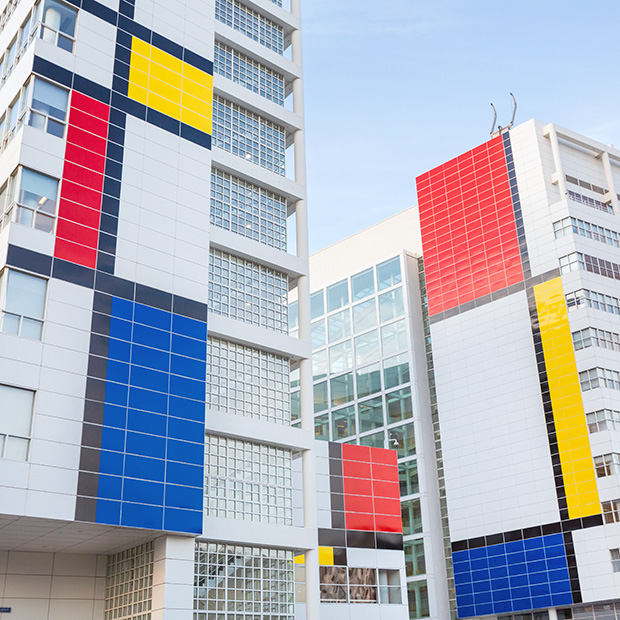 The Hague goes De Stijl for centenary celebrations
To mark the abstract art and architecture movement's anniversary The Hague turns its City Hall into a Mondrian
2017 marks the 100th anniversary of De Stijl's inception. This Dutch abstract art movement, founded in 1917 by the painter Piet Mondrian and the artist and writer Theo van Doesburg among others, advocated pure abstraction and universality by a reduction to the essentials of form and colour. De Stijl simplified visual compositions to vertical and horizontal, using only black, white and primary colors.
Today De Stijl stands out among 20th century artistic movements, since its adherents not only painted and sculpted, but also designed furniture and built houses; indeed, it went on to welcome architect and designer Gerrit Rietveld to its ranks.
The Hague is celebrating this centenary by 'Mondrianising' a number of notable buildings, starting with its City Hall. Rotterdam agency Studio Vollaerszwart oversaw this distinctive paint job, which was unveiled this week, as part of year-long series of celebrations. These include a new exhibition at the city's Gemeentemuseum, featuring all 300 works in its peerless Mondrian collection.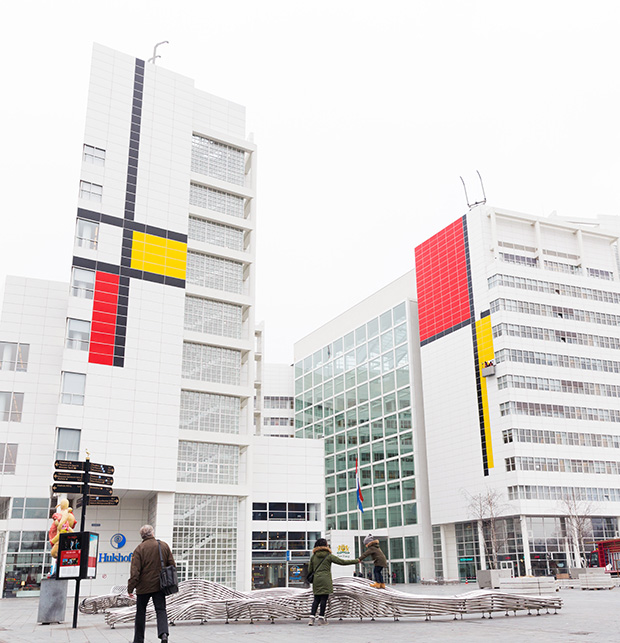 It's a treat for fans of early modernism, though architecture lovers should try to take a look at The Hague's City Hall, as the building is the work of the noted US contemporary architect Richard Meier.
You can find out more about Meier's work in this book; for more on Mondrian get this book; for more on De Stijl's place within art history get Art in Time; and for more on Gerrit Rietveld get this book.