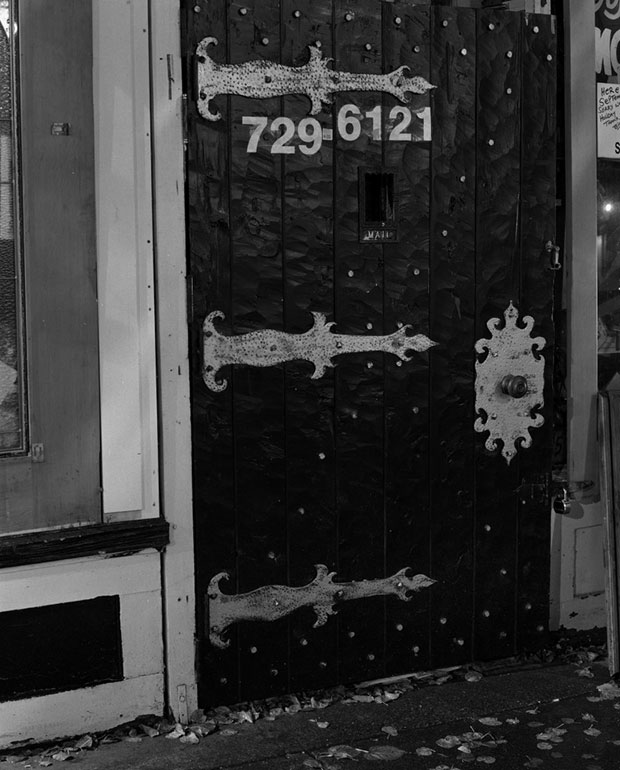 What lies behind Jeff Wall's Door?
How to get a grip on, and to buy a limited-edition print of, a quintessential work by one of today's greatest artists
"If I took you aside to analyse a neighbour's door you would, in future, give me a wide berth," writes the photo historian and Phaidon author Ian Jeffrey, in an edition of Photoworks magazine. "But with photographs it is different, for they offer evidence."
Jeffrey's observation forms part of a critique of Fortified Door, a 2008 black-and-white work by the Canadian fine-art photographer Jeff Wall, which is available as a highly collectable, signed, numbered limited edition of 100, here.
Jeffrey is correct. We wouldn't under normal circumstances dwell on this unusual, though not overly noteworthy fixture, had Wall not drawn our attention to it. Even for a Wall image, Fortified Door looks slightly out of place. The photographer, whose work forms part of almost every major international art institution's permanent collection, including the Tate, MoMA and the Met, tends to create large-scale colour images, mounted on light boxes. Fortified Door, by contrast is a one of his less numerous large format black-and-white, silver gelatin prints.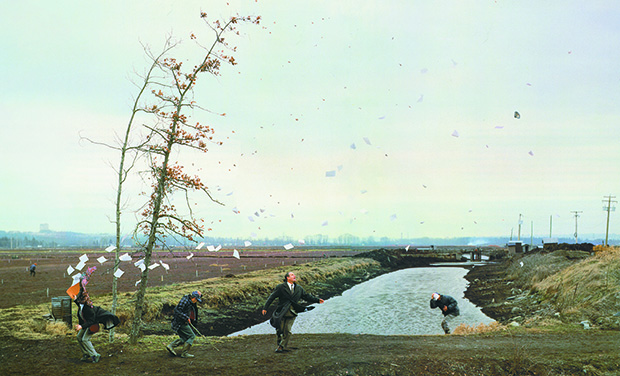 In terms of subject matter, Fortified Door is also unlike Wall's better-known pictures. There are no people in this picture, and no artfully contrived, ambiguous social situations, as in his 1999 photograph, Morning Cleaning, Mies van der Rohe Foundation, Barcelona, or his 1993 Hokosai tribute, A Sudden Gust of Wind.
However, the ambiguous nature of the photographis the very thing that sets it apart, making it a rewarding work of art. The digits on the door correspond to the phone number of a vintage home-furnishings shop in Vancouver, which lies roughly halfway between Wall's studio and the University of British Columbia, where the photographer taught for many years. The shop in question sells, among other things, doors. This hidden fact complicates this apparently simple image, as does the door's decorative, hand-made qualities.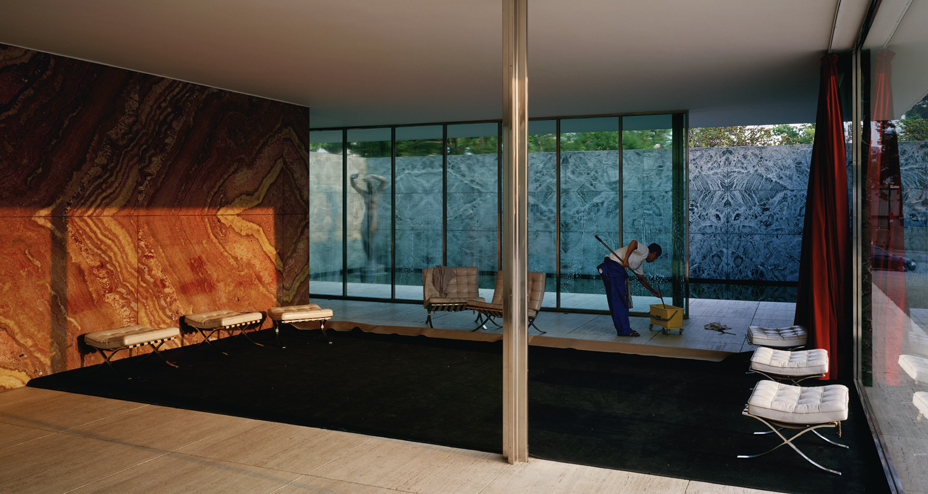 "If you've had anything to do with plank doors you will know that they usually have three cross pieces to keep the structure together and to hold the screws for the hinges," Jeffrey observed. "Wall's door is no exception. A careful study of the evidence will, however, reveal that the flamboyant metalwork shown here is only decorative. The door's maker, an artist-decorator of sorts, had tried to pull the whole together with a system of shiny metal studs arranged in double rows top and bottom and also on the diagonals. The system, though, had come unstuck, as you can see, for the artist hadn't calculated the angles correctly, and hadn't had enough studs either. And the number is oddly placed – probably to obscure an earlier code partly visible beneath. The mailbox, despite its unusual breadth, didn't have the height required for certain letters, which had been pushed under the door."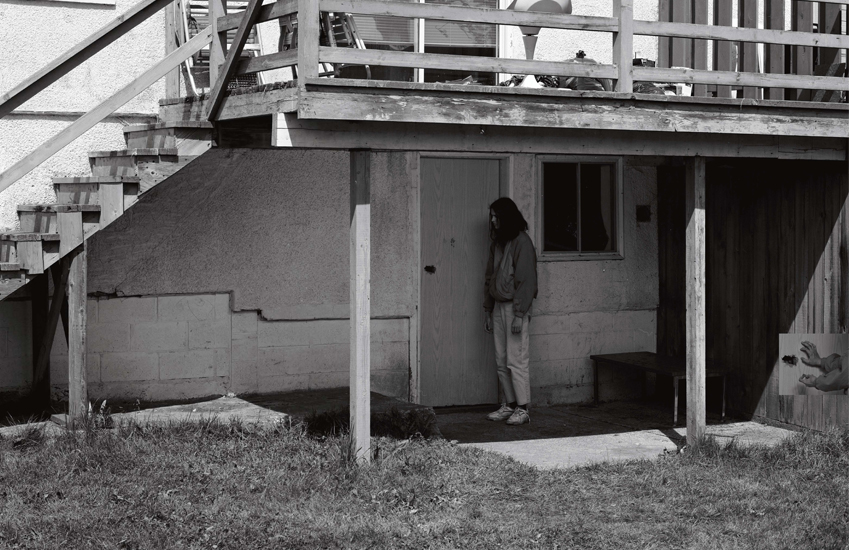 The decorative flourishes, combined with the black-and-white print, give this door a classical, antique look, yet, other details – including the phone number  – stymie this interpretation. The botched, vernacular qualities remind us of the standard human failings that tend not to be seen in works of fine art, as does the handwritten note stuck to the glass, and the edge of a letter, shoved between the door and the threshold. All this is probably intentional. 
Wall, who studied at the London's Courtauld Institute of Art, understands how artworks are appreciated and understood. Yet he doesn't wholly agree with traditional interpretations. In the introduction to our Jeff Wall monograph the Belgian art professor Thierry de Duve, examines how, in a modern world filled with poverty, disappointment and countless false promises, artists as sophisticated as Wall cannot honestly create works that lead us on.  Instead he makes art that "gratifies us with an immediate and undeferred beauty." In this sense, Fortified Door is a quintessential Wall work, as Ian Jeffrey explains in the Jeff Wall entry in The Photography Book.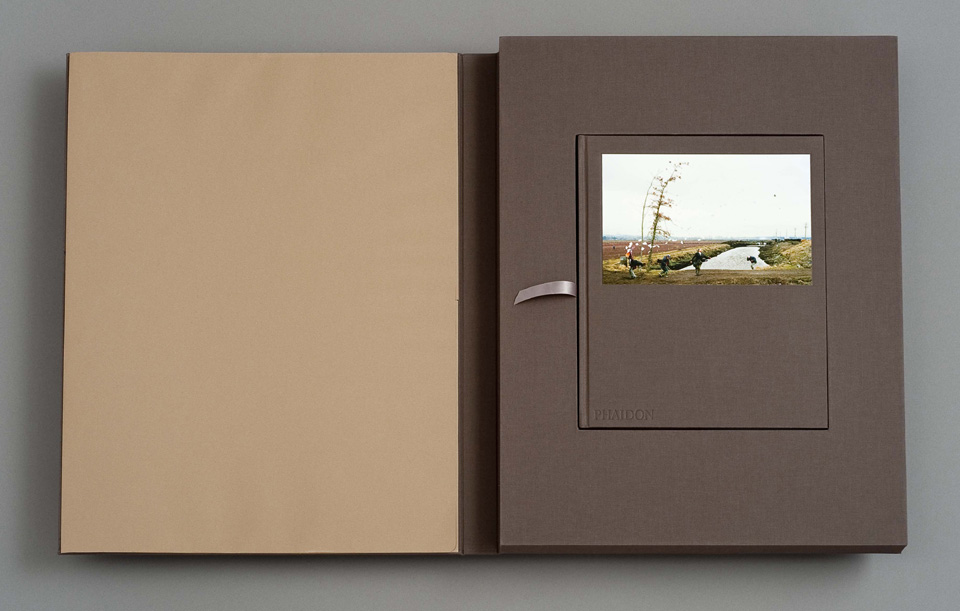 Comparing the photographer to an earlier generation, who captured "epitomes of misery, elegance or splendour" on film, Jeffrey says, "Wall by contrast eschews the finished product and asks his contemporaries to consider instead what a deed might be and how a picture might function." In this way, Wall's door, which we may have only glanced on the street, not only bars one simple understanding, but also opens up many other avenues of thought. 
To take advantage of rare opportunity to acquire an original large-format copy of this image, which costs £2,950 ($5,000; €3,800), measures 508 x 406 mm (20 x 16 inches) and is a silver gelatin print limited to 100 editions, each signed and numbered by Wall, go here.
And if you like the look of this, you might also be interested in our limited-edition Martin Parr prints, our limited-edition Nan Goldin prints, and our limited-edition Danny Lyon prints.