In 1980, at an awards ceremony in Washington DC attended by dignitaries and luminaries and presided over by the incumbent president Jimmy Carter, the iconic American photographer Ansel Adams received the Medal of Freedom, the highest civilian award in the United States. Adams would die four years later, bringing an end to a sparkling career that still now influences and inspires, but on that day the 78-year-old photographer was greeted by a loving crowd filled with unbridled enthusiasm. Even Carter seemed taken aback. "At one with the power of the American landscape," the president announced in a speech to the room before handing over the prestigious award, "and renowned for the patient skill and timeless beauty of his work, Adams has been a visionary in his efforts to preserve this country's wild and scenic areas, both on film and on Earth."
Ansel Adams, almost twenty years after his death, remains the most popular photographer in America. His black-and-white images – of vast, sparse and distant landscapes mostly, but also of American people in poses of suffering and joy – adorn calenders, fridge magnets and countless other gift-shop items up and down the country. His prints sit in doctors' surgeries and dentists' waiting rooms not just in the US but throughout the world, often recognisable for their tone, their sharpness and their nature-focussesd subject matter. Few bodies of work transcend the museum and enter the wider public consciousness, but Adams' has done. No doubt it will remain there.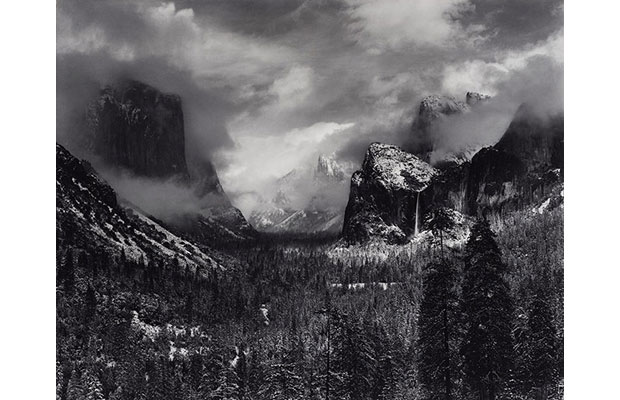 But why exactly is the Californian's work still so pertinent? Because Adams' predisposition to explore man's relationship with his surroundings remains contemporary in focus, particularly in light of recent natural disasters. Adams' legend lies not only in the fact he was a brilliant photographer, but a brilliant environmentalist too, intent on saving the Earth as much as documenting it.
"Drawn to the beauty of nature's monuments," Carter went on to say before presenting Adams with the Presidential Medal of Freedom, "he is regarded by environmentalists as a monument himself, and by photographers as a national institution. It is through his foresight and fortitude that so much of America has been saved for future Americans." If only Adams were alive now, to both document our planet, as well as help save it.
Read more about Ansel Adams in The Art Book New Edition, 30% off today!