172 years ago in Paris, a sculptor who changed the world was born. Auguste Rodin, who died in November 1917 but whose body of work remains among the great canons of sculpture, has long been celebrated in the art world and further afield. Today, even the tech giant Google has payed homage, replacing its standard multi-coloured logo with a Rodin-inspired version featuring the sculptor's best-known work, "The Thinker".
In The Art Book, though, it's "The Kiss" that takes centre stage. Created between 1888 and 1889, the monumental sculpture depicts two lovers locked in an infinite embrace, and its emotional force and vitality have made it one of the most well-known pieces in modern art. "The softly flowing forms of the lovers contrast starkly with the block of roughly hewn marble to which they are attached," the text reads. It's "symbolic of the sensuality of flesh rendered so believably in cold, inanimate stone" and it emphasises, as one critic put it, "the impossible union of souls by their bodies."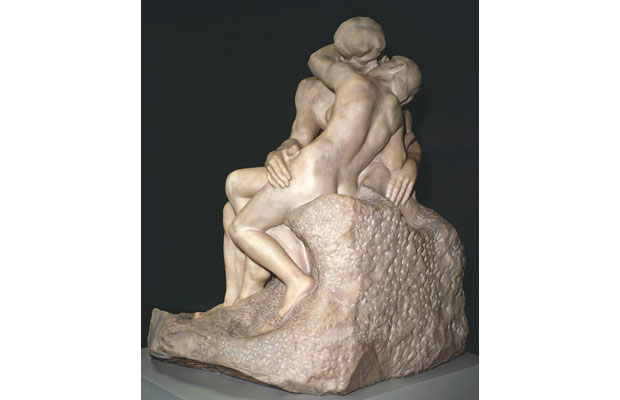 Like Michelangelo centuries before him, Rodin fought to liberate the human figure from stone, and he repeatedly celebrated the body's sheer physicality. Despite being ignored for much of his early career (the sculptor was turned away from Paris' Grand École art school three times as a youngster, and it wasn't until he turned 60 that he really became very well-known), and working in the traditions of the Romanticism of the recent past, Rodin is widely considered to be the father of modern sculpture. He evolved the medium by re-appropriating its great history. Without him much of the sculpture produced over the last century would not have existed. Richard Serra's work, for example, takes much from the pulsating energy and form of Rodin's sculptures.
Those in England right now have the chance to see "The Kiss" in person, in a wonderfully airy room at Margate's Turner Contemporary gallery. For everyone else, pick up a copy of The Art Book to read and see more.