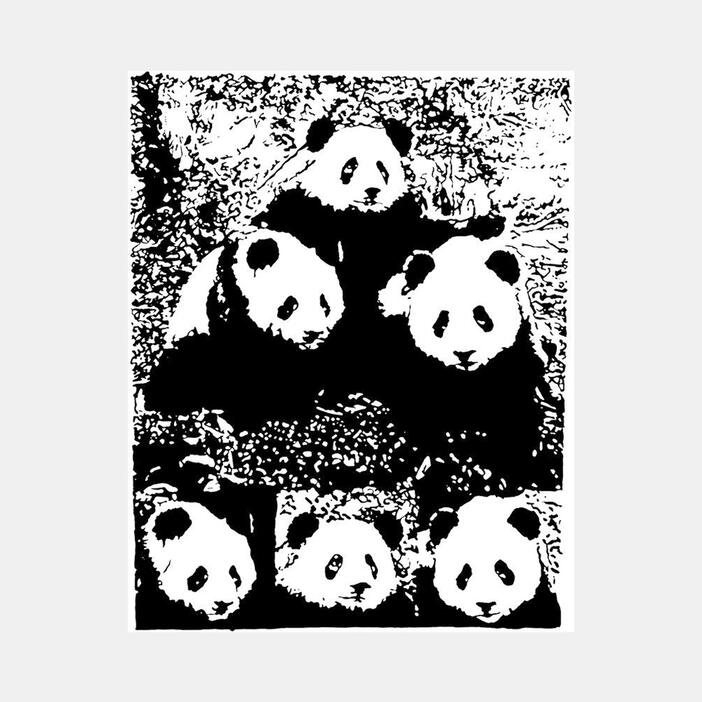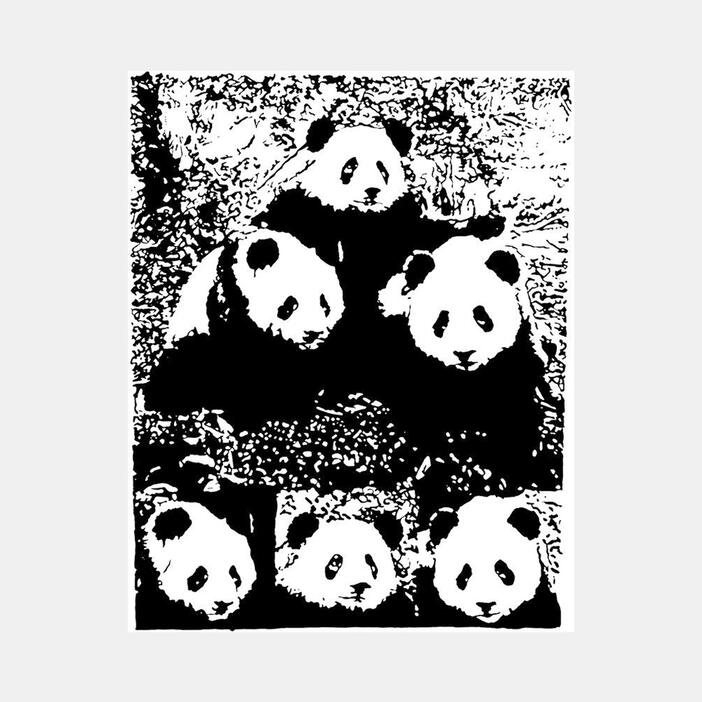 Rob Pruitt: Stronger Together (2020)
Price AUD$2100.00 Price CAD$2000.00 Price €1300.00 Price £1150.00 Price T1500.00 Price USD$1500.00
Print: Archival Pigment Print on Hemp Paper
Size: 508 x 406 mm (20 x 16 in)
Edition of 50
Signed and numbered
In his aptly titled limited edition, Stronger Together, Pruitt employs a harmonious grouping of his beloved pandas against an abstract landscape of black and white. The pandas here serve as a universal symbol of unity–inspiring community and a way forward in times when equality for all and environmental protection are at stake. Known for his self-described "populist" works imbued with powerful messages, Pruitt states, "To me, 'stronger together' means being there for one another...it's a message of solidarity that resonates with the social times, but maybe the title should be: Stronger Together, But Six Feet Apart?"
Each print from the edition of 50 is signed, numbered and printed on Hahnemühle Natural Line Hemp paper, hand-selected by the artist. Proceeds from this sale support Public Art Fund's mission to bring compelling contemporary art to New York City's public spaces 24 hours a day, 365 days a year. Now more than ever, public art—always free and accessible—is one of the safest and only ways for most New Yorkers to experience culture in their daily lives. Learn more about current and upcoming exhibitions at PublicArtFund.org.
Artist, crafter, and cultural anthropologist - Rob Pruitt navigates the depths and the shallows of the contemporary visual world. His varied projects include painted glittery canvases of panda bears, an eBay Flea Market benefiting various charities, creating the art world's own Hollywood-style awards ceremony, and for the better half of a decade, Instagramming a daily calendar of personal and public events. Pruitt has won many admirers for his use of diverse media and D.I.Y. techniques, which bring an outsider spirit to works that always deliver a message. Over the last 30 years, Pruitt's influential practice has been met with both critical and popular success.
His work has been shown internationally since the early 1990's, at venues including the Tate Modern, Kunstahlle Zürich, MoCA Detroit, and the Aspen Art Museum. In 2011, the Public Art Fund installed Pruitt's Andy Monument, a chrome-plated, seven-foot-tall statue of Andy Warhol, near Union Square.