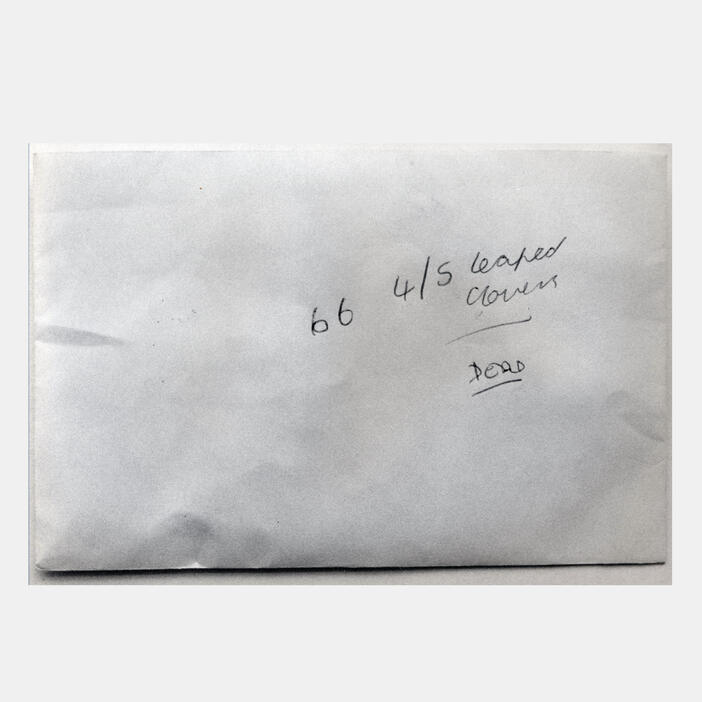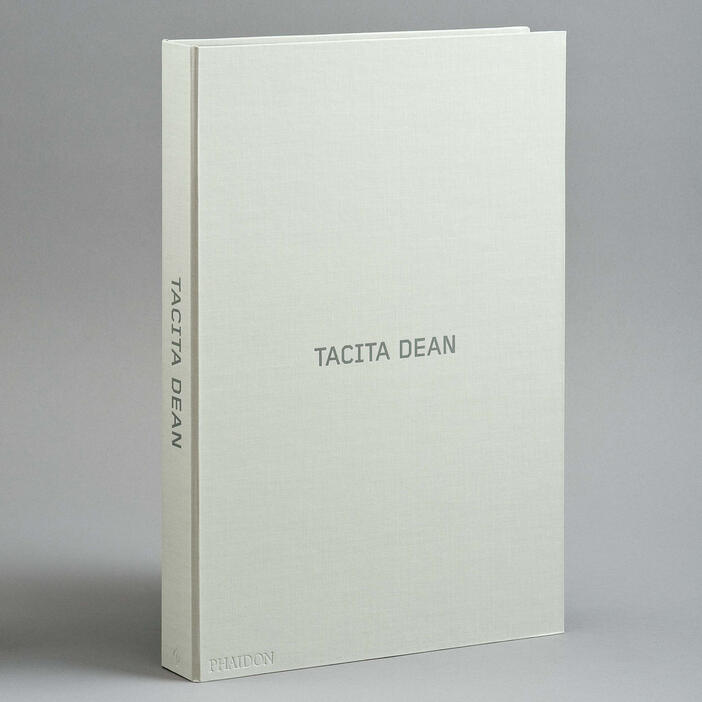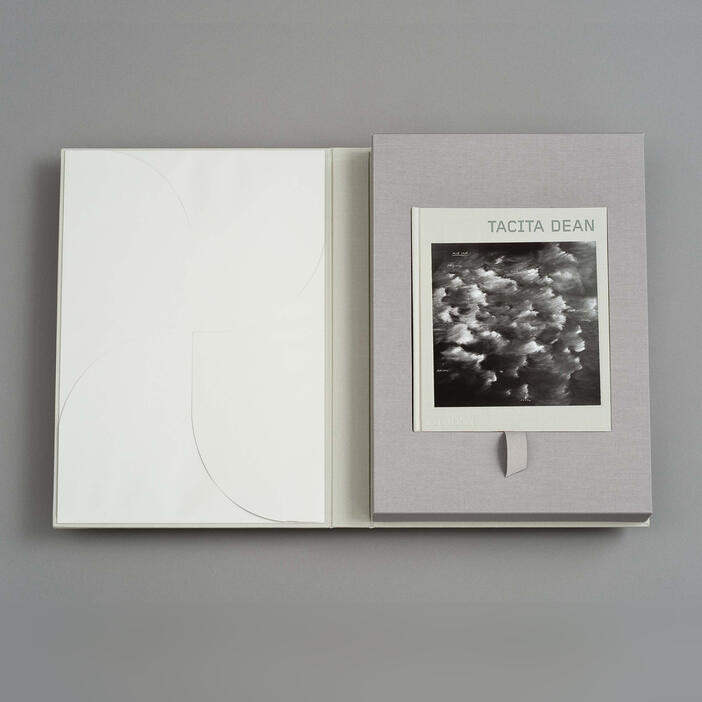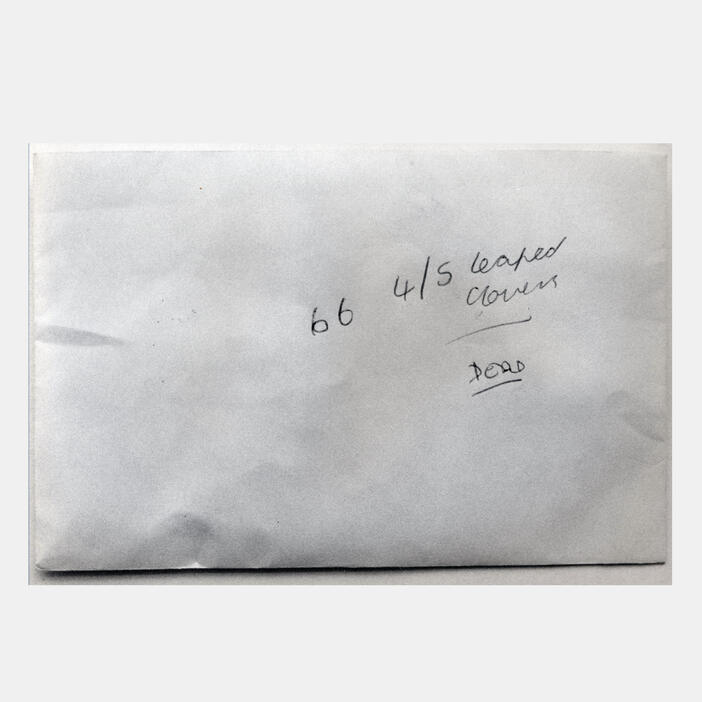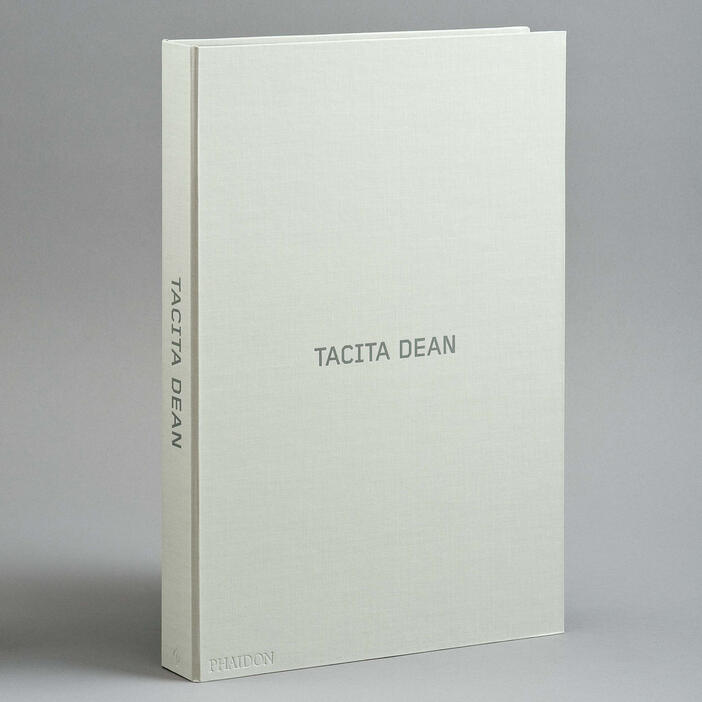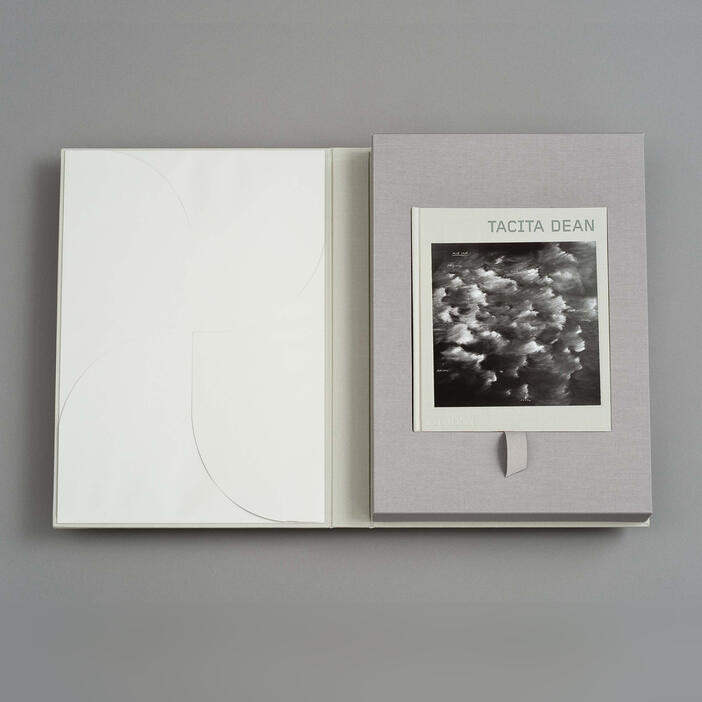 Tacita Dean: 66 DEAD 4/5 leafed clovers, 2008 :
Price AUD$1700.00 Price CAD$1600.00 Price €1100.00 Price £850.00 Price T1400.00 Price USD$1400.00
Silver gelatin print on fibre paper
Sheet size: 350 x 500 mm (13 3/4 x 19 5/8 inches)
Image size: 295 x 434 mm (11 5/8 x 17 inches)
Box: 520 x 370 mm (20 1/2 x 14 1/2 inches)
Printed in 2008 in an edition of 45 plus 5 artist's proofs
All copies are signed and numbered by Tacita Dean
A unique opportunity to own a limited edition silver gelatin print on fibre paper by Tacita Dean
"On a French exchange, when I was about 13, I was staying in a village I remember being called Pontchateau. My exchange family were pork butchers! One day, I found a whole crop of 4 and 5 leafed clovers in the garden. I had already been collecting them since the age of 8. I picked them all and carefully took them to my room to press them, but was told we had to leave so I put them all in a glass of water. When I returned some hours later, the mother of my French exchange, Mme Morand, had thrown out the water and put the clovers in the bin. I pulled out the clovers but they were already dried and dead so I put them in that envelope which still remains to this day with my clover collection." - Tacita Dean
The clover collection Tacita Dean refers to is the artwork Four, Five, Six and Seven Leaf Clover Collection (1972–present), featured on pp. 12–13 of the monograph, which is closely related to the strategies of archiving and sense of serendipity that inform all of her work.
Tacita Dean has photographed an envelope that has been part of her life for over thirty years. Its contents would have joined her ongoing Four, Five, Six and Seven Leaf Clover Collection, which she started at the age of eight and still contributes to, if not for a stroke of ill fate - a dark counterpart to the serendipity that sustains not only her whole clover collection but also much of her art.
Specifications:
Format: Hardback
Size: 290 × 250 mm (11 3/8 × 9 7/8 in)
Pages: 160 pp
Illustrations: 0 illustrations
ISBN: 9780714849300
Tacita Dean works in the vanguard of contemporary artists who, using a range of materials, assemble rare and fleeting phenomena into idiosyncratic archives. Her commitment to 16 mm film in particular is a testament to the ideal union of medium and subject, as can be seen in her filmed portraits of choreographer Merce Cunningham, poet Michael Hamburger and artist Mario Merz. Her work has been featured in solo exhibitions at museums around the world, including the Center for Contemporary Art in Kitakyushu (2006), the Guggenheim Museum in New York (2007), the Musée d'art Contemporain de Montrèal (2009) and Tate Modern in London (2011). Originally from England, she has been living in Berlin since 2000.