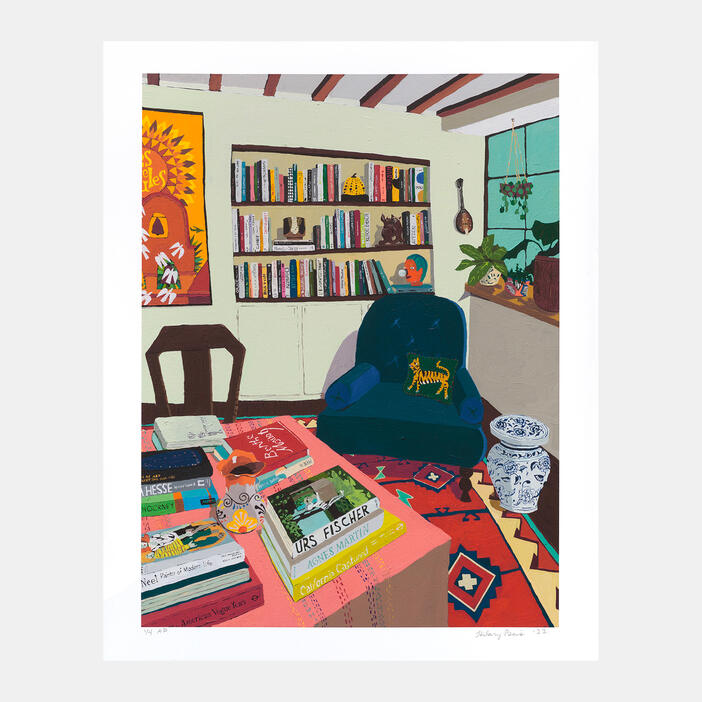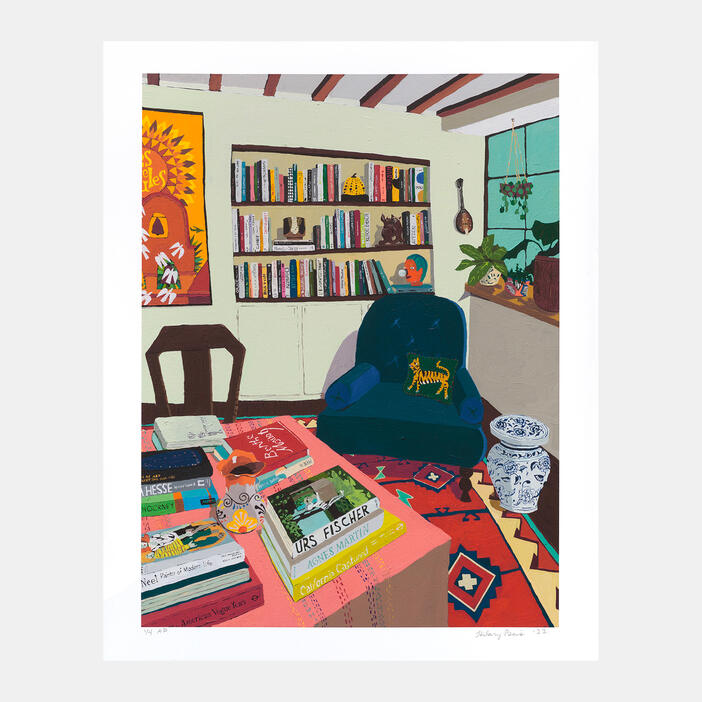 Hilary Pecis: Untitled Interior (2019/2022)
Artspace is proud to release a new charitable limited edition of 40 prints by American painter Hilary Pecis.
The artist's first and only limited edition print, Untitled Interior presents one of Pecis' iconic interior sill lifes replete with vivid color and intricate pattern. Untitled Interior has been commissioned to coincide with Phaidon's landmark survey Great Women Painters, in which Pecis is a featured artist. Proceeds from the sale of this print will benefit Students Run LA and the MCA Chicago's Women Artists Initiative.
Pecis is known for her signature style of representational paintings that updates the historical genres of domestic interior, landscape, and still life— and are among the most sought-after works by a contemporary artist working today. The human figure is generally absent from Pecis's scenes, which exude personality and display the lovingly curated minutiae of life. When seen through Pecis' eyes, familiar interiors and landscapes of Los Angeles encourage us to celebrate the quiet power and vibrant beauty of the everyday. Artnet recently praised her as "the David Hockney of our time, setting the art world a flutter" with sold out shows and soaring auction prices.
An avid runner, Pecis likens her artistic practice to training for long-distance races. "I like to think of painting as an endurance activity," she says. "Each painting in itself is a series of small movements that add up to a finished piece. And the continuation of the practice in painting is a journey with ebbs and flows and growth between paintings and shows. I relate this to endurance running, where the efforts of the thousands of miles that are put in before a race are summed up."
Hilary Pecis (b. 1979, Fullerton, CA) has recently been the subject of solo exhibitions at Rockefeller Center, New York (2021); Timothy Taylor, London (2021); Spurs Gallery, Beijing (2020); Rachel Uffner Gallery, New York (2020); and Crisp-Ellert Art Museum, Flagler College, St. Augustine, Florida (2019). Recent group exhibitions include Present Generations: Creating the Scantland Collection of the Columbus Museum of Art, Columbus Museum of Art, Ohio (2021); The Beatitudes of Malibu, David Kordansky Gallery, Los Angeles (2021); FEEDBACK, The School at Jack Shainman Gallery, Kinderhook, New York (2021); L.A.: Views, Maki Gallery, Tokyo (2020); High Voltage, The Nassima-Landau Project, Tel Aviv, Israel (2020); and (Nothing but) Flowers, Karma, New York (2020). Her work is in the permanent collections of institutions including the National Gallery of Art, Washington, D.C.; Museum of Contemporary Art, Los Angeles; Aïshti Foundation, Beirut; and Yuz Museum, Shanghai. Pecis lives and works in Los Angeles.