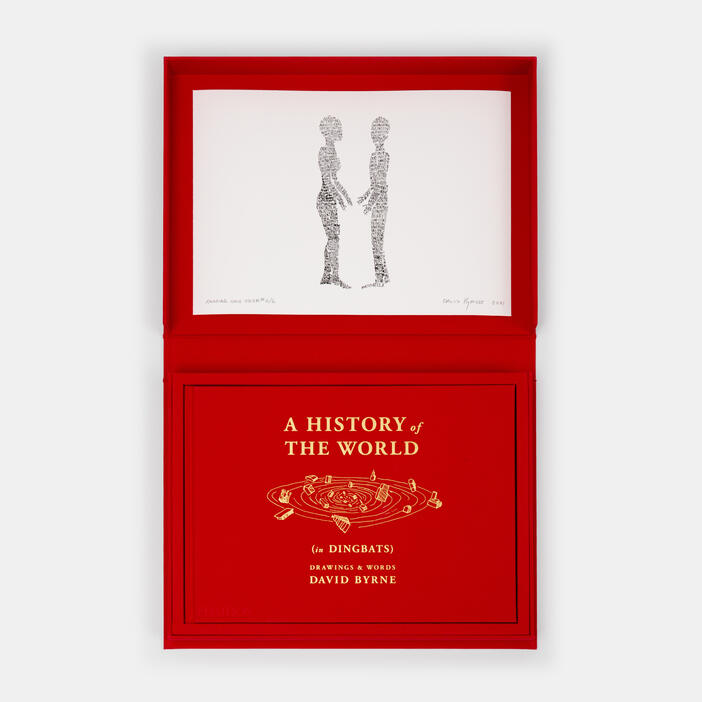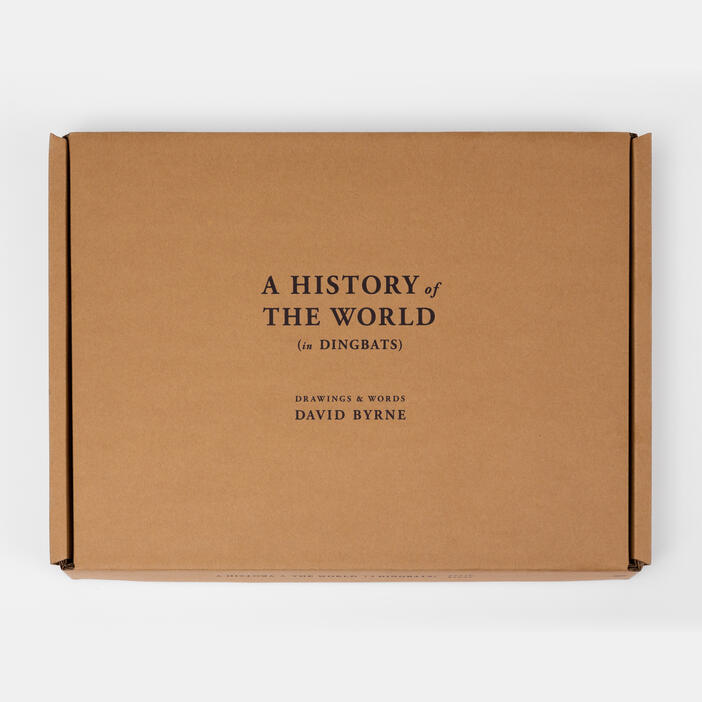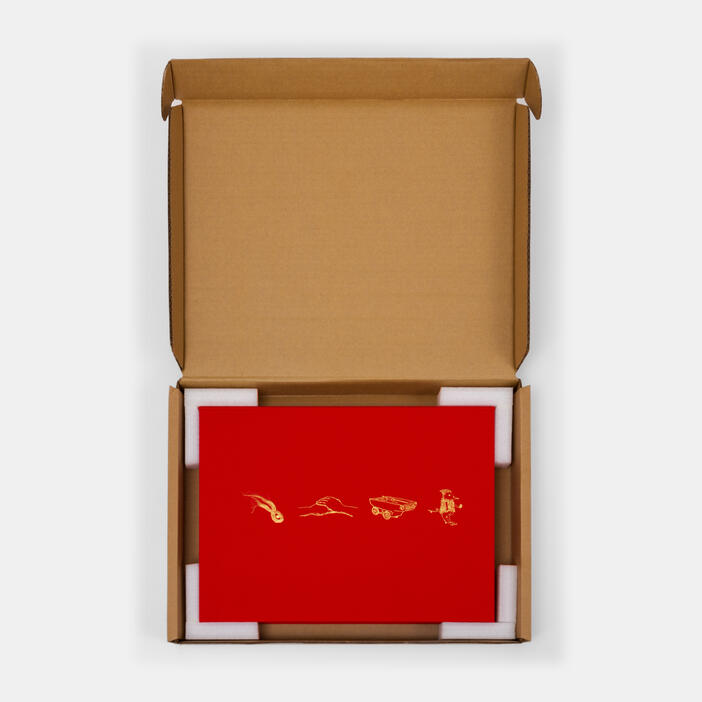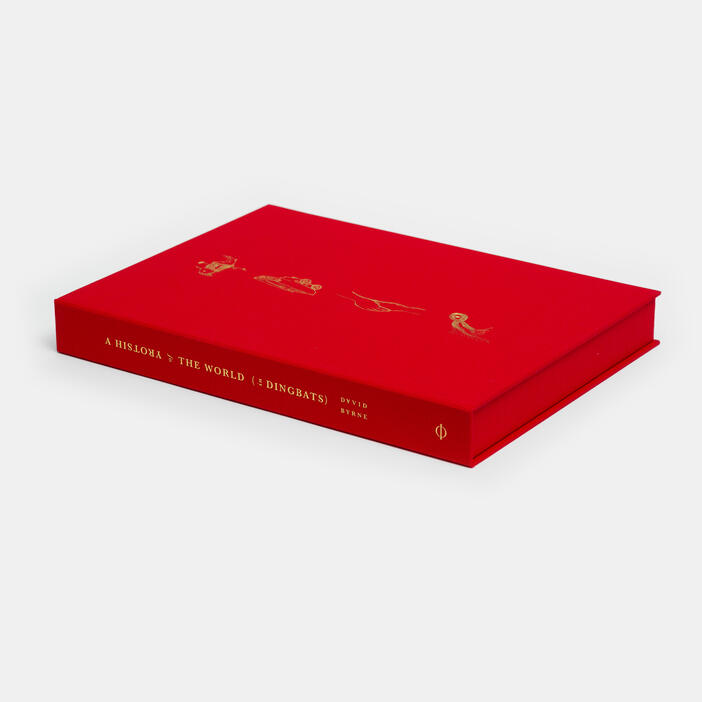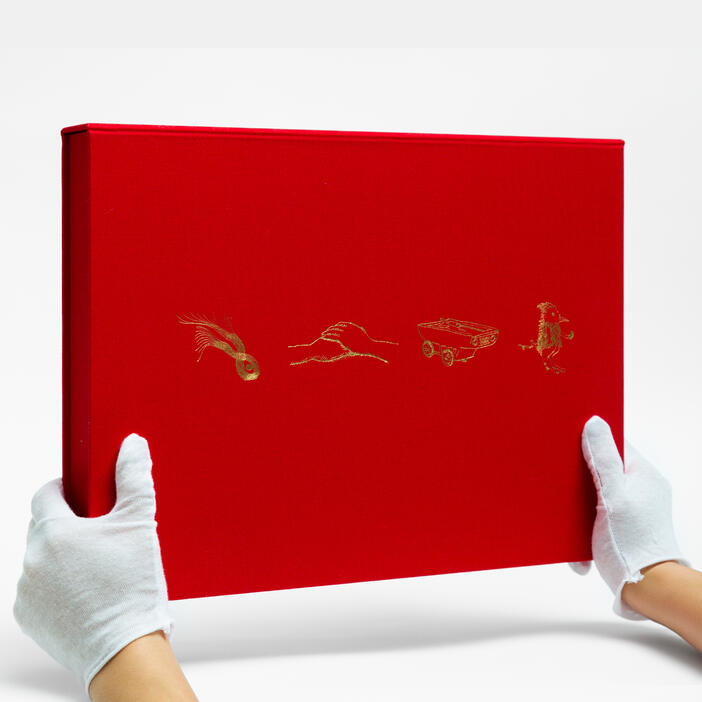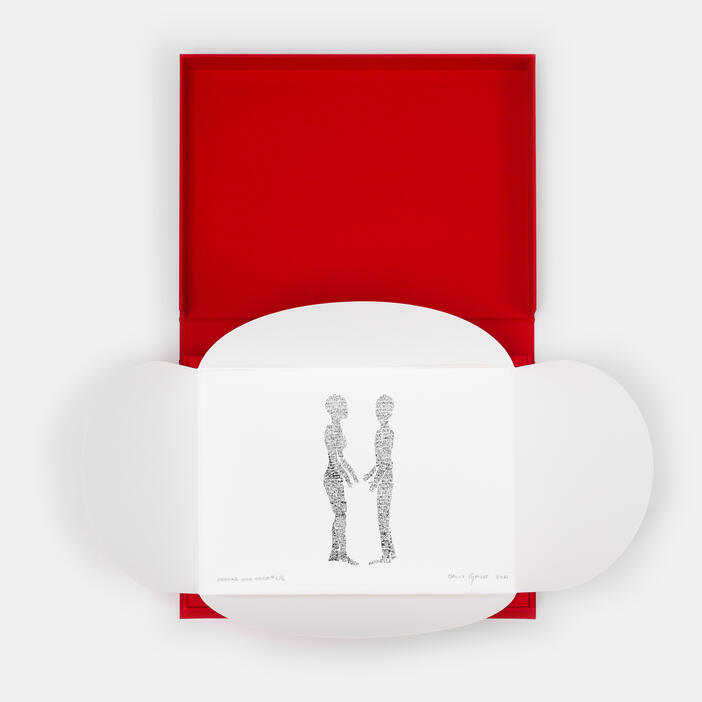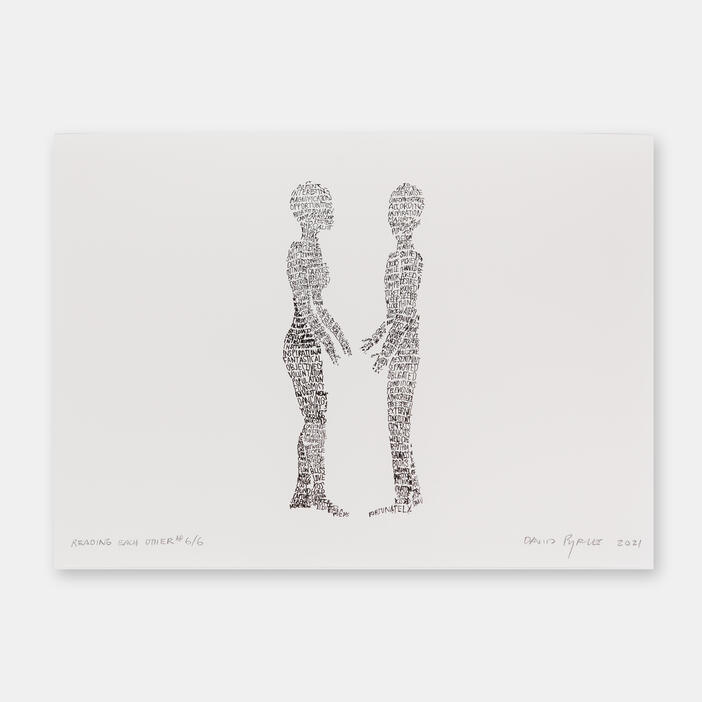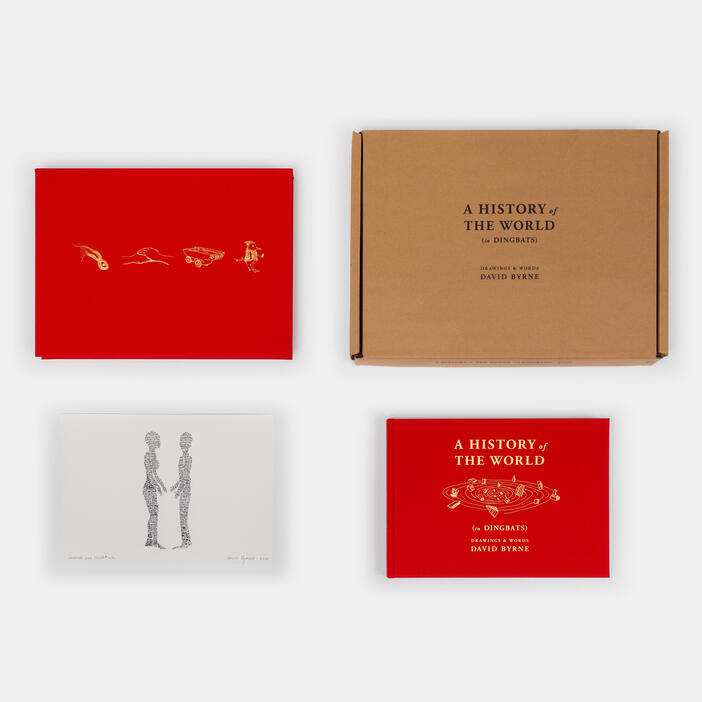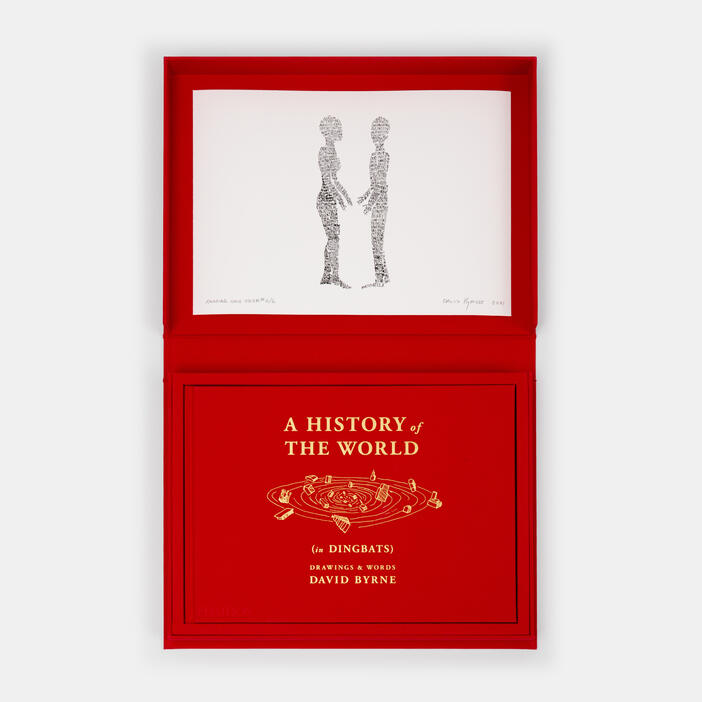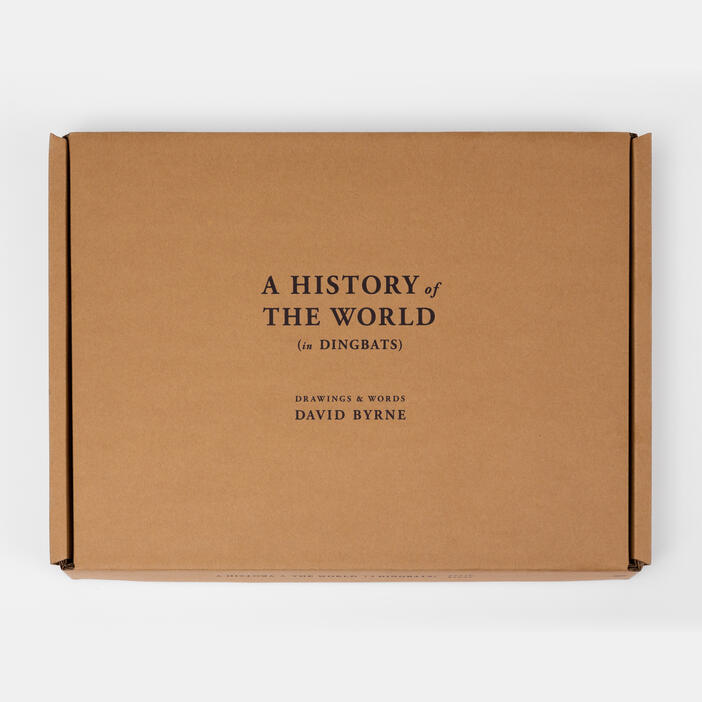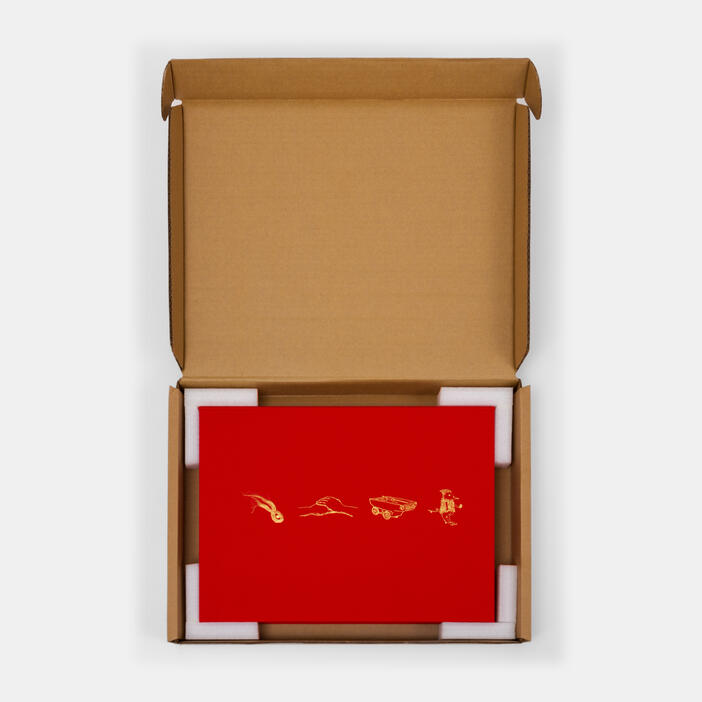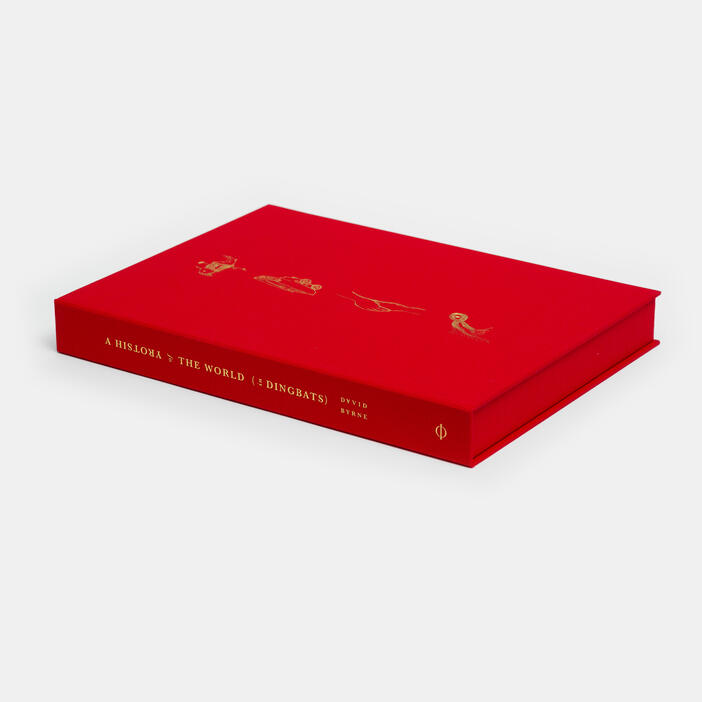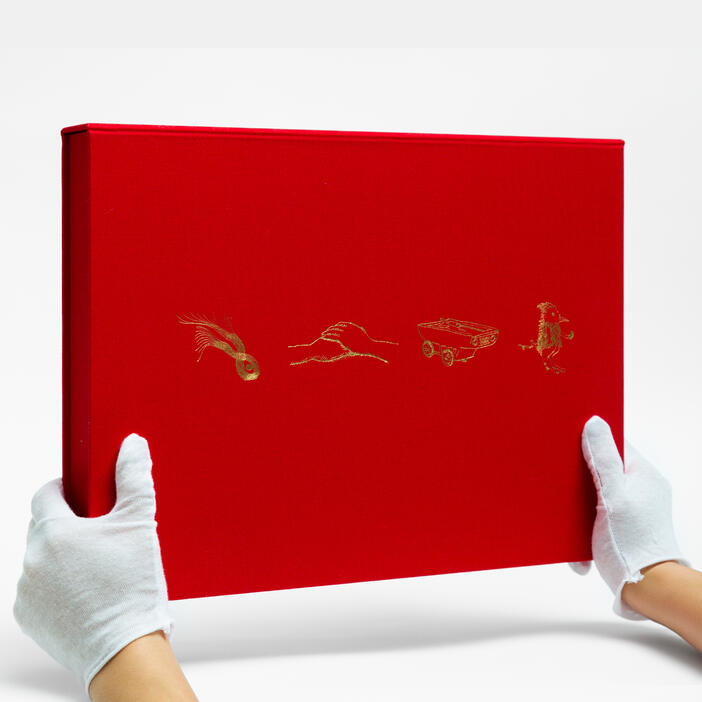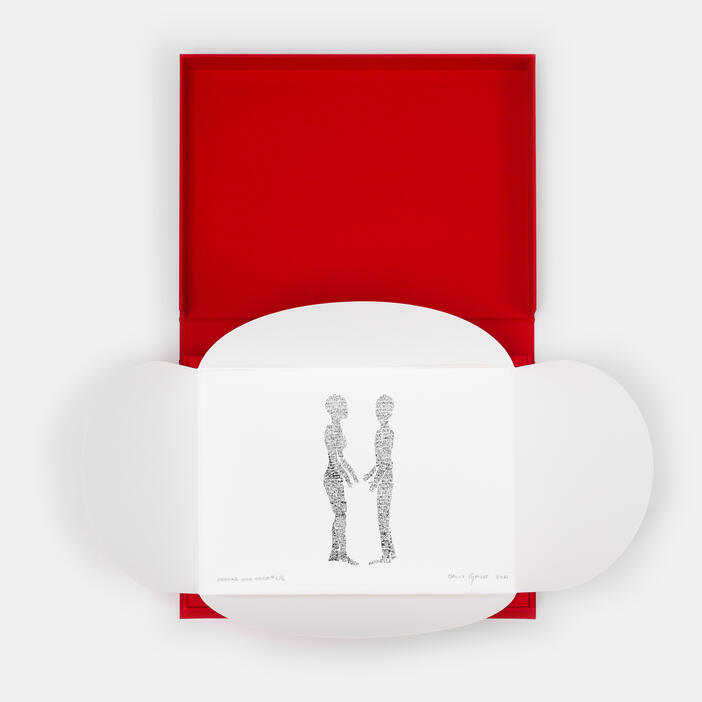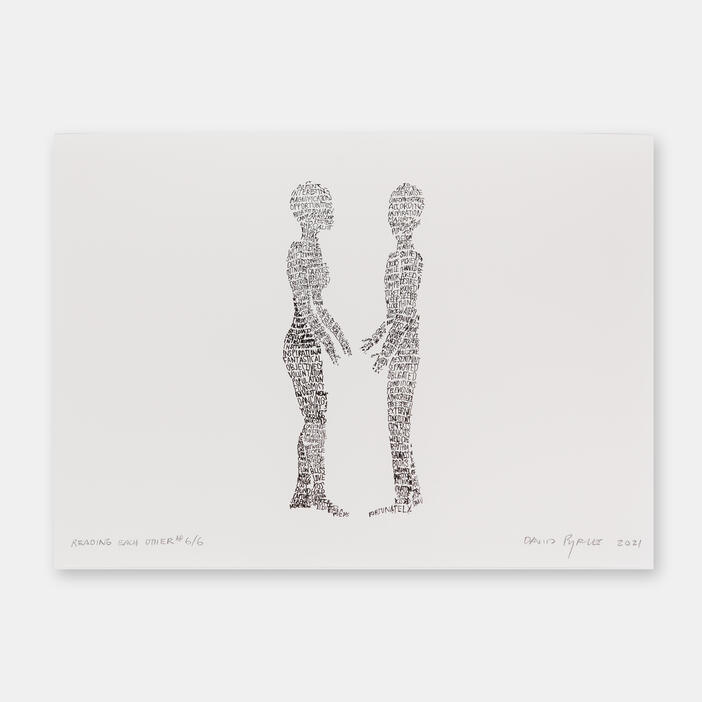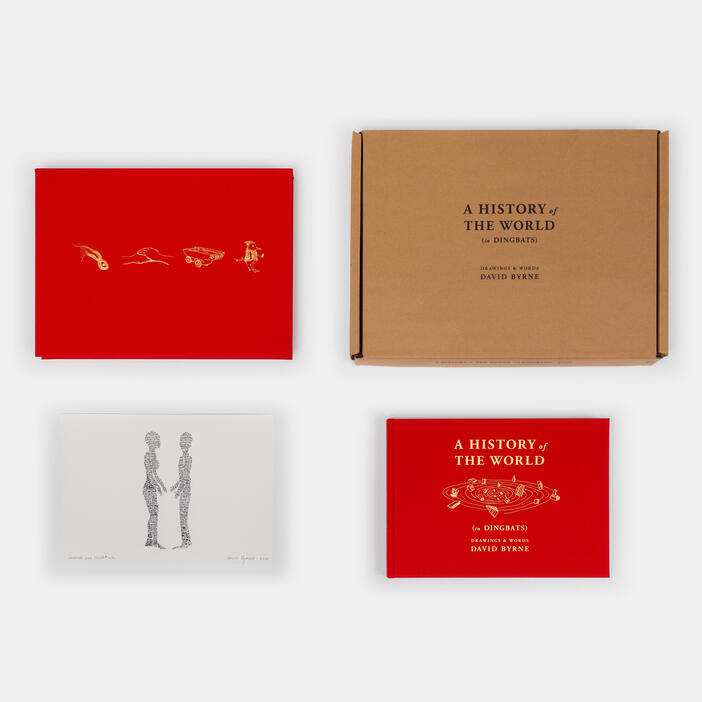 David Byrne: Reading Each Other (2021) :
Price AUD$1250.00 Price CAD$1250.00 Price €800.00 Price £725.00 Price T1000.00 Price USD$1000.00
This beautiful new limited edition by the iconic musician, filmmaker, and artist David Byrne includes a special print, Reading Each Other (2021) alongside a luxurious, large-format edition of his new book A History of the World (in Dingbats). Both the print and special edition book are hand signed by the artist.
Print: Digital archival print on Museo Portfolio Rag 300 gsm
Size: 254 x 356 mm (10 x 14 in)
Edition of 50
Hand signed, titled, and numbered
In David Byrne's Reading Each Other (2021), two people appear engaged in close conversation. Their bodies are composed of stacks of words and, as the title suggests, many methods of communication flow between them. "'Stop being so literal!' Boy, have I heard that a lot," Byrne says when asked about the print. "But, of course, we do read one another, though, OK, maybe not exactly like a book. What we speak is only a small part of what we say, yes? The language of gesture, posture, movement, clothing, expression—we all speak it and more or less understand it, sometimes well and sometimes imperfectly, instinctively, without being taught this language in school."
Each print is hand signed, titled, and numbered, and comes packaged inside the limited edition of A History of the World (in Dingbats), a hardcover book that is signed by the author and housed in a clamshell case. The limited edition is an Artspace / Phaidon charitable edition with a portion of profits directed to Reasons To Be Cheerful, a solutions journalism nonprofit.
ABOUT THE BOOK
The phenomenally creative musician and filmmaker David Byrne presents new artwork that explores daily life in surprising ways, with unique reflections on shared human experiences—a book for our time from a highly influential artist.
Luxurious, large-format, hardcover book
Size: 254 x 356 mm (10 x 14 in)
160 pages, 115 illustrations
Through striking and humorous figurative drawings, David Byrne depicts daily life in intriguing ways. His illustrations, created while under quarantine, expand on the dingbat, a typographic ornament used to illuminate or break up blocks of text, to explore the nuances of life under lockdown and evoke the complex, global systems the pandemic cast in bright light. Edited and designed by Alex Kalman in close collaboration with Byrne, this unique book reflects on shared experiences and presents history as a story that is continually undergoing revision.
"In the pandemic, we were often reduced to reading each other via screens. As digital culture strives to atomize our relationships, to break us down into mere individuals who never physically meet, we risk being separated from our reading material." -David Byrne
David Byrne's practice spans photography, performance, drawing, illustration, video, design, and publishing. In 1975 he cofounded the seminal group Talking Heads. Byrne's exuberant and radical creativity has challenged classifications of art for decades. His Bicycle Diaries was a Los Angeles Times bestseller and his How Music Works was a New York Times bestseller as well as an Amazon Editors' pick and a Best Book of the Month. His hit Tony Award–winning theatrical concert American Utopia was adapted by Spike Lee into a concert film that premiered on HBO and received multiple Emmys. Byrne's work is collected by MoMA, The Whitney Museum, the Getty, and Yale University Art Gallery.