Wolff Olins' new-look USA Today
The design agency responsible for London 2012's logo reworks America's popular newspaper
The American news outlet USA Today has a new look, courtesy of Wolff Olins' New York office. It's unusual for a branding consultancy to win a newspaper redesign job, but then this project went much further than the printed layout. Wolff Olins' work also extends to apps and logo, in a root-and-branch overhaul.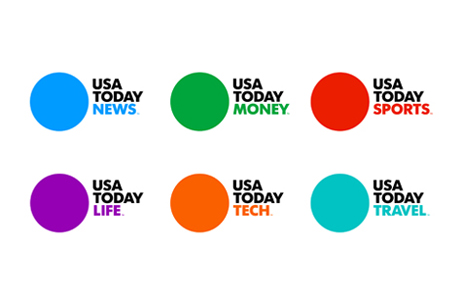 The element that will have the most immediate impact on USA Today's readers is the flexible logo itself. The main identity is in a bespoke version of Futura (the typeface used for the paper's original logo back in 1982). That's now complemented by a solid blue circle, which each section of the newspaper can play with by changing its colour and introducing an image or symbol to represent the page's main story.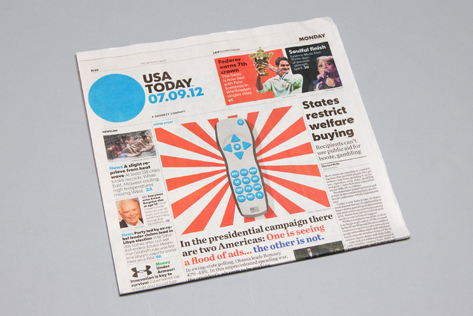 Fastcodesign.com is skeptical about the impact all these changes can actually make to USA Today's fortunes. "So does USA Today's new logo function better as a symbol of a media company's promising new identity? Or a desperate attempt to appear relevant? The jury is still out, but its verdict will probably depend largely on whether the brand's total redesign lives up to the "pulse of the nation" idea it promises."
For further examples of innovative print design, take a look at our Archive of Graphic Design, the ultimate reference guide for design professionals and enthusiasts alike.