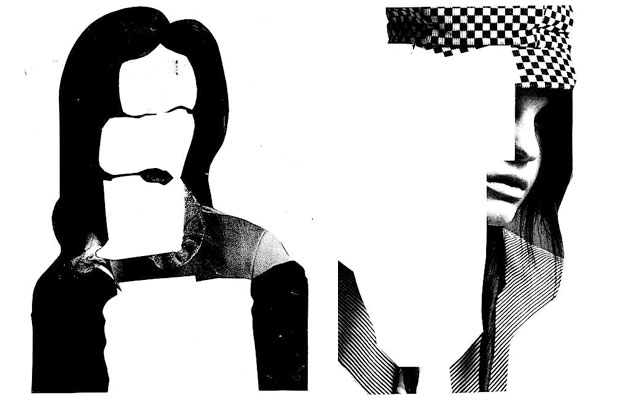 Behind the Scenes: M/M (Paris)
A celebration of the experimental French designers Michaël Amzalag and Mathias Augustyniak
Right now, at the respected London gallery Libby Sellers, four large-scale rugs rest against two elaborate A-frames. Produced in Varanasi, India, the weaves typify the vast portfolio of their designers, the French duo Michaël Amzalag and Mathias Augustyniak, who've worked together under the moniker M/M (Paris) for the last 20 years and whose regular leitmotifs adorn the carpets. On one, the duo's most famous character, the 'agent', appears against a rainbow backdrop. On another, a hand-drawn siren swims amid a pixelated sea. The third presents roughly drawn sketch-book illustrations, blown up and hand-knotted, and the fourth features a stylised eye, an icon made in a bid to help raise money for those affected by 2011's Fukushima Daiichi nuclear disaster.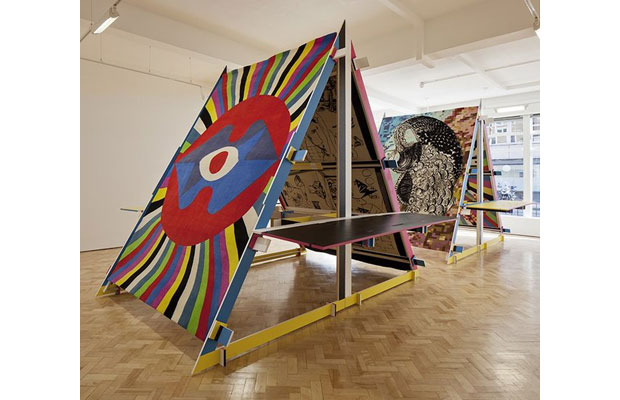 Before Sellers approached the pair with the idea, Amzalag and Augustyniak had never made rugs before. But, then again, the experimental duo hadn't made a perfume prior to approaching a Swedish fragrance house to create their own scent, and neither had they designed a pair of speakers before the Icelandic artist Gabriella Fridriksdottir asked them to do so. For M/M, experimentation is key, and over the last two decades they've done a hell of a lot of it.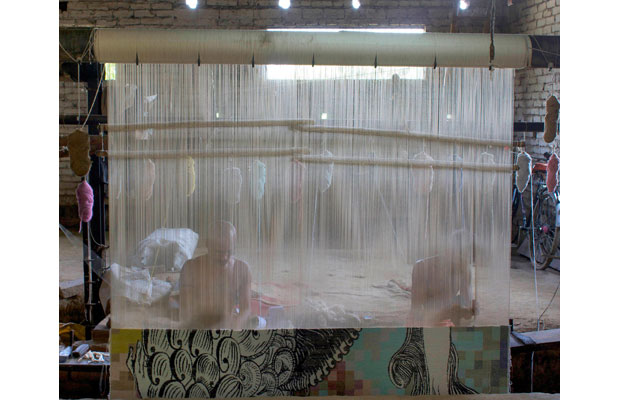 The Phaidon Archive of Graphic Design features two M/M works. The first, the pair's  'The Alphabet' poster series, self-commissioned in 2001, is "derived from an ambition to prove that typefaces are essentially emotional," and was "driven by the same figurative and semiotic influences that govern the visual language of fashion photography." Featuring imagery by the respected photographers Inez van Lamsweerde and Vinoodh Matadin, the typeface follows typography's traditional rules – the letters conform to the standard parameters of balance, weight and height – but its characters also explore notions of female beauty and femininity. A normal alphabet this most certainly is not.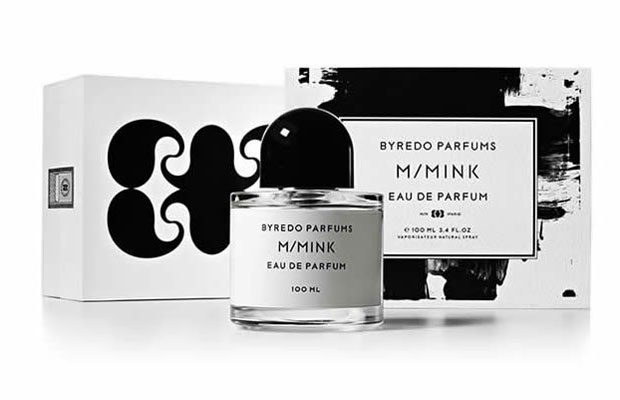 The second project, the aforementioned eau de parfum, was produced in 2010. Whereas usually a perfumer would create a scent before employing a graphic designer to produce the appropriate packaging, M/M reversed the normal process, and asked Stockholm-based fragrance house Byredo to come up with a perfume based on an existing visual concept. Amzalag describes his first encounter with the scent as follows: "In a restaurant before ordering lunch, [Byredo perfumer Ben Gorham] sprayed us with what is now called M/MINK, and we had not one comment – it was perfect, surprising, beyond everything we had dreamt about."
Is an eau de parfum really graphic design? That's a question for the purists, maybe, but not for us. M/M (Paris) have pushed traditional design boundaries for the past 20 years, and the industry's in a far better state for it.
Read more about the pair's wonderful work in the Phaidon Archive of Graphic Design, out now.