The 1950s are generally considered to be the most politically conservative and most expressly homophobic decade of the twentieth century. Though it may seem unbelievable to Gen Z Phaidon.com readers, the repercussions of being identified as a homosexual at mid-century were considerable, and involved "social humiliation, criminal punishment, charges of mental illness and possible loss of employment and legal custody of children," as the text in our newly updated edition of Art & Queer Culture explains.
The riot at the Stonewall Inn on 28-29 June 1969, may not have freed up those constrictions overnight, but it certainly served as a key marker of social change, as Art & Queer Culture notes.
Some artists, such as Andy Warhol and Valentine Penrose had already "produced alternative visions of sexuality and desire in the 1950s and early 1960s while negotiating the closets and constraints of their moment," while others, "began to organize and represent themselves around and through questions of sexual secrecy, exposure, privacy and public knowledge."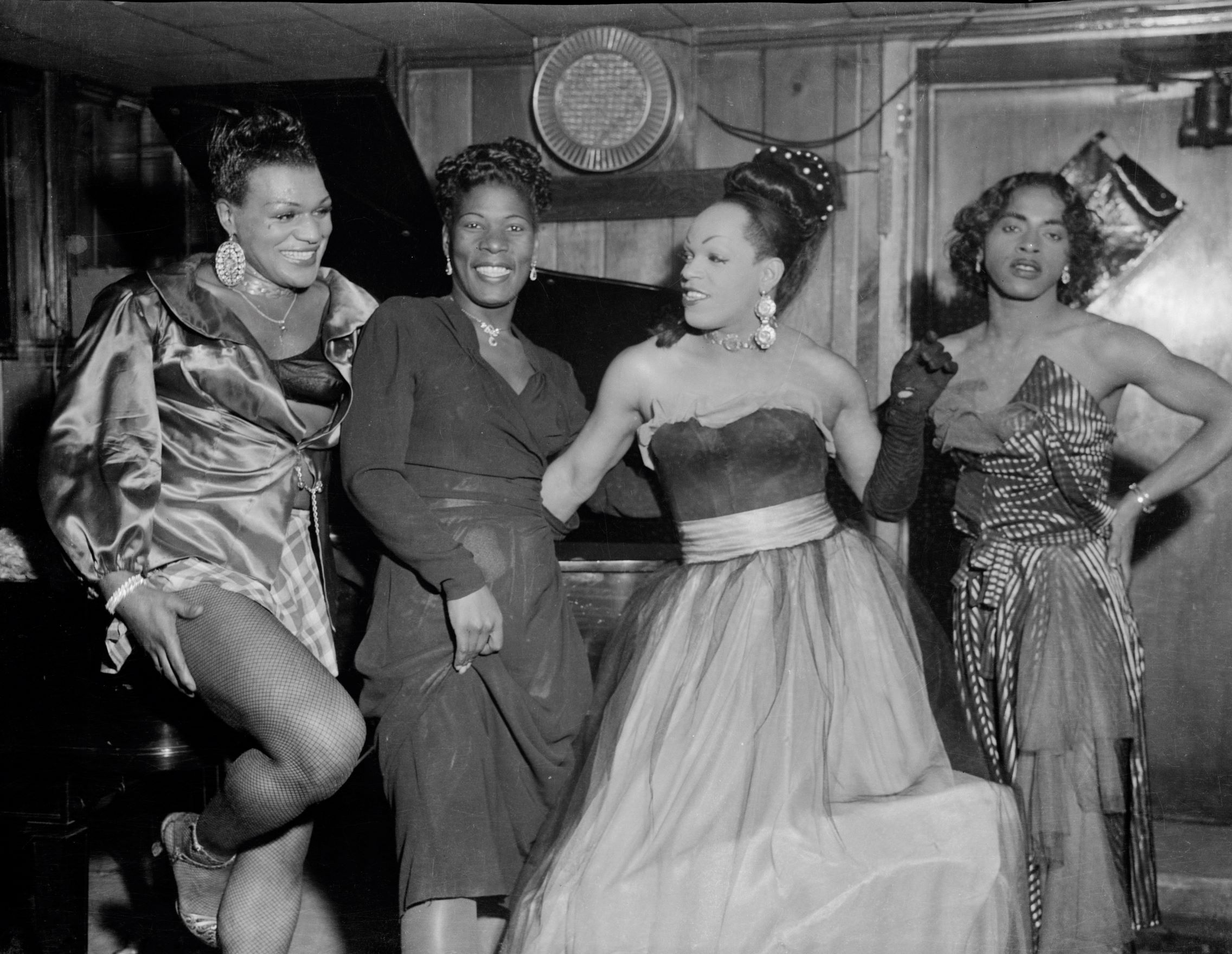 Consider the work of Charles 'Teenie' Harris, a photographer for the Pittsburgh Courier; one of America's oldest black newspapers. As our book notes: "When he photographed drag queens in local bars and nightclubs, he presented them not as criminals or degenerates but as friends enjoying a night out on the town. This picture all but invites us to join these highstepping, cross-dressing chorines in front of the piano."
Or, going a little further back, look at the private images of fellow American Charles Demuth. "Demuth is best known for his cubist-inspired compositions, brilliant colourism and crisp geometries. In private, he also produced scores of erotic watercolours, many featuring sailors in various states of dress and undress. In Dancing Sailors, three couples are seen in close proximity on a checkerboard dance floor.
However, the social foment of the 1960s shook up the western world's dancing partners. "In the years immediately preceding the Stonewall riots of June 1969, a queer art and activist culture emerged, with links forming between the radical social movements of the period — the anti-war movement, women's liberation, black power — and the emergent gay rights movement (including, for example, the first public demonstration for homosexual rights at the White House in 1965)," explains our book.
"Founded in the immediate aftermath of the Stonewall riots, the Gay Liberation Front (GLF) proposed gay identity as a revolutionary form of social and sexual life, one that would ultimately reinvent traditional systems of sex and gender and, by extension, society itself. As a first step towards achieving this vision of sexual freedom, lesbians and gay men were exhorted to come out of their 'closets' of secrecy and denial — that is, to declare their homosexuality to family, friends, colleagues and to the larger public world. Gay power quickly became an international movement."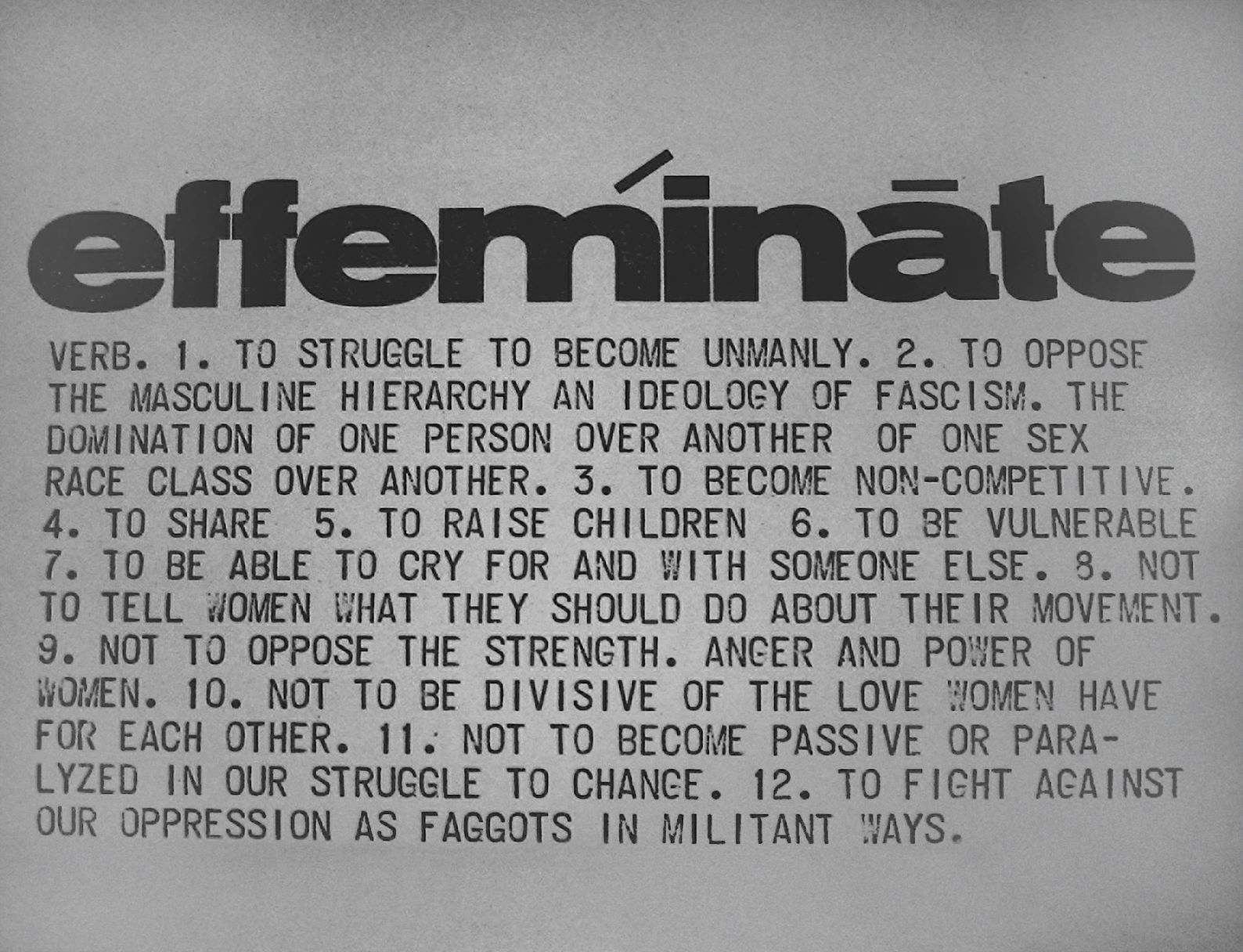 It's hard to picture something such as Steven F. Dansky's 1972-word piece, Effeminate, making it into print in an earlier age. "The usually derogatory term 'effeminate' is here redefined as an active verb through which men 'struggle to become unmanly' so as to support women's liberation without trying to 'tell women what they should do'. Dansky, along with John Knoebel and poet Kenneth Pitchford (who was married at the time to radical feminist Robin Morgan) founded a movement called 'Revolutionary Effeminism' in the early 1970s."
Or take a look at Crawford Barton's 1977 photograph, A Castro Street Scene; this surely epitomises the post-Stonewall social milieu, even if this particular photographer had to fake it to make it.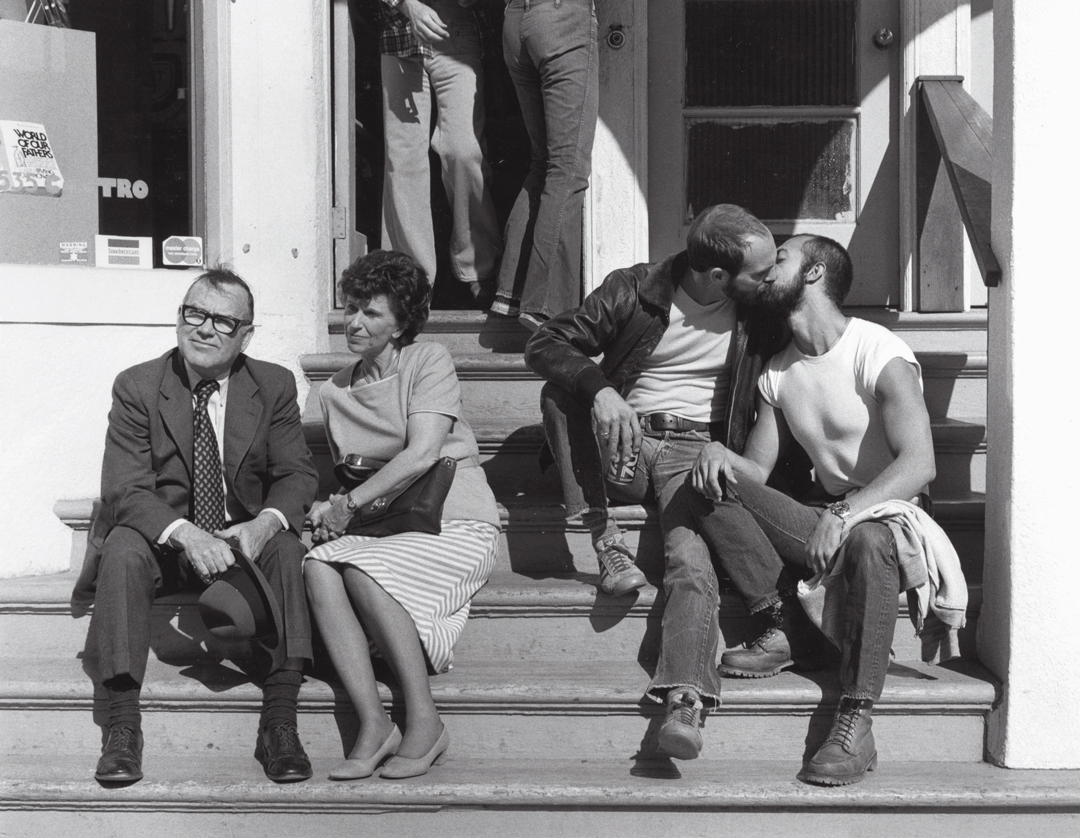 "Crawford's juxtaposition of couples on the steps of a storefront in the Castro area of San Francisco came to symbolize the public visibility of urban gay culture in the 1970s," explains our newly updated book. "On the left, a soberly dressed man and woman engage in a tense face-off; on the right, two bearded men in jeans and T-shirts enjoy a deep kiss. Behind the straight couple, the title of a book on display in a shop window declares World of Our Fathers. Although the photograph was later revealed to be staged, its status as a sign of the changing times was already assured. As Barton said, 'I wanted to feed back an image of a positive, likeable lifestyle, to offer pleasure as well as pride.'" And in Pride month, that's certainly something we can derive pleasure from. Get Art & Queer Culture here.