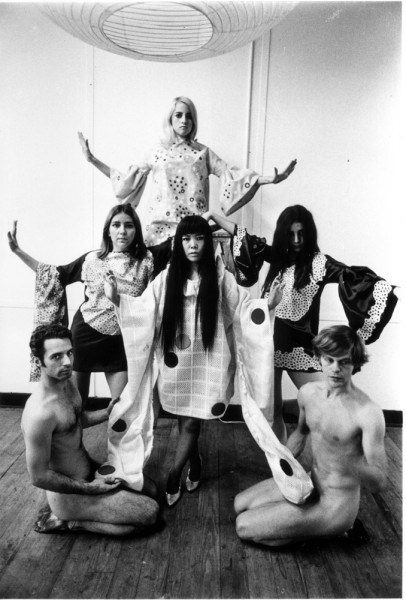 When Yayoi Kusama staged a gay wedding
Kusama provided the clothes, conducted the ceremony - and insisted on the consummation!
This autumn, the US Supreme Court will hear the case of a Colorado baker who refused to create a wedding cake for a same-sex couple. In response, bakers in the Washington DC area are showing their support for the LGBTQ community by cooking their own cakes in support of gay rights.
It's a sweet gesture, but perhaps a mere morsel when compared with the gay wedding Yayoi Kusama served up, almost half a century ago. On Monday 25 November, at 8pm, the Japanese artist staged what she described as "the first homosexual wedding ever to be performed in the United States".
The event, held in her property on Walker Street in Greenwich Village, was not legally recognised; Kusama herself conducted the ceremony herself, under the aegis of her own Church of Self-obliteration, and also saw to a number of other aspects, from clothes through to consummation, as our new book explains.
"Kusama, whose sculptures and paintings have been exhibited in the leading museums of contemporary art in Europe and the United States, has designed the costumes for the homosexual wedding," stated an accompanying press release which is reproduced in our book. "Both the bride and groom will wear a fantastic 'orgy' wedding gown, designed for two instead of one. 'Clothes ought to bring people together, not separate them', Kusama insists.
"Kusama will see to it that the bride and groom get together after the wedding ceremony. The guests will act as witnesses to the wedding and all subsequent festivities and events. 'The purpose of this marriage is to bring out into the open what has hitherto been concealed', says Kusama. 'Love can now be free, but to make it completely free, it must be liberated from all sexual frustrations imposed by society. Homosexuality is a normal physical and psychological reaction, neither to be extolled or decried."
Few would argue with this final statement, but it was quite a provocative argument to make fifty years ago, and Kusama's gay wedding is best understood as one of her many happenings – such as the nude protest parties she held outside the New York Stock Exchange, beside the Statue of Liberty, and inside the Filmore East music venue.
Kusama, known today for her paintings, sculptures and infinity room installations, was extending her practice, as the art historian Udo Kultermann makes clear in our book.
"By the later half of the 1960s," Kultermann writes, "Kusama's ongoing projects had burst the tight confines of the art magazines and, with the artist's encouragement, spread to the general press – so successfully that by 1967 Kusama claimed that she had more newspaper clippings than Warhol himself."
"In 1967 Kusama began to concentrate on public performance, and it is at this moment in her career that it became clear that her sustained bid for notoriety was an attempt to harness fame as a strategy."
Indeed, it is unclear how committed an advocate for equal marriage rights Kusama was; there is little reference to the subject elsewhere in her work. Nevertheless, Kusama's wedding, held a good seven months prior to the Stonewall Riots, remains a startling reminder of how wide-ranging her work once was; and proof that, in some quarters, marriage equality had strong support, decades back.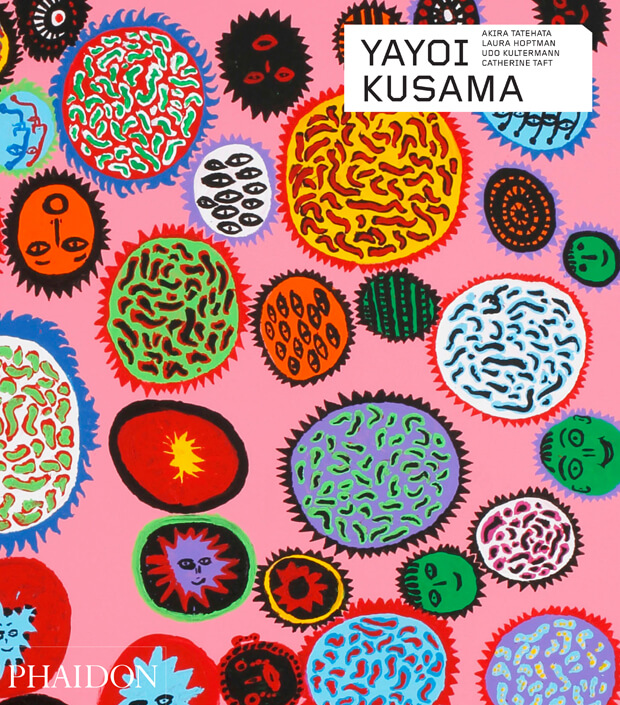 Check back soon for more famous encounters from Yayoi Kusama's career; and for a better grasp of what makes her great order a copy of our newly updated Yayoi Kusama monograph here.