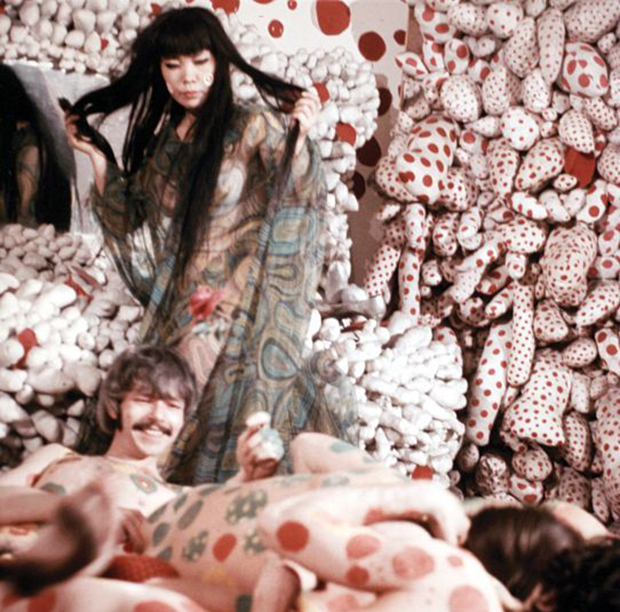 Did Yayoi Kusama conduct the first gay wedding?
The artist, born on this day, 22 March, certainly made that claim - here's how she mixed protest and polka dots
"This is the first Homosexual Wedding ever to be performed in the United States," proclaimed a press release issued by the self-styled Church of Self-Obliteration from a loft on Walker Street, Manhattan, in 1968. "The ceremony will be conducted by Yayoi Kusama, known for her widely publicized out-of-door naked happenings at the Statue of Liberty, the New York Stock Exchange and many other public places. Kusama, whose sculptures and paintings have been exhibited in the leading museums of contemporary art in Europe and the United States, has designed the costumes for the Homosexual Wedding."
Indeed, the Japanese artist, who was born today, 22 March, in 1929, had not only designed the clothes, but had also founded the Self-Obliteration Church, an inchoate hippy collective which staged a number of nude happenings across the city.
Kusama's '68 event demonstrates the ambitions, ultimately successful, of this multimedia artist, who was determined to raise her profile from a newly arrived, penniless immigrant to one of the best-known figures in the contemporary art world.
"After a stopover in Seattle for an exhibition in late 1957, Kusama arrived in Manhattan in the summer of 1958," writes the art historian Udo Kultermann in the focus section of our Kusama monograph, "and with more than one thousand drawings and very little money."'
The artist had already developed her polka-dot art, yet it was in New York that Kusama realized her ambitions most fully.
"She transformed what had been small-scale motifs into a signature style," Kultermann explains, "played out large in endless variations across miles of canvas, houses full of objects, clothes and even people (on film and in real time), in discos, public parks and museums, in the press and even once or twice on television."
During her early years in New York, Kusama was on good terms with important minimalist artists. Donald Judd and Frank Stella both bought works from Kusama's first solo exhibition and some gallery goers might recognise similarities between Kusama's early Infinity Net paintings and Stella's canvases. However, as fashions changed, so Kusama adapted her work to suit the times.
"By the later half of the 1960s," Kultermann writes, "Kusama's ongoing projects had burst the tight confines of the art magazines and, with the artist's encouragement, spread to the general press – so successfully that by 1967 Kusama claimed that she had more newspaper clippings than Warhol himself."
That press coverage was largely due to Kusama's provocative new practices. "In 1967 Kusama began to concentrate on public performance, and it is this moment in her career that it became clear that her sustained bid for notoriety was an attempt to harness fame as a strategy."
The artist held nude art Body Festivals at the weekend in New York City's parks, collaborated with underground filmmakers, and staged arty protests, which she dubbed Anatomic Explosions, "a more direct variation on the Body Festival in which three or four naked dancers covered in polka dots gyrated to rock 'n' roll music in front of public buildings like the New York Stock Exchange."
In her Stock Exchange stunt, a kind of poppy precursor to 2011's Occupy movement, Kusama called on passersby to "obliterate Wall Street men with polka dots", while in one of her anti-war communiqués, she offered the president-elect Richard Nixon, veiled promises of sexual intercourse in exchange for withdrawing US troops from Vietnam.
These events had the tenor and trappings of sincere political protests, yet not everyone is convinced of the artist's motives. "Kusama called her performances during this period 'social demonstrations'" writes Kultermann, "but their thin veneer of progressive political rhetoric did not disguise the fact that the true agenda was Kusama's 'symbolic philosophy with polka dots'."
As the artist's notoriety declined, so Kusama's tactics changed. She turned to clothing design, tried writing novels, and eventually left New York for Japan in 1973, checking into a Tokyo mental health institution, where the artist currently resides.
While today's, gay-rights campaigners and anti-capitalist demonstrators are perhaps unlikely to see Kusama as a worthy precursor, a careful reading of her history proves that, for a few years, the artist certainly worked towards similar ends - while taking her polka dots far beyond the gallery system.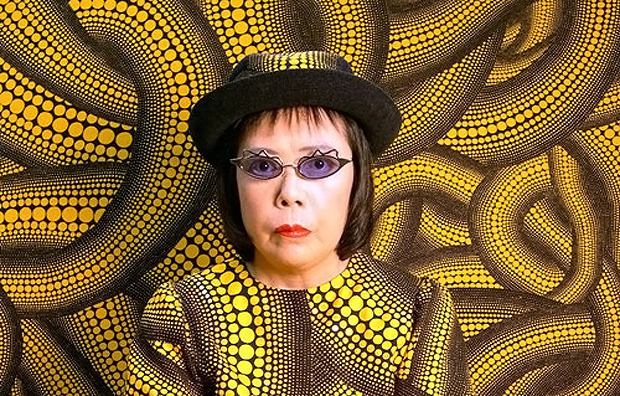 For more on this important contemporary artist's life and work, consider our Kusama monograph; for more on the use of bodies in art, get Body of Art; for more on visual art and politics get Visual Impact; for more on art thriving outside the gallery system get Wild Art; and for more on the history of homosexual culture and art, get Art and Queer Culture.