Loaded with a 35 mm format camera and armed with a keen eye for the candid, the street photographer is king at capturing poignancy in fleeting moments. A type of documentary, street photography reveals its subject purely and without elaboration. It can be personal, visceral and often very funny – anything from Henri Cartier-Bresson's photographs of married couples eating lunch, to Martin Parr's pictures of tourists on holiday. Here's an introduction to some of the artistic style's biggest legends.
Henri Cartier-Bresson
Born in France in 1908, Cartier-Bresson is generally considered to be the father of modern photojournalism. The legendary image maker, who originally studied painting, was one of the first photographers to use the 35mm format camera, a move that inspired the development of street photography and countless photographers since. He first turned to photojournalism in 1937, employed by French weekly Regards to cover the coronation of King George VI. Cartier-Bresson took no pictures of the king, choosing instead to focus on the adoring London crowds lining the city's streets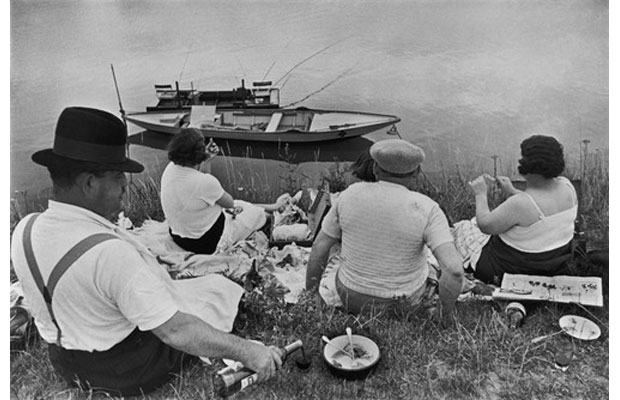 William Eggleston
Inspired by the work of Henri Cartier-Bresson and the black-and-white photographs of Robert Frank, Eggleston made a glittering career out of capturing the banal and the commonplace in bright, saturated colour. A light bulb hanging in a red room. An elderly woman sitting on an outdoor couch in disrepair. A dog drinking from a cloudy puddle of water. All of these things were to Eggleston of extremely important aesthetic value.
Robert Frank
Frank, born in Zurich in 1924, is an American photographer most famous for documenting the tensions and contradictions that existed in the country's post-war period. His countless black-and-white pictures offered a mirror to society, one that revealed the everyday realities of life in America at the time, and which now offer us valuable historical insight.