If you're in London in the next couple of weeks, why not head down to the great art museum Tate Modern? You'll find works in the institution's impressive permanent collection by Donald Judd, Henri Matisse and Salvador Dali, among others. You'll be treated to a sprawling Edvard Munch exhibition, a show that features his great paintings as well his lesser-known photographs. And you'll no doubt stumble across 70 men and woman running haphazardly around the gallery's Turbine Hall.
That's right. Berlin-based artist Tino Seghal has filled Tate Modern's grand, industrial space with energetic volunteers, all of whom are under direct orders to run, walk and talk their way around the museum's slightly confused onlookers. The piece, titled These Associations, epitomises Performance Art – it's an innovative work that invites its audience to become part of the art itself, rather than watching it from afar. See if you can tell who's a volunteer and who's merely spectating?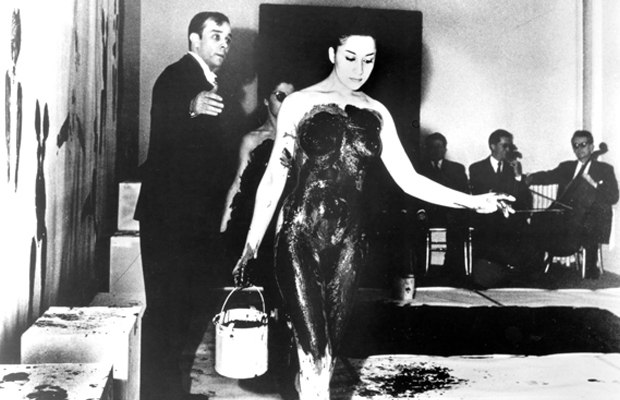 Performance Art's origins lie in the New York Happenings of the late 1950s in which artists concocted theatrical contexts for their work in order to interact more immediately with their audiences. In the '60s, the movement was characterised by its use of the body as a sculptural element in work, often taking place before a live audience. In the '70s, artists began taking Performance Art out of the gallery and into theatres and clubs, where it stays today, now under the umbrella term of 'live art'.
So important is Performance Art these days that Tate Modern recently decided to create a live art-dedicated extension in which it can take place. The Tate Tanks, a sprawling space beneath the former power station's now disused oil tanks, contains a series of galleries in which performance artists can show video, interactive installations and live pieces to an audience becoming increasingly tired of looking at canvasses on white walls. What the Tate Tanks, and Performance Art in general, gives us is the opportunity to be fully engaged in the art we're viewing. And that sounds rather exciting.
A list of notable performance artists: Marina Abramović; Tino Sehgal; Laurie Anderson; Matthew Barney; Joseph Beuys; Yves Klein; Gordon Matta-Clark; Yoko Ono; Nam June Paik