A smallish show of exhibits that had a huge cultural impact opened at the Hayward Gallery Project Space at the tail end of last week. 'Someday All the Adults Will Die': Punk Graphics 1971 – 1984' is a comprehensive overview of punk graphic design from before, during, and after the punk years. Curated by Johan Kugelberg and Jon Savage, the exhibition includes several hundred pieces of previously unseen material from private archives and collections: homemade cassettes, fanzines, posters, handbills, records and clothing. And for those of a certain age it's absolutely fascinating stuff.
Highlights include work by Gee Vaucher, Linder Sterling, Jamie Reid (whose work is featured in the Phaidon Archive of Graphic Design), Gary Panter, Raymond Pettibon, John Holmstrom and Penny Rimbaud, alongside numerous anonymous artists.
The explosion of DIY graphics during the punk movement reflected the consciousness and anti-aesthetic of a new counterculture. This upsurge in graphic creativity revolutionised design, with its influence still felt today - perhaps more so than any time since its inception - as designers tap into a rough-hewn visual-language.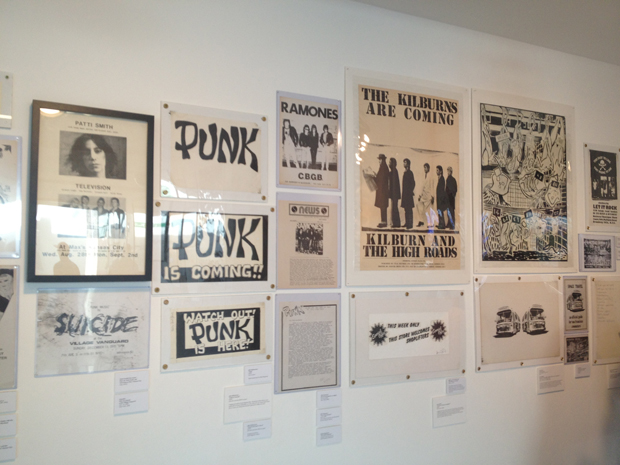 We caught up with co-curator Johan Kugelberg, a writer, collector and archivist who's curated exhibitions dedicated to the May 1968 Paris uprisings and the art of The Velvet Underground. He's also the founder of the Cornell University hip hop history and punk history archives. He told us the narrative for the show is kind of a cultural immersion."
"It's supposed to be open- ended."The narrative was a real labyrinth So I ended up quoting that famous philosopher Bart Simpson who once said: "There's no moral to the story it's just a bunch of stuff that happened. If there's one thing I would be a cheerleader about in punk though, it would be the diminishment in distance between the self-starting impulse and its execution and that is something that is going on all over the place right now - be it personal websites with vegan recipes, Pussy Riot or any number of fanzines being printed in Shoreditch.
"It worked wonders at the end of the Seventies, and all these jagged, chiaro-scuro urgent masterpieces of graphic design, executed by art school masters alongside anguished adolescents continue to reverberate as get-up-and-get-on-with-it eyeball-pleasers. Punk is going to inspire people 200 years after we're dead. This exhibition is the opposite of nostalgia."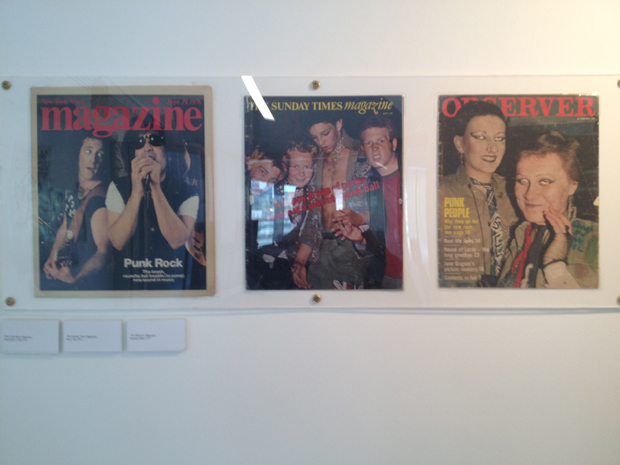 Hayward director Ralph Rugoff told Phaidon the show was a year in the planning. "We stared talking about it maybe a year ago. Johan would send over a box of stuff at a time every few months. There was actually a lot of stuff. There are 200 items that we just couldn't find room for. For us we had the Wide Open School here over the summer, we're interested in self-starting activity and this seemed like a really relevant strand."
The exhibition includes clothing designed by Vivienne Westwood and Malcolm McLaren; early press releases and pamphlets for the Sex Pistols and the Ramones; publications and early fanzines including London's Outrage, Punk and Sniffin' Glue, limited edition Black Flag prints from the early 1980s by Raymond Pettibon; a Linder Sterling flyer for a 1978 Joy Division performance in Manchester; and six banners used to advertise The Great Rock 'n' Roll Swindle, a 1980 'documentary' film about the Sex Pistols, designed by Jamie Reid - whose cut-and-paste aesthetic became synonymous with the graphic imagery of the punk movement and whose sleeve for the Sex Pistols single God Save The Queen is among those featured in the Phaidon Archive of Graphic Design. Buy tickets for the Hayward show.