My initial contact with Franz West's work was in 2008 while working in the education department of the Musee d'art contemporain in Montreal. It had recently purchased Chameleon (2004) and was installing the work within the gallery for the first time.
Taking the form of an amateurly constructed round table with matching chairs placed within a corner of the room, the panels of the adjacent walls were painted to match the salmon pink of the table set. The sculpture's instructions stated that at every new installation, the piece had to be painted with a new colour. While the idea of the accumulated traces of time through the coats of paint was interesting, the installation was at its strongest in revealing the tensions of the gallery space. Its modest looks meant that every day, a few visitors would confuse the sculpture with the museum's actual furnishings. By confronting the plain sculpture with the social expectations of a gallery space, West's work was striking for revealing tensions between object and visitor, utility and decoration. It embedded many ideas relevant to architectural thinking but that were sadly only being developed within artistic practices instead of through design.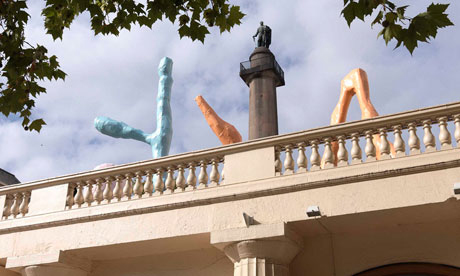 In autumn of 2011 I was working at the ICA in London and his Room in London sculpture was placed on the roof terrace fronting the Mall. I'm still uncertain how permissions from Westminster Council were granted on the ceremonial route (I was told it fell into the loophole of 'temporary additions'), its parasitical presence within the stuffiness of Trafalgar Square and Buckingham Palace was a refreshing and cheeky temporary intervention that showed a flippant disregard of council-endorsed aesthetics.
West's work is obviously not solely interpretable through the viewpoint of design and the built environment. However, his recent death has left us with prolific body of work that embodies a playful rudeness and subverted take on banal objects and spaces - so many ideas that long to be recuperated within architectural discourse and design.